Windows computers tend to get cluttered and a little slow with time. This is due to deposition of temporary files, unnecessarily installed applications and changes to the registry. One should always maintain his/her Windows 10/8/7 computer to get the maximum speed and performance. While this can be performed manually but would involve many steps and advanced operations. Also, there are many tools that can do this for you, and we've covered one such amazing tool in this post called CleanMyPC.
CleanMyPC for Windows 10 Review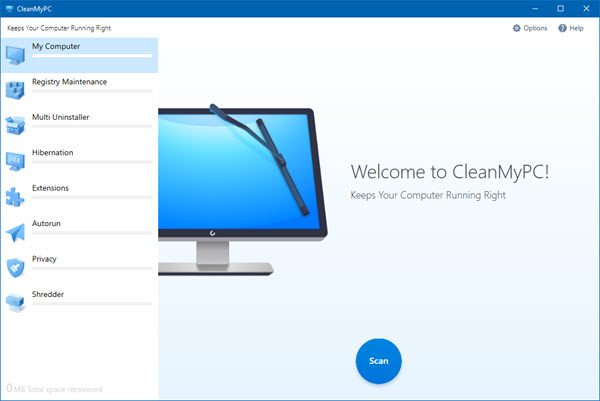 CleanMyPC is all in one PC Cleaner that can clean junk, speed up your computer and boost its performance. It can scan your computer for all the possible components that can affect the speed of your computer. The tool is divided into various sub-modules, each having an important task of its own.
My Computer
This module will scan your computer and find out all the temporary or junk files using their powerful junk cleaning algorithm. The scanning might take a little longer depending upon the amount of data you have. Once the scan is complete, CleanMyPC will tell you the total amount of junk or temporary files that can be deleted without any loss to your personal files.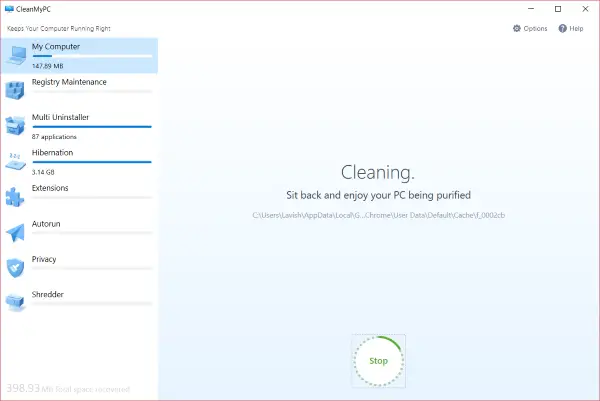 You can click on Show Details to view more details about these files and where do they belong. Once you are done checking these files, click on the Clean button to begin the cleanup process. This module is responsible for cleaning up the junk and freeing up space on your computer, and it does its job well. I was able to free up around 1.2 GB of disk space on my laptop.
Registry Maintenance
Registry clean-up/maintenance is another part of a routine Windows maintenance procedure. With time, registry entries sort of get broken or irrelevant. Removing or fixing such entries is a must. This module would let you do so very easily. It will scan the registry for all such issues and list them down for you.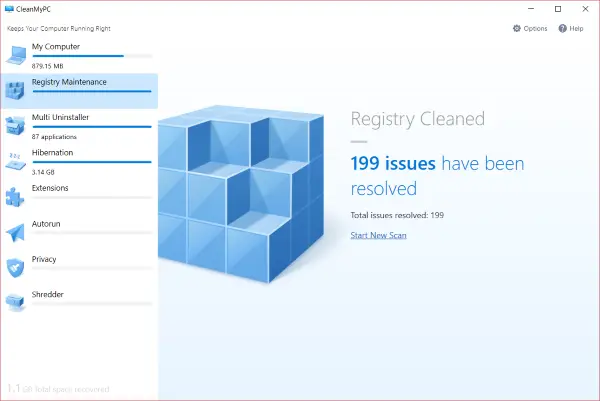 You can have a look at them once or simply hit the Fix Registry button to fix all these issues. The program will not prompt you for taking a registry backup. But taking one backup before making any changes to the registry is a must.
Multi Uninstaller
This is one of the best offerings of this tool. Usually, it becomes cumbersome and difficult to remove useless applications installed on our computers. With time this list of applications grows making it practically impossible to uninstall them from Settings or Control Panel. The multi uninstaller module would let you select multiple applications at once and uninstall them in one single go.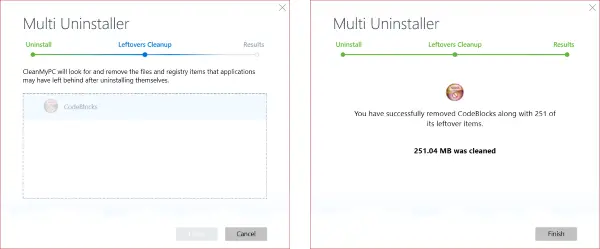 The best part about this feature is, after uninstalling selected applications, it will also clean any leftover data. Which means that your computer will be totally free from any files associated with that software. CleanMyPC can also uninstall applications that were installed from Microsoft Store or came pre-installed (uninstallable) with your computer.
Hibernation
All Windows computer maintains a hibernation file that is responsible for storing a copy of your computer's RAM on disk so that you can resume your work after putting your computer to hibernation. But if you don't use hibernation that often, you can disable hibernation file and free up some precious disk space. Mostly, users put their computer to sleep instead of hibernation which is fine. Hibernation should be used only when you know that you won't have access to a charger anytime soon and the laptop should preserve as much battery as possible.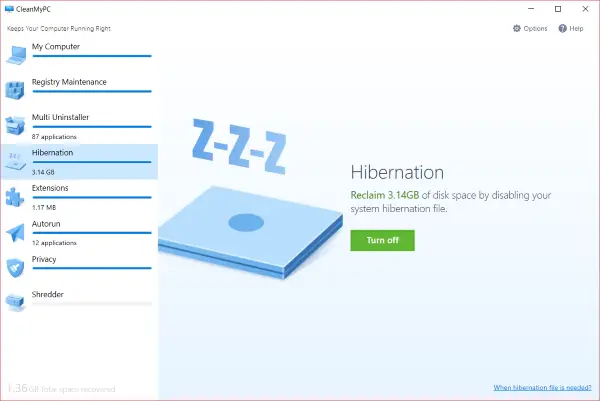 Extensions
This part of CleanMyPC lets you remove Windows Gadgets and Browser extensions that you do not use. You can easily remove malicious browser extensions that were installed with some other tool. Usually, such extensions would display annoying advertisements and toolbars in your browser window.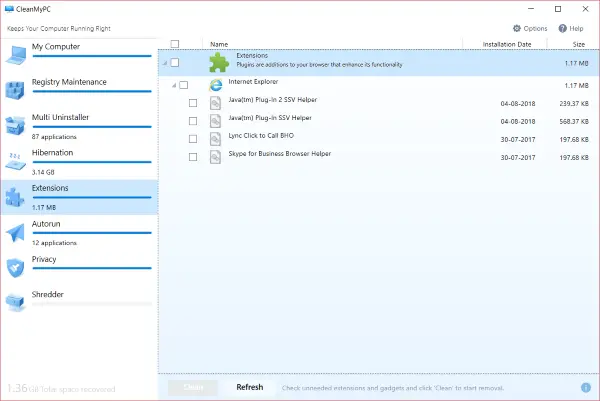 CleanMyPC can display a list of all the extensions installed on your computer, and you can selectively remove them as well.
Autorun
Does your computer start slow? If this is the case, then Autorun module can help you get a faster system start-up. Autorun module displays a list of applications that are automatically started up with Windows. You can multi-select the ones that are not important and should not be automatically started up. Once selected, you can completely remove them from the start-up. Removing larger applications will give you considerable improvement in startup times but make sure you do not remove any important application by mistake.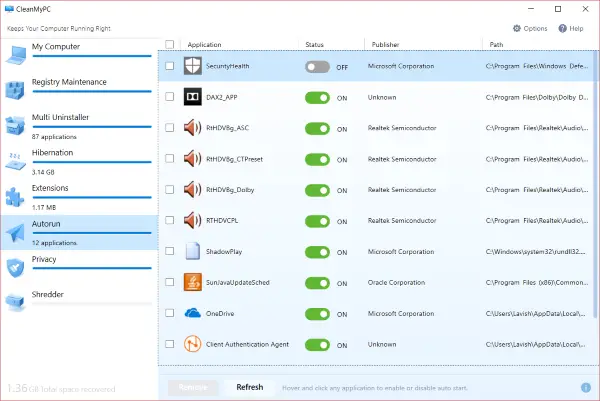 Privacy
If you are concerned about your privacy while you browse the internet, then this module can help you out. Privacy module is responsible for deleting all sort of private data from web browsers and windows explorer.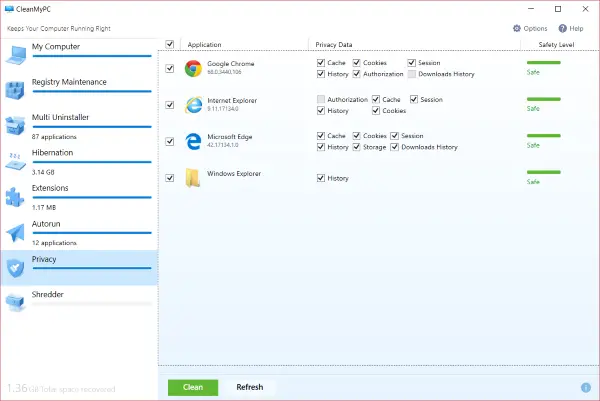 It can delete browsing history, cookies, cache, sessions, download history and everything a website can ever store in your browser. You can easily customize what components you want to delete and what you want to keep.
Shredder
Ever heard for file recovery software? Yes, the files you delete are not immediately deleted. Instead, they are still in the disk waiting to be replaced with other files. And this is what file recovery software used to recover your files. Shredder would let you delete your files without leaving a trace. It will make the deleted files unrecoverable so that no one having access to the disk can retrieve them later.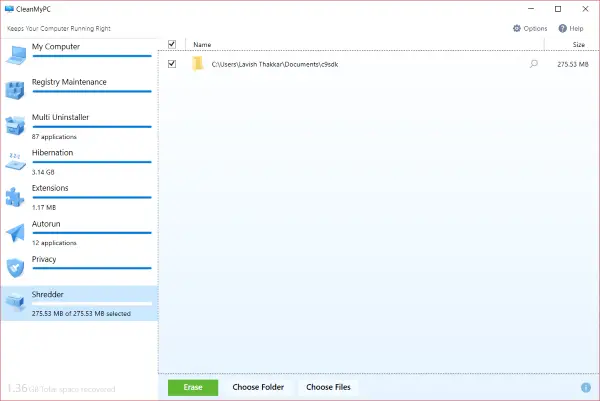 CleanMyPC offers a variety of features and a beautiful UI that makes this tedious task of cleaning up a computer quite simple. Apart from cleaning-up utilities, there are a few other features such as automatic agents and timely notifications. The tool is fully capable of cleaning up your computer and maintaining it to its maximum possible performance.
CleanMyPC is an amazing all-in-one system clean up & privacy software, that helps you delete junk, fix registry, uninstall applications, etc. and keep your Windows 10/8/7 PC running in top condition. Click here to buy CleanMyPC.
Clean My PC -
Free Download
Software Performance -

92%

Navigation & UI -

90%

Data Cleaning Options -

91%

Data Protection & Privacy -

89%

Bulk Registry & Junk Cleaner -

95%