Are you looking forward to securing your internet access perfectly? Are you eager to opt for a perfect VPN service that can help you watch online streaming services? If yes, NordVPN is a great option you need to try on for sure. The demand for VPN security has been raised a lot in the last few years. Whether it's about normal browsing or streaming restricted content, NordVPN favors all of the access quite securely. It is one of the most beloved VPN services available and features glowing reviews all across the web. The guide will provide you with an honest review of this VPN service.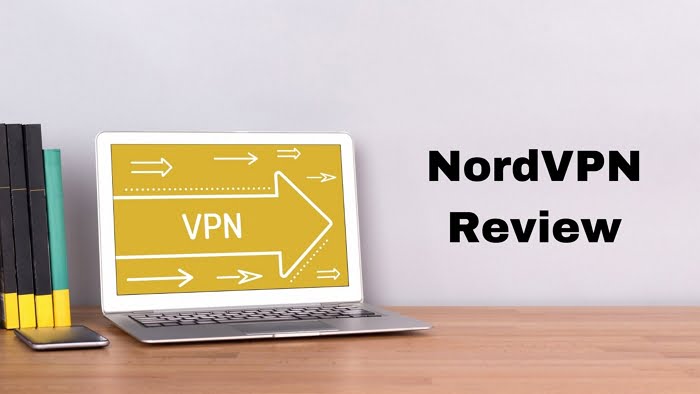 What is NordVPN?
NordVPN is a VPN service with applications for Microsoft Windows, macOS, Linux, Android, iOS, and Android TV. It is one of the most secure and high-quality VPN services available in the marketplace, known for its high standards. It is the master of all trades VPN that aims to provide consistent high-end services without any issues. High-end speeds, online security tools, streaming, torrenting capabilities, web browsing tools, and much more make this VPN service the best one in the series.
It is one of the best VPN services available in the market that provides unbreakable encryption and independently audited no-log policies for ensuring high-end performance. The VPN service is a feature-loaded option with intuitive apps that make it a perfect choice for beginners and power users.
Background Information
Here we will provide you with some background information that will help you know about this VPN security platform.
It is one of the first VPN providers to launch the public bug bounty program on HackerOne successfully.
NordVPN started working as one of the founding members of the VTI (VPN Trust Initiative) in 2019, whose main aim is to establish high-quality standards for VPN services in the market. Moreover, the VTI also works to educate the public about the VP and its security benefits.
NordVPN SEcurity advisory board of independent experts was being joined by one of the web security legends, i.e., Troy Hunt, in 2020.
On International VPN day in 2021, NordVPN successfully launched the National Privacy Test to educate internet users about possible online threats. The main aim of this program was to improve awareness about cybersecurity.
Some Key Facts about NordVPN
Before you go ahead with the different aspects of the NordVPN service, let's have a look at a few key facts of it so that you can get the best idea about this package in detail:
NordVPN is an example of reliability and credibility in that it currently owes a vast user base of about 14 million.
It is a product by Nord security that aims to provide users with high-end services.
Nord Security also provides other tools such as NordPass for managing passwords, NordLocker for encrypting files and storing various tools, Nord Layer for business VPN, and NordWL for building up different VPN products ideally.
The main headquarters of NordVPN is situated in Panama. It is a place that doesn't impose any data retention laws, and that makes this VPN service even much better.
NordVPN Features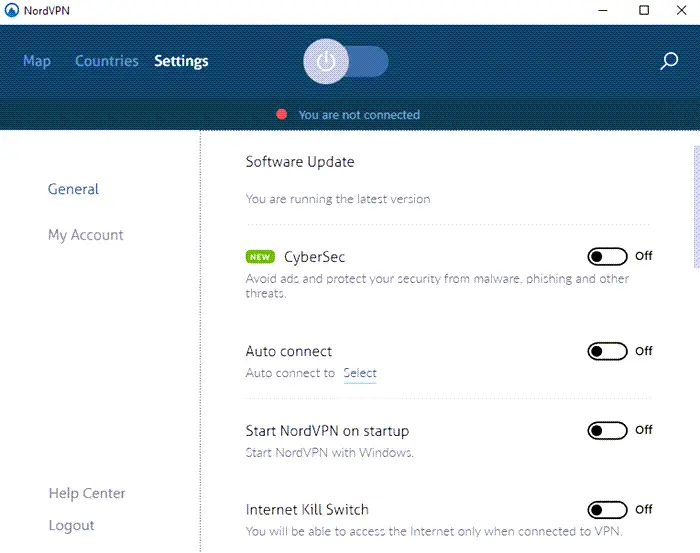 NordVPN is a feature-loaded VPN service that aims to provide users absolute user experience without any issues. Along with all of the concerned features we just have added to you above, it also provides some additional features for you to enjoy, such as:
It offers the Split Tunneling feature for both Android and Windows devices, making it easier for the users to be redirected to a portion of traffic through a secure VPN server.
CyberSec technology helps in blocking the annoying ads and the access to the malicious websites perfectly.
The platform is easily accessed on different platforms such as iOS, Mac, Windows, Linux, and much more.
Users don't need to worry about malicious websites because they will be perfectly blocked now.
Integration of a dark web monitor is another best thing about NordVPN that makes it easier for the users to scan the dark web to access different credentials associated with their email addresses.
It comes with the presets function that conveniently helps users combine the custom VPN settings with the different shortcuts to apps and websites.
Multifunctional authentication for account protection. One can easily access the NordAccount using Google Credentials as well.
SmartPlay feature is another excellent feature of NordVPN that makes the access even more secure. This feature is a perfect combination of the VPN and the Smart DNS. It makes it easier for the users to get access to the different content over the world wide web securely
Designed in such a way that its associated apps select the fastest servers in the chosen country without any hassle
Perfectly secure about six different devices consistently. A VPN service offers absolute support to different operating systems such as Windows, Android, iOS, Linux, Mac, Android TV, browser extension, and much more. It is a great platform that can efficiently secure your home router and all devices connected to your home WiFi
NordVPN Servers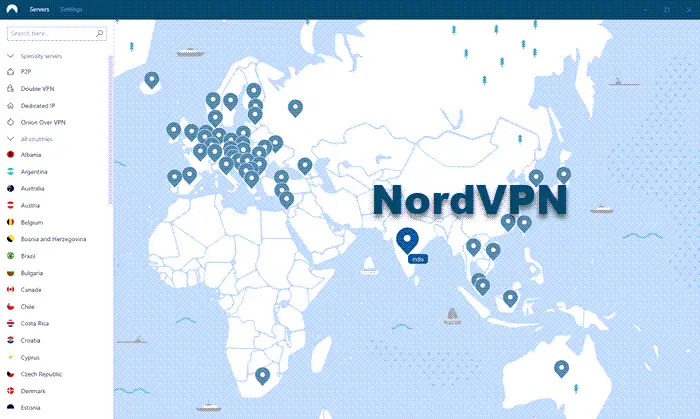 NordVPN servers are one of the widely used VPN services. It doesn't matter where you are. You can still browse your favorite websites using NordVPN without any issues. The best thing about this platform is that you can surf the browser without considering internet censorship. It is a safe platform to surf freely on the internet. Here we are providing you with complete details about the servers of NordVPN.
NordVPN offers users the freedom to avoid internet censorship and efficiently connects more than 5400 locations in 60+ countries.
It offers users the freedom of accessing content from the most popular locations such as the United States, The United Kingdom, Germany, Japan, and much more conveniently.
Users can easily surf and select servers from several cities in countries like the USA, France, Germany, Canada, India, and much more.
Special Servers from NordVPN

Adding more to it, NordVPN also offers a vast range of specialty servers for the users to enjoy, such as:
Double VPN Servers: As the name describes well, the Double VPN services are the ones that encrypt and send user traffic in two different ways. It is a VPN option that works for adding up an extra layer of security to the browsing. If you are a journalist or a political activist and are currently looking forward to a VPN service, Double VPN is an option you must need to try on.
Onion Over VPN: Another VPN server option works as a standard one and routes the traffic through the Onion network. This VPN also adds an extra layer of security to online streaming.
Obfuscated Servers: The Obfuscated Server is an excellent option for all those currently willing to hide that they are using a VPN security. This type of VPN server works well even in locations where VPNs are highly restricted. One can effectively use this VPN service to bypass restrictions such as firewalls.
P2P Servers: P2P is an acronym used for Peer to Peer servers that are perfectly optimized to provide you with a fast and secure data sharing process.
Dedicated IPs: These are not servers but a kind of individual IPs that works efficiently as the servers do. This option is quite efficient in enabling regular services like encrypting traffic, hiding the user's real identity, etc. These IPs are not usually available for the VPN providers and their clients but are available for the person who eventually has purchased them.
NordVPN Security
Security is one of the significant concerns that strikes one's head regarding online data access. A VPN security helps users get protection over the world wide web, but it is an option that masks up your identity and helps bypass the different restrictions. Suppose you are worried about security concerns even while opting for the world's best VPN security services. In that case, we are here with some of the significant features that will help you know about this VPN security in detail.
NordVPN uses the Advanced Encryption system that features 256 bits keys. It is quite impossible to decrypt that hardcore encryption system by anyone. It also provides three different types of VPN protocols to the users, and that is:
IKEv2/IPsec: It is one of the best options that offer high-end security while maintaining the NordVPN speed and stability at the higher end.
OpenVPN: OpenVPN tends to provide flexible business VPN solutions for the company to effectively secure all of their data communications and works for the extension of private network services. It is an open-source connection protocol that helps facilitate the secure tunnel between the two points of the network.
NordLynx A Double NAT: This VPN protocol works to establish a secure VPN connection without storing any identifying data on the server. It is the option that negates the possible WireGaurd downside of privacy risks.
Servers in RAM: NordVPN tends to provide users with high-end advanced options only. As of September 2020, the VPN server structure is running on the diskless RAM servers. It is one of the best things a VPN security can do. One doesn't need to look forward to any storage for storing their data locally now. This system helps users acquire excellent performance, update management, centralized files, affordable pricing, and absolute storage requirements without any hassle.
Colocated Servers: NordVPN has also started building a network of colocated servers that will be exclusively used by NordVPn staff only. If you don't know what exactly Colocated servers are, these servers are being deployed and hosted by organization-owned servers within a managed facility. The usage of colocated servers by NordVPN is a clear signal that you will get secure internet access now.
Kill Switch Feature: Kill Switch Feature in NordVPn is another option that helps cut off the internet automatically if you lose your VPN connection on your device. This system's integration allows users to keep their privacy intact until the VPN connection is restored.
No lags service: NordVPN features no lags service that is even twice audited. It means that users will now have seamless services throughout without any hassle.
Threat Protection by NordVPN
NordVPN provides users absolute Threat protection and hence works for adding additional layers of security to the system. It is an absolute step in VPN protection that helps make your online access entirely secure.
It helps users in providing absolute safety over browsing. It blocks up the different malicious websites and blocks those annoying ads and trackers. It perfectly identifies the flies infected with malware so that one could keep their access safe throughout.
One can also make use of the NordVPN blogpost in the Threat protection to make it even much more capacitance
How does NordVPN Threat Protection work?
VPN is all about web security. The integration of the Threat Protection feature in NordVPN has leveled up the security measures to a greater extent. The same eventually is working on adding the additional layer of security into the system. Threat Protection provides absolute safety to browsers. It blocks up annoying ads, trackers, and malicious websites and works to identify the different infected files effectively. NordVPN provides this feature for both Windows and Mac users. If you are using an android or iOS device, you need to wait a bit longer to enjoy this excellent feature.
Threat Protection is a fantastic feature by NordVPN that provides an additional layer of security. Here is the detailed working process that will help you know about this great feature.
Threat Protection prevents users from visiting malicious websites even accidentally. It scans the downloaded files for malware infection perfectly and detects any danger or threat that can cause harm to your security.
It runs deep scans on all of the executable files up to 20MB. This feature doesn't run any scan on the files containing personal information such as PDFs or .docx.
It perfectly scans the downloaded files in the flash drivers for Windows users.
Threat Protection is quite evident in blocking the third-party trackers that collect private information.
It blocks up the intrusive and annoying ads. It also keeps you safe from the different popups that seem annoying and can also cause harm by introducing you to malware infections.
It is a single setup process that the users can easily access whenever they turn on the VPN connection.
Pros:
NordVPN secures your data stored perfectly
It provides absolute security to the users for online privacy.
NordVPN helps you in keeping safe from DDoS attacks.
It prevents bandwidth throttling while performing different activities.
It creates a mask on your identity and hence keeps your access safe.
It is a handy protection tool that works effectively in a hostile environment.
Cons:
It slows down the speed of your internet.
The premium services are a bit pricey.
NordVPN Customer Support
NordVPN customer support is well known for its reliability.
Users here are free to get 24 X 7 customer support.
Users can easily reach out to the different services by connecting through chat and email.
The official website of NordVPN also includes a Blogs and FAQs section that makes the access even much more reliable. You can efficiently resolve different queries of yours.
NordVPN Price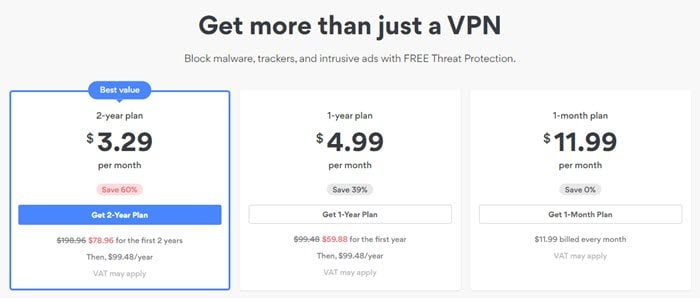 NordVPN is a service whose main motto is to provide absolute security to online access at affordable pricing. Everyone does have their priorities, and going combined with all those is not possible for anyone. To provide affordable VPN services to the users, the platform offers different pricing options.
Users are free to opt for the NordVPN price depending on their preferences. Users can easily opt for the 1-month, 1-year, and 2-year plans option as per their requirements.
One-month subscription package at NordVPN costs about $11.99.
Users can easily opt for the 1-year subscription package at a discount of about 39%. You have to pay approximately $59.88 in total, which means $4.99 per month.
The 2-year subscription package is one of the best value-for-money deals that offer about 60% of the discount in total. Users here have to pay about $78.96 per annum or $3.29 per month.
All of the packages provided by NordVPN come up with a 30-day risk-free full refund option.
Conclusion
If you are looking for secure and affordable VPN security services for keeping your browsing safe & private throughout, NordVPN is an excellent software you could rely on. It is a feature-loaded VPN service that helps create a mask on your identity and helps in bypassing the different VPN blocks providing you secure and seamless access.
You can rely on NordVPN to anonymize, protect and secure your presence on the internet!