Media consumption has become increasingly reliant on having a network connection. However, programs like 4K Video Downloader provide an alternative for those who want to break away from this dependence. It's easy to get caught up in the online world, and it's understandable to want to take a break from it. On top of this, it's not always possible to have a strong enough connection for streaming. When we're on a plane, traveling or camping, or there's an outage in the area, streaming isn't possible.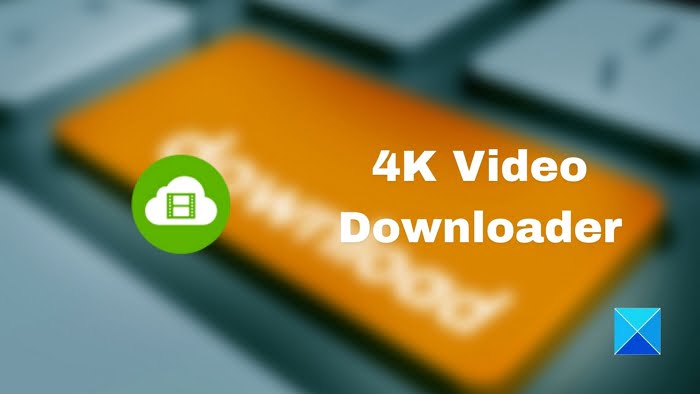 That is why offline videos are the best for watching videos when there is no internet connection, for example, when traveling without WiFi or on a flight. Offline videos are also a great way to store videos, and they can be watched anywhere and anytime.
Why do you need a Video Downloader?
A Video Downloader is a program that allows you to act like YouTube Video Downloader. It would be best if you had a Video Downloader because it is the easiest and most reliable way to download videos from YouTube, Facebook, and Dailymotion. With a Video Downloader, you can download 2K, 4K, 1080p, and 720p HD videos with the highest possible quality.
4K Video Downloader Review
4K Video Downloader is a handy software that lets you download videos of 4K, HD, and UHD resolution. This program is an excellent solution for anyone who wants to download video content and save it quickly, directly to a computer. The best part about using this tool, it is not necessary to have any technical skills or detailed knowledge of computers and the internet.
4K Video Downloader Features
4K Video Downloader is an all-around video downloader that can download videos from YouTube, Vimeo, Facebook, Dailymotion, and over 200 video-sharing sites. t can download online video in 4K, 1080p, 720p, 480p, 360p, 240p and 144p. You can also download stereoscopic 3D videos on your computer.
1] Download the YouTube playlist and channels
You can download entire playlists and channels from YouTube in high-quality video and audio formats. Save your YouTube Mix, Watch Later, and Liked videos and private YouTube playlists. New videos from your favorite YouTube channels will be downloaded automatically.
2] Download private YouTube videos and playlists
You can download private YouTube videos and playlists that you have access to. You can watch this personal content without signing in, from anywhere, and anytime.
3] In-app proxy setup
Get around internet restrictions set by your service provider or school/workplace firewall by setting up a connection through an in-app proxy. It will allow you to access and download from YouTube and other sites that may be restricted
4] Smart Mode Feature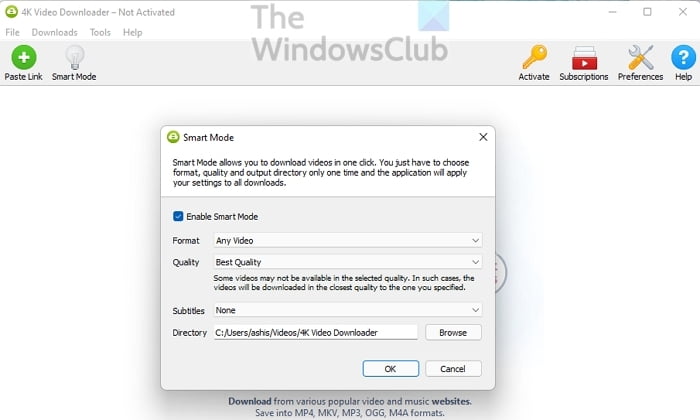 Enable "Smart Mode" and apply your preferred settings to all future downloads – get videos and songs downloaded more easily and quickly.
5] 360° Videos Support
Virtual reality and 360° cameras have revolutionized how we consume content. With the 4K downloader, you can now download and watch your favorite videos in this immersive format.
6] Automatic Download Option
Now, with the 4K Video Downloader, you can choose to download videos from your favorite subscribed channels automatically. No more manually going to each video to download them – now you can sit back, relax, and watch the latest downloaded videos at your convenience.
7] Speed
Download speed is a top priority when looking for a video downloader, and the 4K Video Downloader performs well. The software is optimized to take full advantage of your hardware's performance capabilities. With a decent internet connection, you can download videos at up to 4K resolution at an outstanding speed.
User Interface of 4K Video Downloader for PC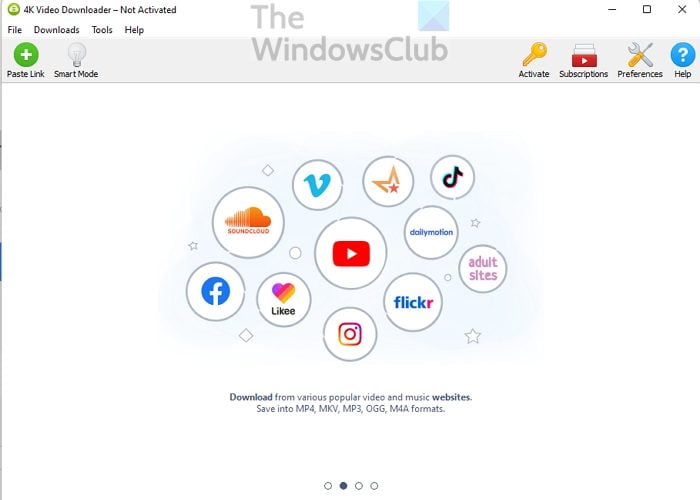 Video downloader software needs to offer convenient features and have a clean, simple user interface. Too many buttons can be frustrating, especially when trying to figure out which one is the download button.
The 4K Video Downloader is designed with a straightforward interface. Its many features only serve to make it even easier to use. One downside, however, is its less-than-appealing aesthetics. It's not a significant factor for a video downloader, but it would have been nice to have a cooler-looking interface.
How to download Videos with 4K Video Downloader?
You can download the software for Windows by visiting the official website.

Next, visit the website from where you want to download the video. Copy the Video URL from the browser's address tab.

Open the software, and click on the paste link button.

It will begin parsing the video file, and it may take a little while, depending on the video.

When the parsing has been completed, a small pop-up will appear. Enter your download requirements (e.g., format, resolution) and click Download.
The 4K Video Downloader has excellent features that make it easy and convenient. The subscription video download option and smart mode are handy, which puts this software ahead of most others. The interface could be more visually appealing, but it is still easy to use.