While Windows 10 offers support to play DVD player, it is very basic at its best. Many of us still play DVDs on Windows 10 computers, and you need a good DVD player, which can fulfill the all your requirements. That's where you need the 5KPlayer. It is a free DVD player for Windows 10, which offers a lot of playback features, region support, and GPU acceleration if you are geeky enough to understand.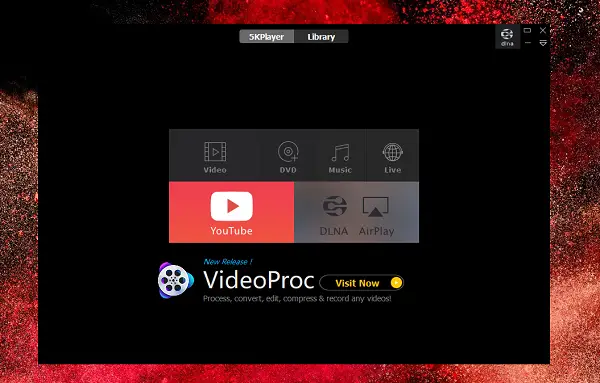 Best free DVD Player for Windows 10
Let's take a look at all the 5KPlayer DVD playback features. It's essential that you know them because the player should be able to play your DVD without an issue.  For example, Region and Format are the two most crucial criteria. Many media companies lockdown DVDs in such a way that they cannot be played outside of the set region. On the other hand, some formats are supported by DVD players.
1] Video formats: Every media company have their format, and while some of them to crack, 5KPlayer can easily handle formats on DVD which includes ISO file, VOB file in TS_Folder, Blu-ray video, etc. Region restrictions come on top of these formats.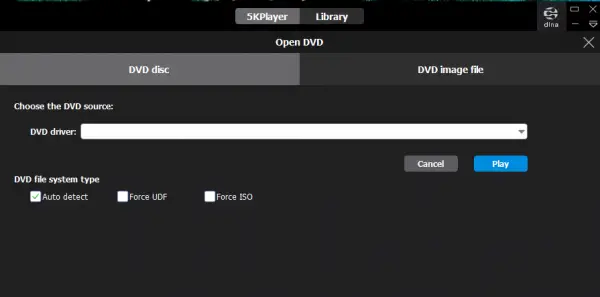 The software also lets you force UDF or ISO if Auto Detect doesn't work. Once the player is selected, you can click on the Play button to get started.
It also supports DVD Image files. If you have a DVD image file that you can burn, you can choose to play from here directly. It can load the DVD image just like it would be loaded into a physical DVD Player.
2] Regions: As long as the above video formats are available on the DVD you plan to play, the software can pass any region restriction. It can play region encoded DVDs and CSS-encrypted DVD movies without tedious manual decryptions. That includes Disney DRM, Sony ARccOS, DVD CSS, decoding. It supports all the region between 1 to 8.
So its Region 1 on the DVD label, it means it can be played in the United States, Canada, Puerto Rico, and Bermuda. If its Region 6, it means it's limited to Mainland China.
Blu-Ray DVDs are known to be notorious about it. So if the player does not recognize the region code, it will not play using its default player. However, with software like this, you can bypass it.
3] Type of DVD: It supports playback for homemade, commercial, encrypted DVDs, workout DVDs, etc.
When using this player, you can select chapters for playback. It is vital so you can easily skip to any section. It also supports the option to rotate the screen, subtitle, take the screen. If you want to stream, you can use the DLNA feature to share videos to a large monitor or TV. It is fantastic to have such features in a free DVD player Windows 10.
While VLC offers a lot, 5K Player is a great alternative to it.
5KPlayer other features:
One of the significant highlights of the 5KPlayer DVD is that its not just a DVD player. Instead, it offers more features on top of it to make it a complete package. The inclusion of DLNA and AirPlay makes it a media streamer and online downloader. It is much needed for the current generation. Let's take a look at the list of features of the 5KPlayer DVD.
1] GPU accelerated: Since the player can stream, and convert videos, GPU acceleration plays an important role. The hardware acceleration makes the conversion process faster. If you have a computer powered by NVIDIA, Intel, DXVA, and AMD, the software can use it to speed up the process.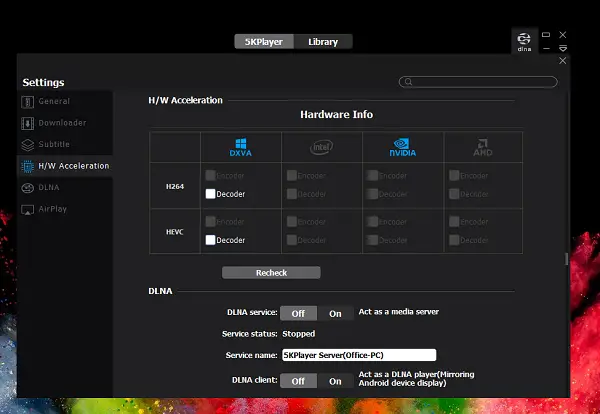 2] Play 360-degree videos: While not many people play it, it's essential to have it. It supports almost all formats, including 360-degree videos, DVDs, Live Music radio such as BBC, Heart, Capital, Gold, LBC, XFM, Chill, Kiss, Kisstory, Magic, Kerrang, Planet Rock, Absolute Radio and Classic Rock.
3] Stream over DLNA: Smart TVs are getting common, so if you have one at your home or even Xbox or PS4, you can stream videos and music from your computer to any DLNA compatible devices. It can render up to HDR 4K/8K videos in MP4, H.265/264, VP8/VP9, MTS, MKV, and VR 360° on Windows 10 and macOS.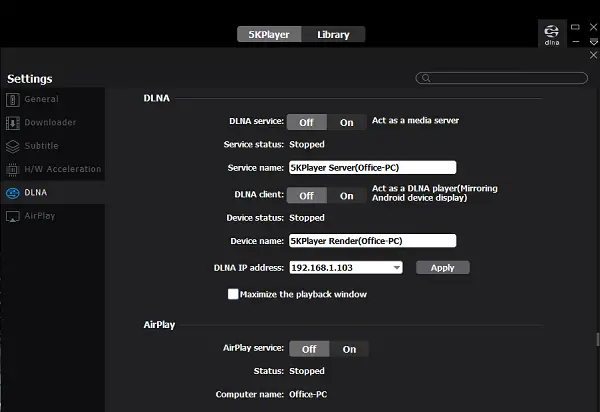 4] AirPlay Support: Not leaving the Apple users behind, if you have iPhone or iPad, you can mirror it to Windows or even Mac Devices. It also supports the recording of the iPhone and iPad screen while mirroring.
5] Editing: Supports some basic editing for videos, including the option to cut, rotate, change playback speed, change color balance, and more.
6] Download video as music: If there is a music video or a remix that you want to download, you can use its inhouse MP3 downloader. Of course, if you're going to download video, it is supported along with subtitles, batch downloads, resumes, and an option to manage a playlist to download.
Download 5KPlayer free
5KPlayer is one of the most comprehensive media player available as of now. You can visit its homepage to download the 5KPlayer free.