While VLC is a versatile player on any platform, many might not like VLC and want to find a VLC alternative. Like any other software, VLC can stop working, and in that case, you need to have a secondary media player. In this post, we are talking about 5KPlayer as we consider it to be one of the best alternatives to VLC. Also at the end of the post don't miss on the giveaway.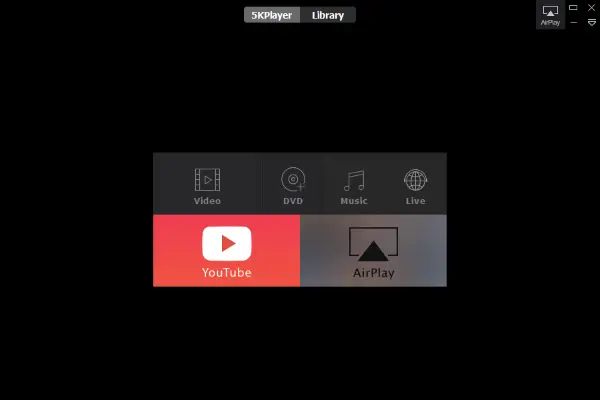 5KPlayer – Best free VLC alternative
5KPlayer supports a lot of file formats, offers TrueTheater technology, even supports AirPlay. What you will like about the 5K player is the modern design compared to the old fashion design of VLC. It offers useful features right up front, making it more usable on your Windows 11/10 PC.
Feature of free 5KPlayer which makes 5KPlayer the top VLC alternative
1] 4K/UHD/8K Player
If your computer supports 4K, then you can enjoy 4K/UHD videos on the computer, or stream it to TV. Apart from this, you can play 360-degree video, music, DVD and so on.  It supports MKV/M2TS/MP4/AVI/WMV/FLV video formats. For audio, you can play MP3 music, DTS multichannel surround sound, AAC, AC3, WMA, and FLAC & ALAC lossless audio files.
Even with the same standard H265/H264, 5KPlayer is one of the robust 4K Player, and it can also play 8K videos without any problem. On top, it consumes 9% less CPU when rendering the videos.
The latest version of the 5K player is capable of playing 3D videos. It can restore overexposed white images and featuring high playback qualities optimized specifically for retina displays. Compared to this, VLC encounters "not working problems" and H.265 decoding issues.
2] DLNA Support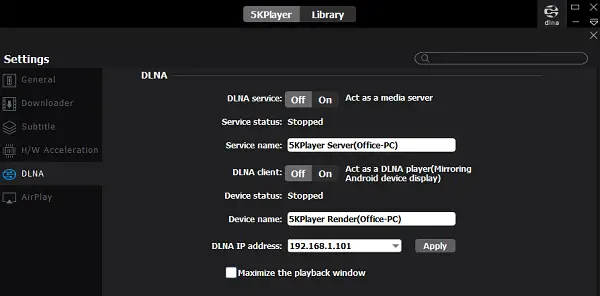 If you have a DLNA compatible devices, you can stream video or music from computer to Android/Smart TV/PS4/Xbox.
3] AirPlay mirror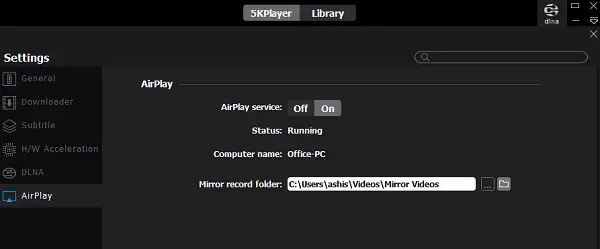 Those who are in the Apple ecosystem, the software supports AirPlay mirror. You can stream and mirror your iPhone iPad iPod screen to Windows/Mac. The best part! You can also record iPhone iPad screen while mirroring.
4] Video Editor
One of the primary reason why we recommend 5K over VLC is that it comes with a video editor.  You can make simple edit in the videos, rotate the video if the original recording was upside down, change playback speed, color balance, and audio.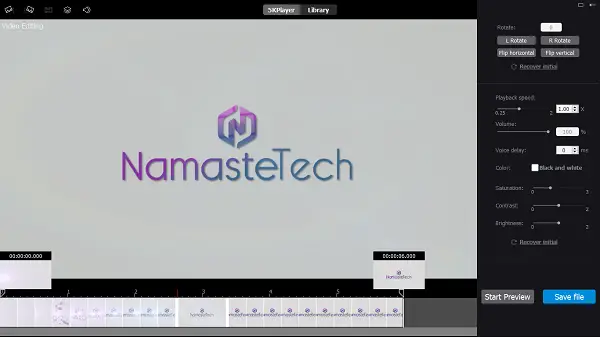 One of the major drawback of VLC as a video editor is the loss of quality in the final output. The 5K player uses GPU acceleration with DXVA, Intel, NVIDIA, AMD. You can choose to enable or disable H264 and HEVC for encoding and decoding. If you see some of the options have greyed out, then it means your computer doesn't support it.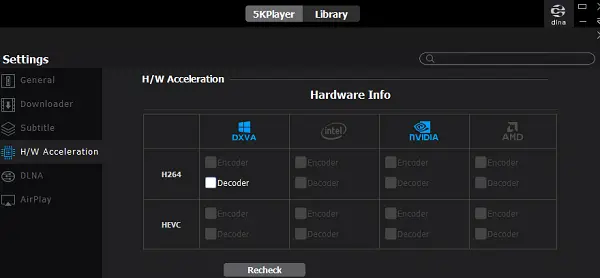 It also supports Dxva2 hardware acceleration. It is an API to speed up video processing. Software codecs and software video processors can use DXVA to offload certain CPU-intensive operations to the GPU.
5] Subtitles, Audio tracks and Media Manager
You can enable subtitles by selecting an "SRT" file, and you can change audio tracks as well. The subtitles are customizable. You can change the font, text size, and even the subtitle colors. The program can auto-detect subtitles for video and detection settings can also be altered. It also lets you take snapshots from a video file and choose a directory to save these snapshots. The program doubles as a good media manager. You can maintain your media library and access audio and video files within the program itself.
5] Video Downloader
Lastly, you can also use it to download music, convert to MP4, view subtitle, batch download online videos. In case the internet connection breaks or you need to start again, it will resume from the breakpoint. 5KPlayer downloads 1080p videos by default, but you can change this from settings.
6] Radio Player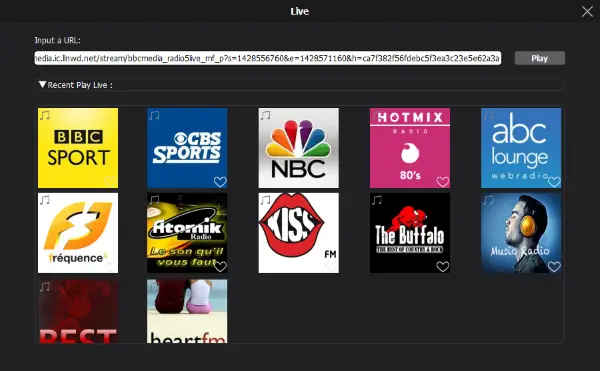 Internet radio has replaced the way we used to listen to radio and 5KPlayer is the modern internet radio player. You can manually enter a stream's URL or load one from pre-sets provided by default. The pre-sets has favorite channels like BBC Sport, CBS Sports, NBC, and Hotmix Radio. If you don't find your favorite channel in the presets, you can manually enter its URL, and the program will start playing it.
It pretty much sums up why 5KPlayer is the best VLC alternative for Windows 10 or VLC alternative for Mac.
Participate in the Giveaway Now!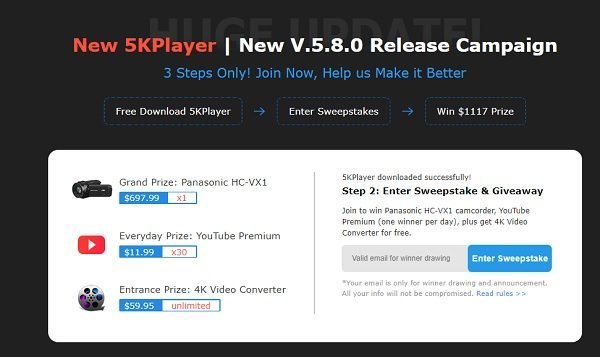 When you download 5KPlayer by visiting 5KPlayer.com here, you give yourself a chance to win Panasonic HC-VX1 ($697.99 x1) and YouTube Premium ($11.99). The later is being offered to one winner every day for 30 days.
When you are at the download page, click on the Free Download button. The download will start automatically in the background. It will also offer you to enter your email id to participate in the sweepstake.