5KPlayer is a powerful Media Player that comes packed with amazing features like AirPlay Service, Hardware Acceleration, YouTube downloading & more! If you are looking for a video player that can handle all your movies and videos, then this is what you are looking for. This free software is a perfect blend of great video playback, modern features, and a fabulous UI. The media player comes with some amazing built in features that are hard to find in other players. Let us take a look at what 5KPlayer has to offer to Windows users.
5KPlayer Review
5KPlayer is completely free to download and use, but you have to register it to use some of the features. Note that the registration is completely free and you get your license code in your email address.
5KPlayer Features
There are a lot of file formats, and a good media player should be able to support them all. 5KPlayer supports MKV/M2TS/MP4/AVI/WMV/FLV video formats. For audio, you can play MP3 music, DTS multichannel surround sound, AAC, AC3, WMA, and FLAC & ALAC lossless audio files.
The program supports a load of formats, and the TrueTheater technology makes sure that all these formats are played in best available quality. 5KPlayer was designed to enhance audio and video playback quality, and hence it seamlessly plays 4K/5K/8K UHD videos without any distortion.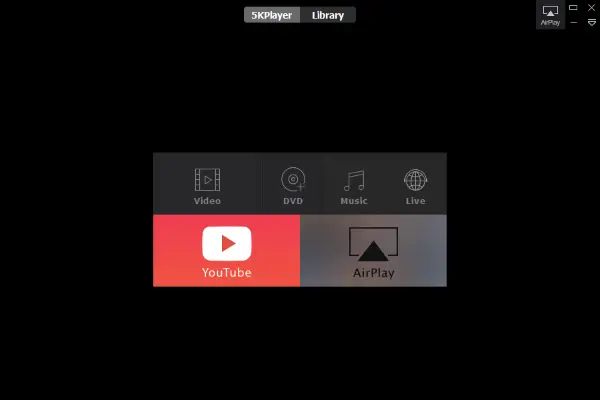 The program comes with all other basic and common video player features. You can enable subtitles by selecting an "srt" file, and you can change audio tracks as well. You can further customize subtitles by selecting a font, text size, and even the subtitle colors. The program can auto-detect subtitles for a video and detection settings can also be changed. It also lets you take snapshots from a video file and choose a directory to save these snapshots. The program doubles as a good media manager. You can maintain your media library and access audio and video files within the program itself.
AirPlay Support
5KPlayer comes with a built-in AirPlay service that can turn your computer into an AirPlay Receiver or AirPlay Sender. This feature acts as a complete screen mirroring tool for iPhone and iPads. You can directly stream content from your phone to your computer screen or the other way around. In the sender mode, you can stream videos and audio directly to Apple TV or AirPlay speakers.
Video Downloader
There might be times when you want to download a video from the internet. The program can download them all. 5KPlayer can replace all other video downloaders.
To download a video, all you need to do is copy the web page URL and paste it into the program. The program will analyze the URL and then download the video. 5KPlayer downloads 1080p videos by default, but you can change this from settings.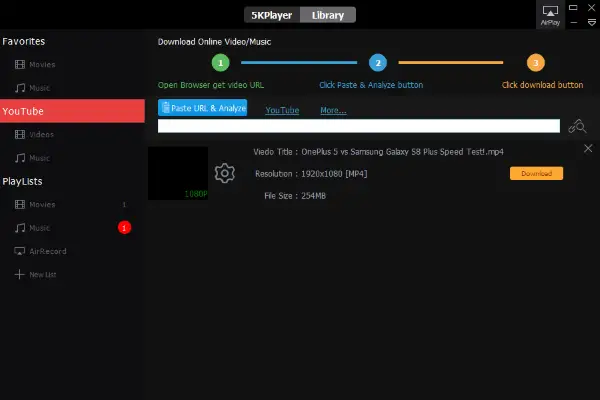 For now, 5KPlayer supports downloading from YouTube, Facebook, Vimeo, Instagram and other more than 300 websites. Not just videos, you can download audio files from all popular websites including SoudCloud. Moreover, you can also convert an online video to an MP3 soundtrack and only download the audio. Or you can convert existing video files to audio formats easily.
The ability to download videos from multiple websites and in a lot of resolutions makes this tool one of the best video downloaders. Visit  5kplayer.com to open the 5KPlayer video guide and learn more.
Radio Player
Internet radio has replaced the way we used to listen to radio and 5KPlayer is the modern internet radio player. You can manually enter a stream's URL or load one from pre-sets provided by default. The pre-sets include some of the popular channels like BBC Sport, CBS Sports, NBC and Hotmix Radio. If you don't find your favorite channel in the presets, you can manually enter its URL, and the program will start playing it.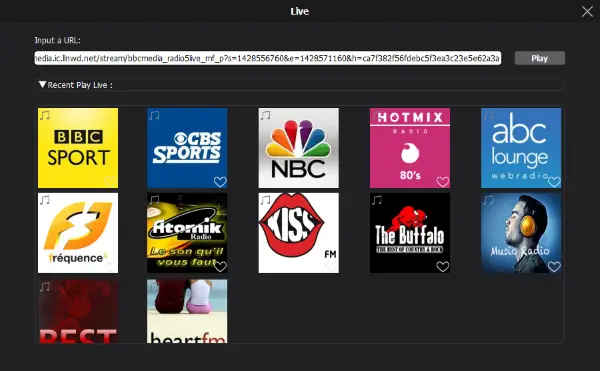 DVD Player
DVDs are originally meant for physical video players connected to outputs like televisions. But you can run DVDs on your computer using the built-in DVD feature in 5KPlayer. The program supports playing DVDs from a physical disc or a DVD image file. You can also unlock region-specific DVDs and play them irrespective of their region.
Hardware Acceleration
Some video players might face problems while playing high-resolution videos but that is not the case with 5KPlayer. It supports Dxva2 hardware acceleration, and you can enable it from the settings.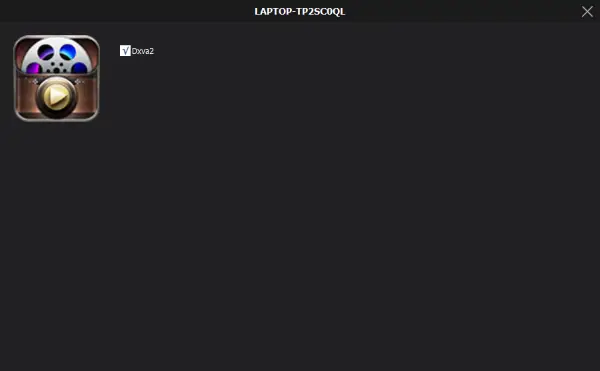 For those who do not know what Dxva2 is, I would like to quote some information from MSDN:
DirectX Video Acceleration (DXVA) is an API and a corresponding DDI for using hardware acceleration to speed up video processing. Software codecs and software video processors can use DXVA to offload certain CPU-intensive operations to the GPU. For example, a software decoder can offload the inverse discrete cosine transform (iDCT) to the GPU.
So 5KPlayer can utilize hardware components to accelerate video performance and ensure a high-quality playback of high-resolution video files. This will not only improve your overall experience but will also play larger video files smoothly on your computer.
5KPlayer is a great VLC alternative media player which shipd with all the modern capabilities. It comes with quite a few interesting features that are not offered by any other tool. You can stream your mobile to your computer using the AirPlay service, and you can easily download videos from the internet without installing any browser extensions or services. 5KPlayer has a great easy-to-use user interface, and it looks beautiful too.
5KPlayer free download
Visit the 5KPlayer home page to download it. It is available for Windows and Mac.
5KPlayer
Speed and Performance -

90%

Video Format Support -

88%

Navigation -

88%

Sound Options -

88%

Video Effects -

88%