While Windows offers a lot of inbuilt features to improve computer performance, if you are looking for professional software, then we recommend IObit Advanced SystemCare 13 Pro.  The latest version of the software offers deep cleaning for Windows computers and reliable protection for users' online privacy. The primary goal is to make sure to keep the performance right without a lot of manual input. The privacy protection, on the other hand, it also makes sure to keep online trackers on the bay.
Lets deep dive into the software and see what it can do to help computer users.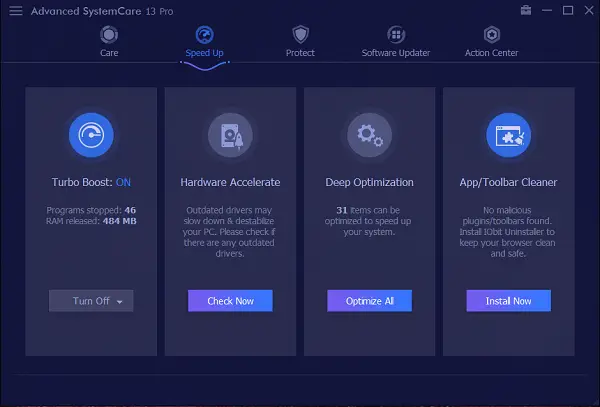 Advanced SystemCare 13 Pro review
Advanced SystemCare is a 1-click optimization software that will fix common Windows problems affecting your PC. When you install Advanced SystemCare for the first time, it offers you turn on a couple of settings that can help it optimize your computer. That includes an option for Security, Browser anti-tracking, Auto RAM clean, and more. You have to enable the options you think are best suited for your Windows computer. Once activated, the software launches for the first time. You will need to enable Turbo Boost.
The interface offers five tabs:
Care
Speedup
Protect
Software Updater
Action Center.
Let us take a look at them.
1] Deep Cleaning Windows computer for Performance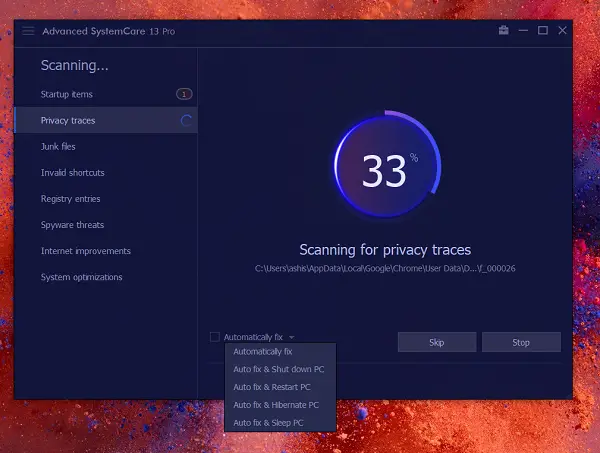 As Windows ages, it keeps stacking a lot of unnecessary files, registry changes, and more. Since it is not possible to manually track everything, a scan by the Advanced Systemcare can check, and optimize. It includes-
Startup optimization, Privacy Sweep, Junk File Clean
Shortcut Fix, Registry Cleaning, Spyware removal
Speed up internet experience and System optimization
The Care tab also offers advanced features that include Registry defragmentation, security reinforces, vulnerability fix,  and disk optimization. Once you select the checkboxes, click on the Scan button to start the process. Just before you start, you will have the option to apply the fix automatically, and if you are in a hurry, you can shut down the computer. During the scan progress, you will be able to see the results of each scan and recommendation made by the software.
Once the scan is complete, you can select each of the sections, and then click on the Fix button to fix all of them. Depending on how many fixes you apply, the software will take around 3-4 minutes.
A summary is displayed at the end, but you can always switch back to individual sections to find the issues, and go through them again.
What I liked how it was able to find so many things that were not necessary and also remove them. It offers a clear option to end-user if they want to keep and suggest what they should be doing with it. It makes it easy for the end-user to understand the problem completely.
2] Strong Online Privacy Protection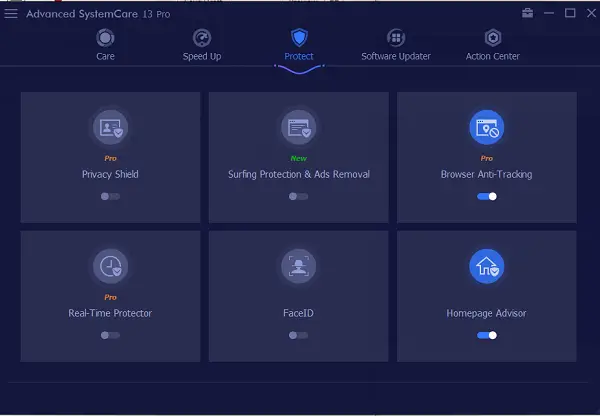 Switch to the Protect tab, and you will see that not all options are enabled. The default setup only enables the Browser Anti-tracking feature and Home Page advisor. While the former keeps you anonymous while browsing, and cleans history after that, the latter, notifies if there is any change in Browser's Home Page and Default Search Engine.
A lot of crapware changes them during the installation, and most of the time, you don't notice. There are four more modes available, and you should take your time, enabling each of them. It's essential since its the privacy feature we are talking about.
Privacy Shield: It protects sensitive data against secret access to avoid privacy leak and risks from blackmail software. You can enable the Sensitive Data Protection and Untrusted Program blockers option. Once turned on, and used for a while, you can click on the settings icon, and view all kinds of details. It includes all the attempts made to get the data and also lets you select the kind of data you want to protect.
Surfing Protection: Here, you can choose to turn on Email protection and Surfing protection. You can choose to enable on per browser basis. A complete history is offered in the settings.
Real-Time Protector: Protects you from getting tracked in real-time, but no details are available in the settings.
Face-Id: If you want to capture who tried to access your computer, you can set this up. It will download a small software and then set up the system. You will need a webcam to use this feature.
3] Boost PC performance
It comes under the Speed Up section, which offers Turbo Boost, Hardware Accelerate, Deep Optimization, and App/Toolbar cleaner.
Turbo Boost: It again offers three sections — Work, Game, and Economy. In each of these modes, it disables a few programs and services from running the background. However, there is no way to make any of them an exception. To switch between the modes, you can click on the drop-down and select. Some Windows Services are disabled, and I wish it displayed them in separate categories and the option to keep it running.
Hardware Accelerate: It checks for outdated drivers, and lists all the obsolete drivers. You can update it using the software, but here is one thing about drivers. Make sure the version is compatible with the installed Windows version. Windows Update system does an excellent job identifying compatible drivers, so if you wish to update, research it.
Deep Optimization: This performs some hardcore optimization for the network, DNS, Network speed,  and System. For the latter, it offers CPU optimization, enhances disk read and writes capacity, and even security fixes like disabling remote registry access.
The good thing is that you can choose what to fix and what to keep untouched. Many users must have optimized their network and storage, and they would like to keep it intact.
4] Software Updater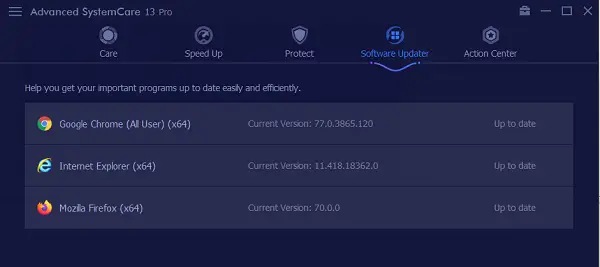 If you keep forgetting to update your software, it can take care of that too. Many a time we tend to ignore because we need to do something important, and then forget about it. The software makes sure to remind you about updates and also track it. However, it only tracked the browser update, and no other software was listed.
5] Action Center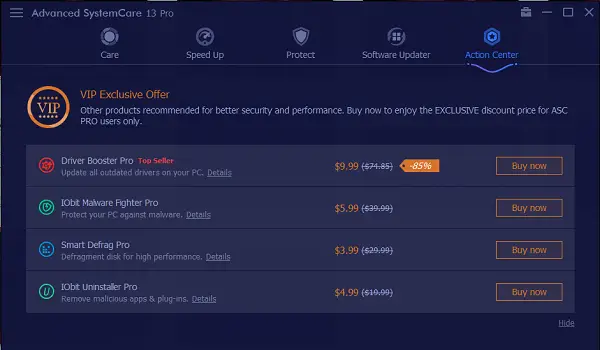 The last section is the Action Center. Here Advanced SystemCare showcases their in-house software with exclusive offers. If you like the existing software, you can buy more using the Action Center. Like you can see, it has listed offers for IObit Uninstaller Pro, Smart Defrag Pro, and more.
Overall I found Advanced SystemCare Pro an excellent software that can perform deep cleaning Windows computers to boost performance and also offers strong yet highly configurable online privacy protection.
If you are looking for a software solution, you can go ahead with Advanced SystemCare. You can also download the free version of the software and give it a try. It is definitely a must-have software if you want your PC running efficiently at all times.