Transferring files between devices belonging to two different ecosystems are one of the most difficult things to do. There are tools that let you do so, but often are sluggish and won't work for most of the time. But the tool is that we are talking about in this review is a total game changer. AnyTrans is an iPhone, Android and Cloud Manager. It lets you transfer files across devices seamlessly and via various channels. It is very easy to use and gets the job done quickly. In this review, we are going to talk about its features related to Android Device Manager.
AnyTrans Android Manager review
AnyTrans in its recent update brought features that let Android users transfer content from their phones to their computers. You can transfer almost anything and that too wirelessly. The tool is easy to set up, it can be downloaded and installed on Windows, or the web application can be used directly without any installation.
We tried using the native Windows application and faced no connection problems at all. To set up a wireless connection, install AnyTrans application on your phone as well as on PC. Then connect both the devices to the same wireless network, you can also use mobile hotspot. Open AnyTrans on your phone and scan the QR code displayed on your computer screen and you are good to go.
Wirelessly transfer content between Android, Windows, iPhone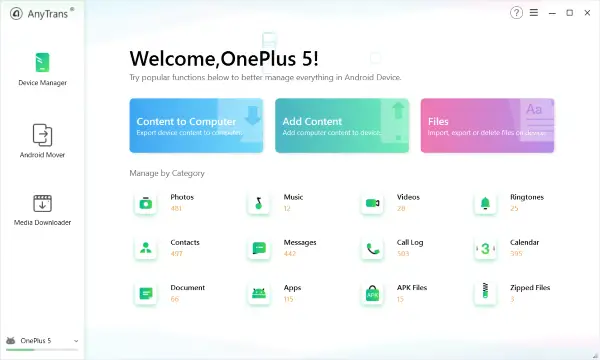 If a wireless network is not available, you can connect the device via a USB cable. Make sure you have USB debugging enabled on your device for a successful connection.
Device Manager
Once connected, the program will display a welcome message, and you will be able to access all sorts of content on your device. You can view photos, music, videos, contacts, messages, call logs, calendar, documents, apps, APK files and zipped files.
The tool lets you browse the contents of your phone and preview any file as it was available on your computer. You can use existing applications on your computer to preview any file. This feature comes handy when you just want to view files and not transfer them. The file explorer like interface is really very helpful while you are navigating through the contents of your phone.
Talking about transferring files, you can use the Content to Computer option to bulk transfer files from your phone. A category to transfer can be selected, and the contents will be copied to your computer. Or you can individually select files and move them to your computer.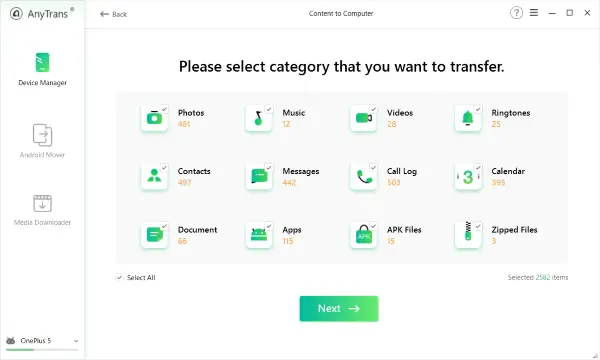 Another outstanding feature of this tool is the ability to access messages and call logs. You can export entire messages or call logs in HTML or txt formats. Moreover, you can even export your contacts and calendar in CSV or HTML formats. The tool comes very handily when you want to copy your contacts to another device in no time. You can also add and edit contacts on your device, details like name and numbers can be easily changed.
AnyTrans supports communication in both the directions; files from your computer can also be uploaded to your device. Select as many files you would like, and they will automatically be placed into intended categories and transferred to your device.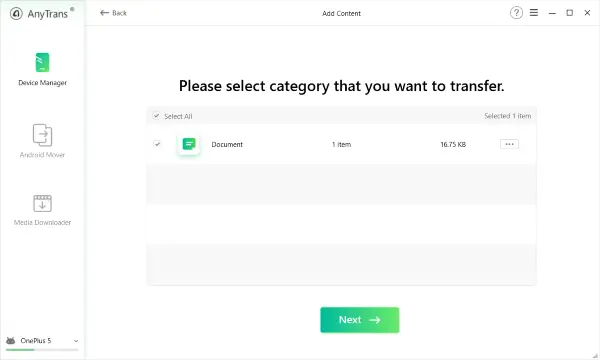 Android Mover
Android Mover is a special feature for users who want to transfer content from their old Android phone to new Android or iPhone. This feature offers two mode iOS to Android, and Android to Android. You can connect two phones to your computer and select a relevant mode to transfer the entire contents of one phone to another.
This is a one-click action and does not require any configuration or set up. Using this tool, you can also restore your iTunes or iCloud backup to your Android phone. This comes handy when you want to move contents from an old iPhone to a new Android device.
Media Downloader
AnyTrans comes with full-fledged videos and media downloader. It supports various popular websites including YouTube, SoundCloud, Vimeo, Ted, Jamendo, and Dailymotion. The Media Downloader can be used to download videos and then later transfer them to your phone.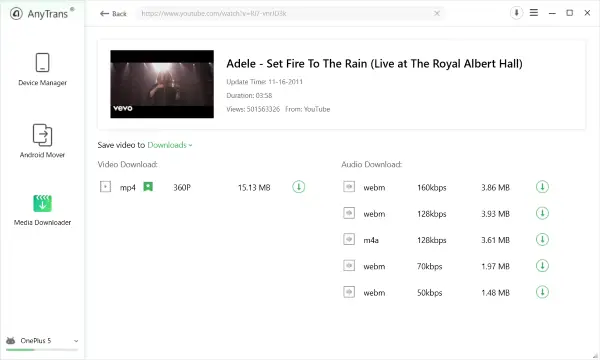 The downloader gives you various options including both video and audio formats. A download manager is also available to manage previously downloaded files.
AnyTrans is a must have a tool if you frequently move files between your phone and computer. It works with both Android and iOS devices and gets the job done very quickly. Plus, the clean and intuitive user interface makes it even better.
Pricing
A single license of AnyTrans can cost you somewhere around $39.99. Or you can go for a family license that allows you to install the tool on up to five computers for $59.99. Download AnyTrans from its official website and be amazed at the features that it has to offer.