Getting a good music playing software with everything you require is quite a difficult thing. With thousands of choices available on the internet, it is really tough to choose something which fulfills all your requirements. Finding your favorite music based on your mood and genre specifications can be tricky if you don't have good software. This is where Audials can help you.
Audials software has been providing the best entertainment software for your Windows PC, Tablet, and Smartphone. It can play music streams at a great speed without any loss of quality, and this is what Audials is best known for. If you are a true music fan and enjoy listening to your favorite music albums and tunes, you must be aware of the Audials. While Audials has already been serving more than 10 million users worldwide, the company is now ready to launch their new project Audials Music Zoom. This will be a new stand-alone software supported by Artificial Intelligence for the music fans.
Audials Music Zoom review
Audials Music Zoom is a wonderful program which gives you access to more than 300,000 artists and their music albums. The Audials technology has already been used and enjoyed by more than 10 million users worldwide. The program not just lets you enjoy the music from your favorite artists but also helps you selecting more musicians and artists from your preferred genre. You have a choice of more than 1,000 different music genres here. It works on the famous Audials technology which scans around 50,000 of the world's most important radio stations every day to bring you the best music experience. The extensive universe map is updated using the data collected by the new AI powered technology. Let's learn more about it.
Innovative Search Map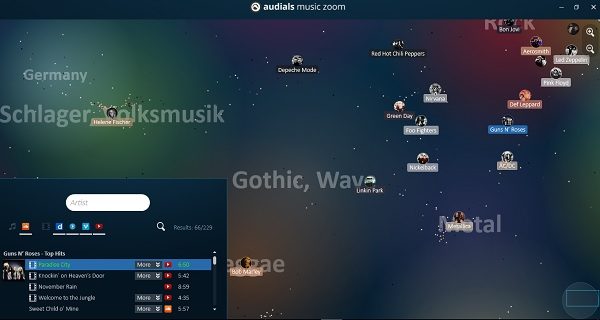 Audials Music Zoom brings an innovative search map which displays various artists from different parts of the world. The famous artists and their bands are floating as stars in the universe map according to their influence and musical direction. Just click on any of your favorite artist or band, and you can quickly get access to their albums and songs. This is a genre map, and when you select an artist, you will get the suggestions of other artists of same genre and music style. It is really easy to navigate through the genre map, just hover your mouse over the artists' pictures and click. There are zoom in and zoom out buttons also given at the top right corner of the screen. However, there is a search tab too to help you find your favorite music album or the artist. Just start typing the name there, and the program will pop up some relevant suggestion to help you out.
Complete Discography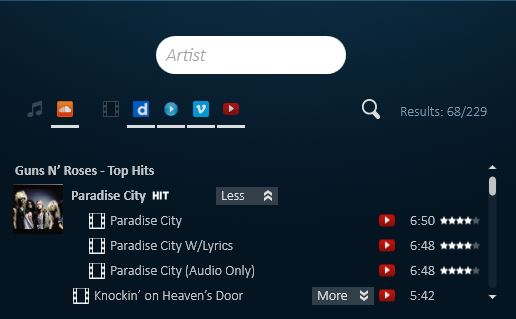 When you click and select any artist, the Audials Music Zoom brings the entire discography of the artist, including their top hits, best-rated music albums, and the tracks. The program uses some of the best-known websites as the resource to bring you the music – like Soundcloud, Dailymotion, Vimeo, Veoh, and YouTube.
If you want to see the tracks of a particular album by your favorite artist, click on More tab and you can see the list. Select your favorite number and enjoy. You can select or deselect the source as per your own choice and preference. The program lets you enjoy the music in various genres including the popular ones like Rock, Oldies, Electronic, Pop, Reggae, and more. You can select the genre and even the sub genre to be more specific with your choice. Just zoom in the map, select the area as per your choice and preference and start enjoying your favorite kind of music with wonderful streaming. You can jump to any other genre or artist anytime if you want.
Audials.com provides legal access to the music from the internet since last so many years. It features a powerful search engine and thus gives you instant and extensive search results in no time.
While Audials Music Zoom is the latest launch by the company, there are many other software already being used by the music lovers around the world. The best-known programs are Audials Music Rocket, Audials Tunebite, Audials One, Audials Moviebox, and Audials Radiotracker. All of these programs are available on Audials as well as the specific platforms. Every program run by Audials are well optimized for the Windows 10, 8 and 7 PC and also support the tablets and Windows Phone. The programs are also available for other platforms like iOS and Android too.
Of you are a music lover and enjoy listening to rich music, Audials Music Zoom is the one for you. You can download and install the software for free. No need to register, just download the software by clicking here and start enjoying your favorite music tracks.