There are tons of streaming services out there, and I am sure most of us end up subscribing to at least 3-4 services. However, unlike DVDs, they don't stay forever; you cant play them offline. That's where Audials One comes into the picture. It's the professional and ultimate software that can record and download almost everything on the computer. The popular services include Netflix, Amazon, Hulu, Spotify, Dinsey+, and even video calls from Zoom.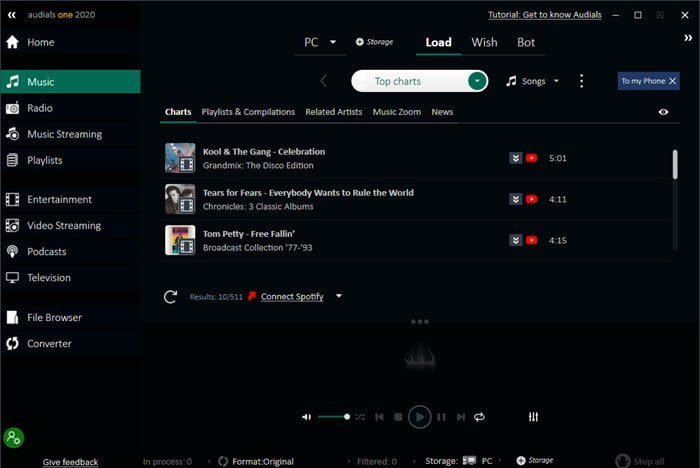 Audials One Multimedia Recorder review
Once you download & install Audials One,  the left section will list all the broader categories of the supported streaming services and features of the software. So, for example, when you choose Music, it will display some of the top music playlists from sources like YouTube. If you connect your Spotify account, it will also display data.
Record Disney+, Zoom Video Calls, and any streaming service on the internet
One of the best parts of the software is that it allows bringing all you're services under one. The next step is to download that Music into your local computer or cloud storage, so it works without the internet. Along with this, you can schedule recordings, record in Ultra HD, HiFi, or Master quality depending on service, add covers, and lyrics to make sure the album looks good.
Similarly, you can connect and record video streaming services like Amazon, Netflix, and the recently included Dinsey+. The way it works is different. When you connect a service e.g., Disney+, it will take your permission to monitor streaming when you start watching a video on Disney+. So when you do that, it will precisely record and download what you watch. Make sure to keep the quality high and volume up when doing it.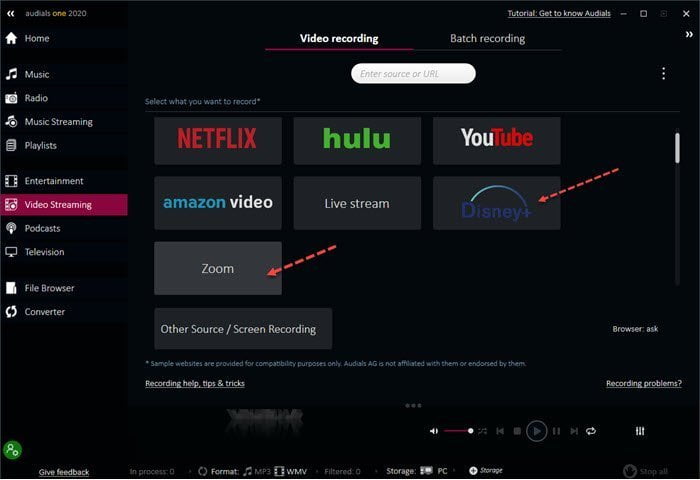 Next in the list is the Zoom Video Recording. Officially, the only Host is allowed to record zoom. However, if you ever feel looking back at the discussions, you are at the peril of the host. Audials One resolves this by automatically recording the video and audio of all Zoom meetings. It can automatically detect Zoom meetings and recommends to run in full screen for better recording experience. The free version offers 10 minutes of a video recording, which should be able to convince you to invest in the software if it's crucial.  The feature is available under the Video Streaming section.
Before we go ahead and talk about the complete list of features,  you should also know about the built-in Convertor. It comes as part of the software that you can use to convert any video or audio into other formats.  You get a list of profiles and gadget based settings if you need to convert a video for something specific.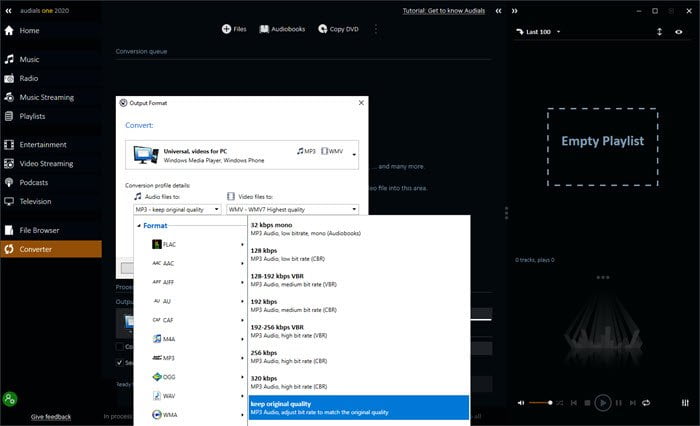 List of features available with Audials One
Music:  Record playlist, single songs at the highest quality of all recordings, and downloads. It also allows you to add tags, find lyrics and cut when required.
Radio: Find every possible radios and podcast on the internet, and then record them on the computer to listen offline
Video: Connect to any streaming service, and then download in optimized size. You can also record scheduling to download series. You can also save videos in any format.
Radio & Podcast: Play, Listen, and record all podcasts and radio stations. Customization for Podcasts available.
Movies: Record movies and entire series in the highest picture quality along with
TV: Supports recording of on-demand broadcasts
Convert: Copy and Convert DVD, Local video files, edit music, and media files, along with import and export functions.
Audials One Settings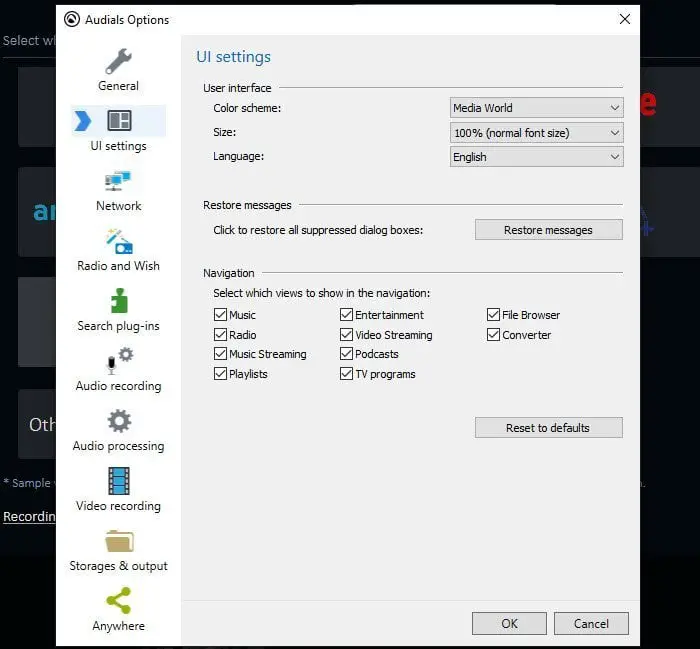 That said, those who are new to the application should make sure to check out the settings once they have tried the app for a bit. It is revealing that the application can be overwhelming for many, and hence should use settings to reduce the clutter. Available at the bottom left, here you can configure UI, Network, Radio, and Wish, Search plugins, Audio recording, and processing, video recording, storage.
As an example, UI settings allow you to remove the features which you don't use, making the UI less cluttered. Similarly, plugins will enable you to remove services that you do not apply. So, for example, if you do not use DailyMotion, you can remove it from the list. Once you make sure you have what you use, it will be a lot easier to search for them.
Those who have powerful  PCs can make use of video and audio configuration. It allows users to increase the number of threads for faster processing. You can also choose the quality of the video for all the conversion and frame rates.
Lastly, Anywhere settings allow you to access it from a remote connection. It is useful when your computer has all the downloaded series, and you would like to watch it from a friend's house or maybe at work!
All in all, Audials One is a powerful software with an exhaustive option. Even with the free version, there are some features free, which will allow end-users to try before subscribing to the premium version. If you are looking for software this good, you don't have to look around anywhere else.