HDR or High Dynamic Range is a photography technique used to capture a greater dynamic range of luminosity. HDR photos are generally more detailed, more appealing to human eyes and represent the broad range of luminosity present in the environment. In this post, we're are going to talk about Aurora HDR 2019 a tool that provides you with tools that are tailored for High Dynamic Range photography.
Aurora HDR 2019 review
Aurora HDR is photographic software & High Dynamic Range image editing and processing tool for Windows & Mac OS X that comes with features such as smart structure, etc.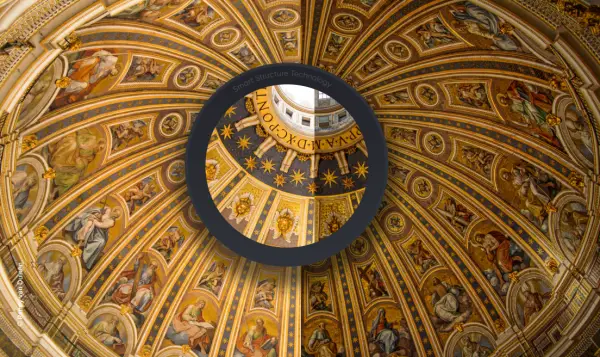 If you are already an Aurora HDR user, you must be aware of its powerful capabilities. With the latest 2019 version releasing on 4th October, Aurora claims to have further improved its capabilities by using its intelligent Quantum HDR Engine. The all-new version comes with a plethora of improvements and additions. You can wait till it releases or you can simply pre-order it on a discounted price.
HDR image editing and processing software
Aurora HDR 2019 comes with all new Artificial Intelligence powered tone mapping capability. Underneath it uses the same Quantum HDR Engine to analyze millions of pixels and build stunning photographs. This technology has been under development for three years and is finally going to be available in the latest release of the of the software.
Another addition to the list is the Smart Structure feature. An HDR Smart Structure gives you the precise amount of details in your photographs so that your photos look perfect with the right amount of detail. If you are a nature photographer, then this is the feature that you've been looking for.
Another offering of Aurora HDR 2019 is the LUTs. You can use LUTs and give your images a unique flavor. LUT stands for Look Up Tables and is a technique developed by award-winning filmmakers. What it generally does is change certain colors and their ranges based on the lookup tables provided. The 2019 version of the tool comes with LUTs built into it so that you can directly take leverage if it and make your photos look awesome.
Another addition to the software is support for Adobe Photoshop Plugins. So, if you are already familiar with Photoshop, you can directly use some of the popular Photoshop plugins with Aurora HDR. The names include Imagenomic Portraiture, Nik Collection, etc.
Apart from these major additions, there have been numerous improvements done here and there. HDR merge has been improved so that images look more natural and covers all the details that can be observed by the human eye. The UI has also been improved a little bit with the addition of new controls. And you can still expect all other basic as well as advanced HDR image editing features that were also present in Aurora HDR 2018. This is a must-have software if you are a photographer. The software can just convert your raw photographs to more detailed and appealing pictures. For the list of all the features, refer to the image below.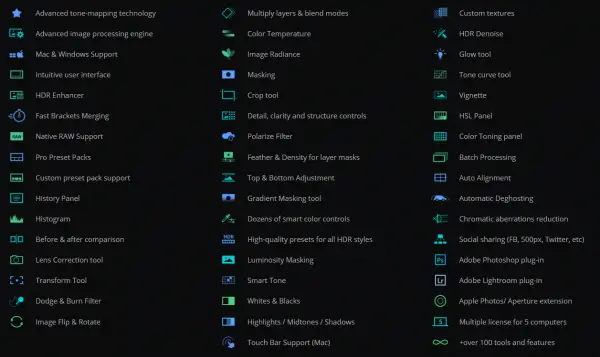 Aurora HDR has some good offers going on currently. If you pre-order today you will get an additional discount of $10 along with other free benefits included in the bundle. The original cost of the software is $99. The bundle of benefits includes free video tutorials, Landscape eBook, Color Grading LUTs, 28 Burning Mood Looks, 500px Pro Membership and $300 off Iceland Photo Tour.
>>Special Offer For TheWindowsClub Users <<
Discount code ($10 OFF) – WINDOWSCLUB
If you are an existing Aurora HDR User, you can head over to the product website and enter your product's serial number to get your special upgrade price. It is expected that the upgrade price would be around $59 normally and $49 if you pre-order. Click here to know more about Aurora HDR 2019.
Editing Options -

88%

Batch Processing -

90%

Quality of Output -

90%

Output Size -

95%