The quality of a video plays an important role in the user's experience and user's engagement. If you make high-quality videos, you will get more watch time from your audience. On the other hand, bad video quality decreases the user's experience and impacts the watch time. In this article, we will present a review of AVCLabs Video Enhancer AI for Windows. It is a great tool for content creators and any person who wants to improve the quality of their videos. Its Mac version is also available.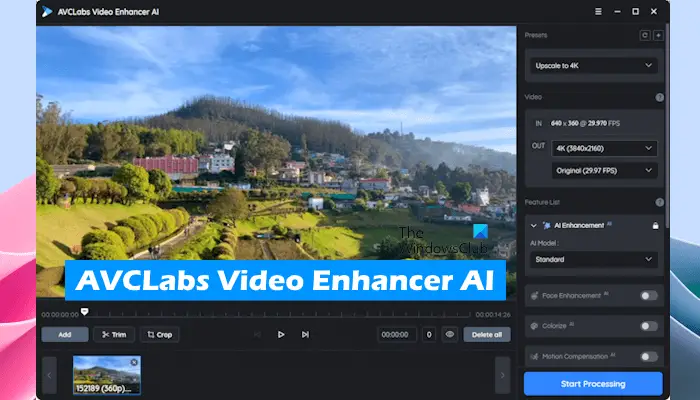 AVCLabs Video Enhancer AI Review
AVCLabs Video Enhancer AI is an AI-powered video enhancement software for Windows that can help you improve your video quality by upscaling low resolution, refining faces, correcting colors, and denoising them.
Features of AVCLabs Video Enhancer AI software for Windows
AVCLabs video enhancement software offers the following features that will help you improve your video quality. Let's see its features.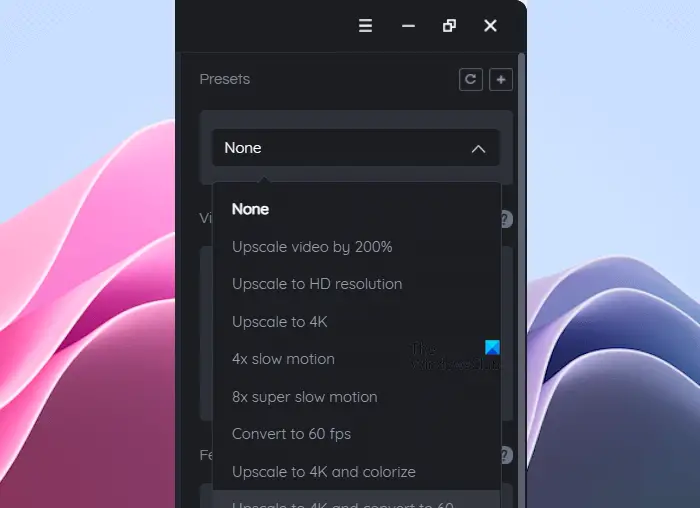 Video Upscaling: You can upscale your videos and improve their quality with the help of AVCLabs Video Enhancer AI software. Various upscaling modes are available to select from in the Presets of this software. Some of these upscaling modes include Upscale video by 200%, Upscale to HD resolution, Upscale to 4K, etc. Because Artificial Intelligence powers it, it uses a deep learning model to generate new frames and fill in the gaps. This gives you a sharper and more detailed video output.
Denoising: Sometimes our recorded videos contain noise. The noise in a video can be of different types like grain noise, static noise, banding noise, etc. This especially happens when we record a video in low lighting conditions or with an older device. With the help of this AI-powered video enhancement software, you can denoise your video and improve its quality.
Face Refinement: Now, you can refine faces in your videos and make them look sharper and more youthful. It also has the capability to remove blemishes and wrinkles from faces in videos.
Color Correction: Colors in a video make it more vibrant and natural. AVCLabs Video Enhancer AI software also helps you improve the quality of your videos by correcting the colors.
Frame Interpolation: If you want to improve the frame rate of your anime, stop motion, or animation videos, AI Frame Interpolation is the perfect solution. This technology can automatically generate extra frames that are consistent with the existing video, both spatially and temporally. By doing so, it effectively boosts the overall frame rate of your video, resulting in smoother and more seamless playback.
In addition to the above-mentioned advanced features, AVCLabs Video Enhancement software also offers basic features, which include cropping and trimming the videos.
How to use AVCLabs Video Enhancer AI for Windows
The AVCLabs Video Enhancer Ai software is easy to use. First, you have to download and install its Windows version on your PC from its official website. Now, launch the software.
After launching it, click on the Browse button to upload your videos. It can also process batch videos. Therefore, you can upload multiple videos to the software. All the uploaded videos will be visible at the bottom. In case of multiple videos, select the targeted video from the bottom to apply preset values and settings for video enhancement.
Trim or crop your videos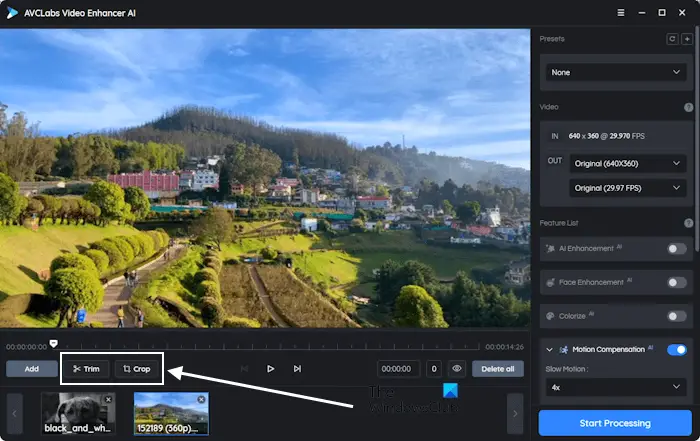 Trim and Crop are the basic features of this software. To trim and crop your videos, first upload them to the software, and then click on the required option from the bottom left side.
While trimming your video, you can enter the start and the end time manually or use the slider for the same. If you are using the slider, move the slider to a location on the timeline, then click on Set current as start frame. Now, move the same slider to the location where you want your video to end. After that click Set current as end frame. When you are done, click Apply.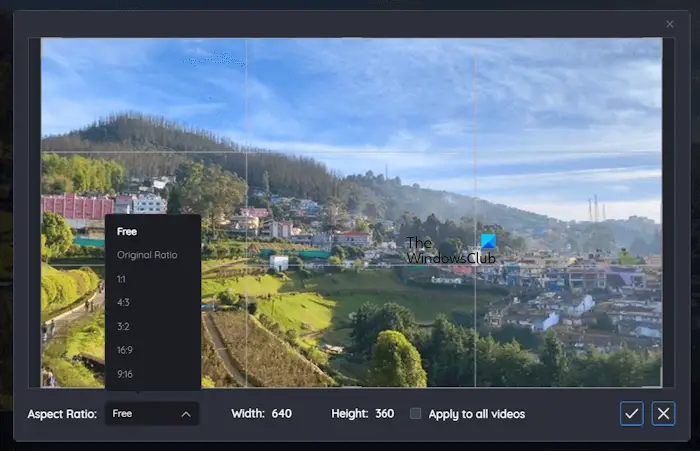 To crop a video, click on the Crop button. Now, crop the video manually with the help of your mouse or select the Aspect Ratio from the drop-down. If you want to apply the selected crop setting or Aspect Ratio to all your videos, select the Apply to all videos checkbox. When you are done, click on the tick mark to save changes.
Enhancing the video quality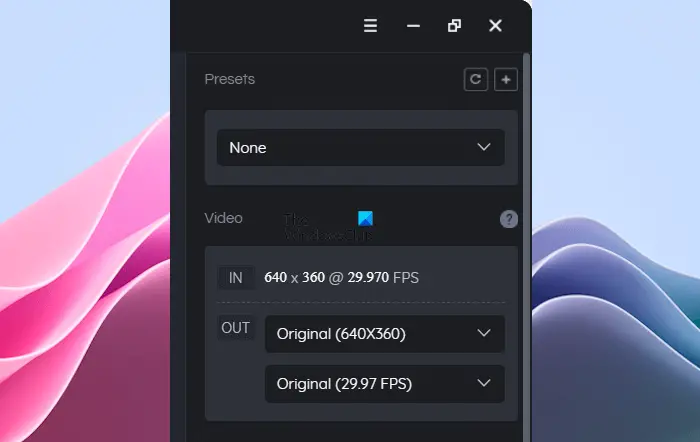 All the tools required to enhance video quality are available on the right pane of the software. You can select the desired upscaling option from the Presets drop-down menu. Under the Video section, you can select the output video resolution and frame rate of your videos.
Feature list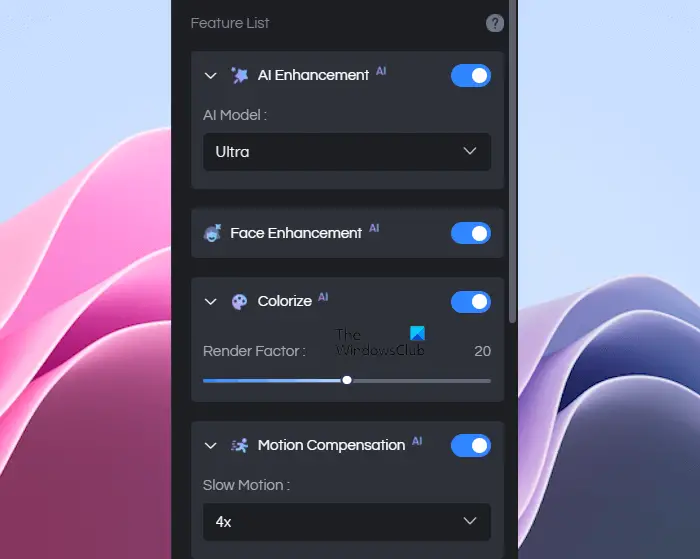 This section helps you enhance the quality of your videos. You can select the AI enhancement model from the drop-down. The following AI enhancement models are available in the software.
Standard
Ultra
Standard (Multi-Frame)
Ultra (Multi-Frame)
Denoise
Select the Denoise option to remove noise from your videos. If you want to add a slow-motion effect to your videos, you can enable the Motion Compensation option and select the desired option from the drop-down menu. By enabling the Video Settings, you can set the brightness, saturation, and contrast levels in your videos. You can enable the Face Enhancement feature to refine faces in your videos.
Colorize a black-and-white video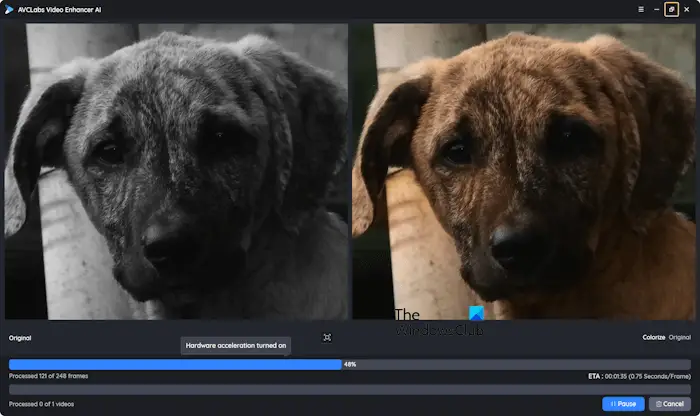 You can colorize the black-and-white videos by enabling the Colorize feature. After enabling this feature, you can move the slider to set the Render Factor. The above screenshot shows how AVCLabs Video Enhancer AI added colors to a black-and-white video.
Scroll down the right pane to select the output video format. You can also select the Encoder and Bitrate for the output video. When you are done, click Start Processing. The time taken to process your video will depend on the length of your video, the selected output video resolution, and the hardware specifications of your computer. Hence, keep patience. By default, it saves the processed files in your OneDrive folder but you can change the path in settings.
AVCLabs Video Enhancer AI supports a lot of video formats, including 3G2, 3GP, AVI, DIVX, FLV, F4V, M2TS, MTS, MOV, MP4, M4V, MPEG, MPG, DAT, MKV, etc.
 AVCLabs Video Enhancer AI System Requirements
Your system should have the following minimum specs required to run AVCLabs Video Enhancer AI software.
Intel CPU 4th generation or higher or AMD CPU from 2016 onwards
Windows 11/10 (64-bit) OS
4 GB of RAM
4 GB of GPU memory
8 GB disk space
1920 x 1080 display resolution or higher
You can view the list of supported GPUs on its official website.
AVCLabs Video Enhancer AI price
AVCLabs Video Enhancer AI For Windows is available on a subscription basis. A 1-month plan costs $39.95, a 1-year plan $ 119.95, whereas a perpetual plan costs just $ 299.90. You can view all available plans of this software on its official website. Before you purchase its subscription plan, you can download the trial version of the software so you can make your decision on whether you want to purchase its subscription or not.
Overall, AVCLabs Video Enhancer AI is a powerful and easy-to-use tool for Windows that helps users enhance video quality by upscaling and denoising videos, refining faces, and correcting colors in videos using neural networks. Whether you are an amateur video editor or a professional, this tool can be the best option for you.
Also read: AVCLabs Video Blur AI Review.
AVCLabs Video Enhancer AI
Functionality & UI

Video Upscaling Options & Quality

Output Processing Time

Pricing & Offers
Summary
AVCLabs Video Enhancer AI for Windows is a powerful video enhancer and upscaler, that can increase video resolution, remove noise, etc. using neural networks.AVCLabs Video Enhancer AI for Windows is a robust and effective tool designed to enhance and upscale videos on your Windows device. With its advanced neural network-based technology, the software can increase video resolution and remove noise to produce high-quality videos.