The summer vacation is coming to an end, and students are about to start school! It's already time to think about back-to-school shopping. Whether your kids are in middle school or are college students heading to the dorm, they'll need to be ready with laptops for the coming school year. If you know very little about computer software, Godeal24 recommends the latest productivity suite from Office – Office 2021 Professional Plus! MS Office Suite has been popular for the last two decades for offering productivity tools for business professionals and students.
Creating and editing text content, creating presentations, managing professional emails, preparing data sheets, or jotting down notes, Microsoft Office Suite does it all. Don't worry about whether it is so much expensive! Because Office 2021 Pro Plus is on sale in Godeal24 Back to School Sale. It is for only $24.25. And Windows 10 Pro for $7.25 and Windows 11 for only $10.25 are also price reductions. The software keys sold by Godeal24 are definitely genuine. If you worry about quality problems, Godeal24 has a money-back guarantee. If you are worried about keys cannot be activated or other problems, Godeal24 provides you with 7/24 professional customer service, and they will solve the problem in time!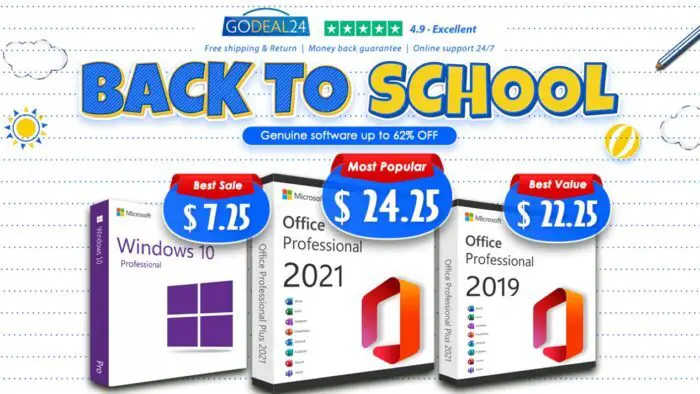 Godeal24 Hot Sales for your reference!
Microsoft Office 2021 Professional Plus Key – 1 PC – $24.25
Microsoft Office 2021 Home and Business for Mac – $28.99
Windows 11 Professional – $10.25
Windows 11 Home – $9.98
Windows 10 Professional – $7.25
Windows 10 Home – $7.15
Multi-keys pack makes your system upgrades easier.
Windows 10 Professional – 2 PCs – $12.25 only($6.12/PC)
Windows 10 Professional – 5 Keys – $33.99 only($6.79/Key)
Windows 11 Professional – 2 Keys – $20.25 only($10.12/Key)
Windows 11 Professional – 5 PCs – $48.99 only($9.79/PC)
Microsoft Office 2021 Professional Plus Key – 2 Keys – $39.25 only($19.62/Key)
Microsoft Office 2021 Professional Plus Key – 5 PCs – $65.25 only($13.05/PC
Get your cost-effective bundle today with 62% OFF (coupon code "GG62")
Windows 11 Pro + Office 2021 Pro Plus Bundle – $99
Windows 10 Pro + Office 2021 Pro Plus Bundle – $69
Windows 11 Pro + Office 2019 Pro Plus Bundle – $99
Windows 10 Pro + Office 2019 Pro Plus Bundle – $68
At Godeal24, you can save a lot of time and money with discounted Microsoft licenses, major IT security software, and other computer tools. Get Windows OS and MS Office at an unbeatable price. Experience hassle-free shopping with Godeal24's digital delivery, which sends your software directly to your email within seconds of purchase. Plus, with a TrustPilot 98% Excellent rating and 24/7 expert technical support, you can be confident in the product quality you are buying.
Godeal24 promises that they offer 24/7 professional technical support and lifetime after-sales service and that you can use the product without problems!
Contact Godeal24: [email protected]
Steps to buy at Godeal24:
Go to the checkout page, continue as a guest (or create an account), and then fill in "Billing Information".
Please select "CWALLETCO" in this step, then click "Continue".
Please check your order and click "Place Order".
Then it will jump to this page, click "Choose payment methods".
Finally, you can choose to use PayPal to complete the payment.
Conclusion:
Godeal24 is a legitimate website that sells genuine Windows licenses at a discounted price. The licenses that Godeal24 sells are activated with a digital product key, which means that they are just as legitimate as the licenses that you would buy from Microsoft directly. It offers a 100% money-back guarantee and good support for all your queries.
GoDeal24
Features & Options

Payment Options

Customer Support

Money Back Options