Data Recovery Software, as the name suggests are the tools used to recover the lost data. These tools can recover any of your data lost from any of your devices. There are several factors that can cause data loss like- human error (when we delete the files accidentally), software failure, virus attacks, hard drive failure, etc. Data Recovery software can recover all your lost files due to any of these reasons. These programs scan your entire device for the lost files and recover them.
Best Data Recovery Software for Windows computers
There are many Data Recovery Software available over the web and here I am listing the 5 of the best ones.
Wondershare Recoverit
Stellar Data Recovery
Disk Drill
Recuva
iBeesoft Data Recovery
1] Wondershare Recoverit

There is a reason why I am keeping Wondershare Recoverit on the top of my list. It is a very simple yet versatile tool that effectively recovers all your files lost accidentally or due to a hardware/software failure, or a virus attack. This tool actually gives us several different ways to recover the lost data.
The tool supports 1000 plus file formats including the NTFS, FAT, APFS, and HFS+. This is a high-tech tool and thus can recover your data lost from almost any kind of device including your hard drive, external hard drive, SSD, floppy disk, camcorder, video player, music player anything. The best part about this tool is that it offers a 95% success rate in recovering your lost data.
It is a superb file recovery software that will help you recover photos, recover videos, recover Excel file, recover as well as recover deleted Word documents, and more! Video producers, Graphic designers, and office staff are sure to find it very useful.
Some of the key features of Wondershare Recoverit include-
Advanced video recovery

Wondershare Recoverit can recover all your deleted or lost videos in whatever format they are. It supports almost every popular brand of camera and can recover its videos. No matter how deeply hidden your lost videos are, this tool can most likely find them. Not just the small files, this tool can recover your 4K/8K and Ultra HD videos too.
Corrupted video repair

Apart from recovering your lost data, the Wondershare Recoverit can also repair your corrupt videos. Many times we lose our videos while shooting, editing, or transferring them from one medium to another. Wondershare Recoverit comes to your rescue here, You can repair all your corrupted videos here with a single click.
Simply click on the Corrupted Video Here and add the video. Click on the Repair button and relax. The tool will do it all for you. With this feature, you can repair multiple videos simultaneously.
Crashed computer recovery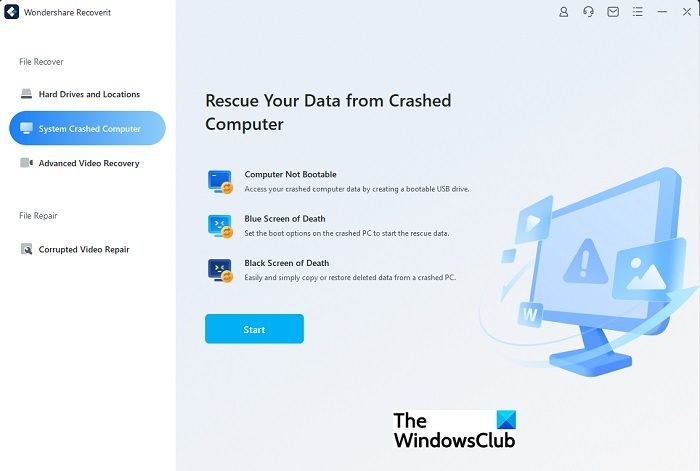 System crash is one of the most common causes of data loss and Wondershare Recoverit has your back. It can recover your data from crashes and unbootable PC too. The tool creates a bootable USB drive from your crashed PC and brings your data back. Whether your PC is facing the blue screen of death, is frozen,  showing the buffering sign continuously, or is stuck at loading files, this tool can help you with everything. Furthermore, it can also recover your data if you have formatted the PC.
Wondershare Recoverit Pricing
Essential: Recover unlimited files for 1 PC – $69.99/Year
Standard: Computer Crash Recovery for 1 PC – $79.99/Year
Premium: Files Recovery & Repair for 2 PCs – $99.99/Year
Wondershare also offers a free version of this data recovery software.
2] Stellar Data Recovery

Stellar has been one of the well-known Data Recovery programs worldwide. This program helps you recover all your lost files, documents, pictures, and videos lost due to any reason like virus attack, human error, hardware or software failure, etc. This program can recover your files even if you have permanently deleted them from your hard drives, memory cards, or USB drive or even if you have emptied your Recycle Bin.
Here are some features we tested and compared to Recoverit.
Easy of Use: Stellar data recovery is having very simple functionalities which will help you to scan files from specific devices. Stellar's file scanning is less than that of Recoverit because Stellar's files are smaller and fewer in number.
Scanning Speed & Quality: Stellar is really good for small file recovery. It processes small file listings very quickly but the MD5 matching degree of Stellar is lower than that of Recoverit, which implies the scanning speed and recovery quality of Stellar are worse than those of Recoverit.
Diversity of Functions: Restoring a video in Stellar is the same as any other program. However, since Recoverit offers advanced features for comprehensive HD and UHD video restoration, Stellar does not support it.
UI/UX: Stellar's UI/UX is very basic throughout their different versions of data recovery software's. It's easy for basic computer users. The Stellar interface changes rarely, and the software interaction is a bit complicated. Recoverit upgrades frequently to satisfy the demands of its users. And it offers a user-friendly interface/UX that's both easy and clever.
Their pricing is as follows:
Standard: $59.99
Professional: $89.99
Premium: $99.99
3] Disk Drill

Disk Drill is again a simple, quick, and FREE data recovery tool that helps you recover the lost, deleted, or formatted files easily. This tool can also revive the files you have lost due to your drive failure or PC crash. Disk Drill supports almost every popular device like hard drives memory cars, SD cars, USB, cameras, etc. It's a very simple tool and you don't really need any special skills to use it.
You can recover the photos, videos, documents, email, web files, etc. Disk Drill claims a 100% success rate in recovery. You first need to download and install this software on your PC select a location to start, preview and select the recovered data and then click the recover button to get them back on your machine.
4] Recuva
With a simple and clean interface, Recuva is pretty easy to use. It is considered to be one of the best free file recovery software tools available and the reasons are its ease of use and the success rate. Recuva is developed by the makers of CCleaner which has been a very popular and trusted program. Recuva is available in a portable version too if you want to use it on the other devices.
Recuva supports all your storage devices like hard drives, USB drives, memory cards, DVDs, Media players, etc. It can recover your files even if they are damaged, corrupted, or recently formatted. Another feature of Recuva is that it scans inside the files so that you can find and recover the hidden data with a particular text string.
Recuva Professional is available for $ 19.95.
5] iBeesoft

iBeesoft can find all your permanently deleted files from your computer's hard drive, disk partitions, SSD/HDD, USB drive, SD cards, digital cameras/camcorders, Android phones/tablets, DSLR, and more. Many of the data recovery programs recover the files but they get crashed and aren't usable anymore, but iBeesoft claims to recover your damaged and crashed files too. It can recover photos, videos, audio files, email archives, documents, and much more. It can also restore your accidentally deleted disk partition.
The key features of iBeesoft include-
To repair corrupted unreadable files
Boost SSD Recovery Capability
Better NTFS Drives Data Recovery
Find Target Files Much Easier
iBeesoft Pricing-
Family License – Work on 2-5 Windows PCs to restore deleted or lost data from storage devices- $89.95
Personal License – Used in 1 Windows PC to recover files. After changing to a new computer, you can still use it- $59.95
Company License – Activated on any computer or servers in the company to solve the problem of data loss- $199.95
So, these were the Best Data Recovery Software – and obviously, all of them are good but if have to buy one, I would recommend Wondershare Recoverit any day because it is a superb tool to recover your essential data from any disaster. It offers a 95% Recovery rate which is one of the highest recovery success rates!