Anyone running an IT company would know how difficult it gets to manage the workflow over time. Hence, it becomes crucial to choose an ITSM tool that can help with planning, execution, and management related to IT service delivery.
There are many IT service management tools available for the same. However, in this post, we will look at the InvGate Service Desk.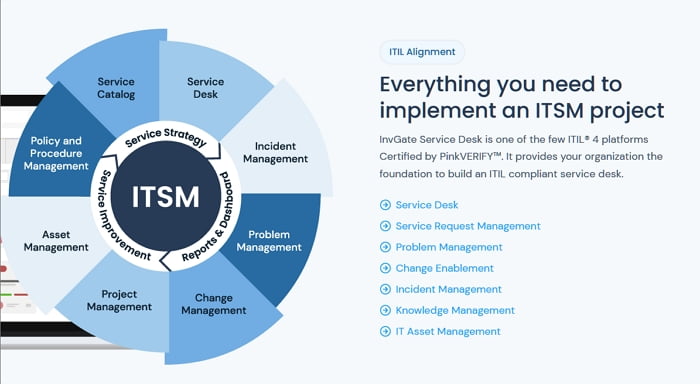 Best IT Service Management (ITSM) Solution in the market
InvGate Service Desk is one of the best ITSM solutions out there. It gets seamlessly integrated between the service requests and asset-requiring services. Also, it comes with an easy-to-understand, and user interface, which is pretty easy to configure.
InvGate Service Desk review
With this tool, you can manage the end-to-end delivery of IT services to customers in your organization.
The tool allows you to create a state-of-the-art IT service department with ITIL-certified incident, problem, change, service management capabilities, and more.

It also allows you to build a state-of-the-art service desk to bring in different communication channels under one platform. Plus, organize and distribute tasks based on rules such as requests, category, priority, and more.
How is ITSM application essential, and how it boosts business?
With the help of ITSM or IT service management solutions, you can effectively manage your IT service delivery roadmap. It will be easier for you to manage every part of an IT project under the same hub.
However, to help you understand better, here is how an ITSM can be helpful for your business:
Improved collaboration between teams
With ITMS solutions like InvGate, you can enjoy a better collaboration approach between teams. As the tool gives the respective agents all the information related to a project. For instance, ticket changes, linked requests, configuration items, etc. Plus, they will have easy access to a knowledge base, ticket tasks, and more.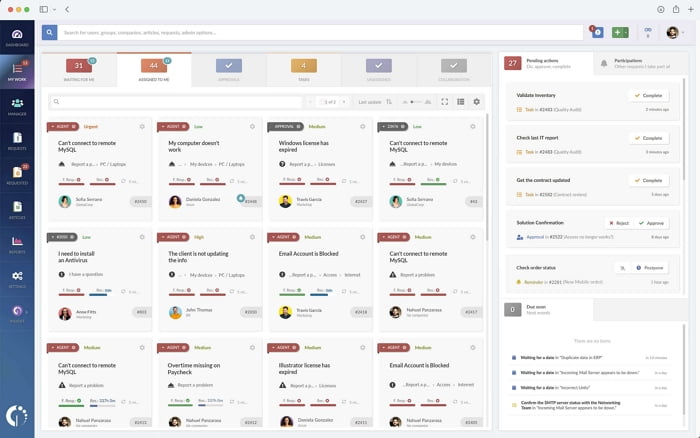 Automate workflows
You can also use an ITSM solution to automate the whole workflow. InvGate helps you to automate different processes related to problems and incidents using third-party integrations and assists your agents with AI-powered suggestions.
You are also getting a visual workflow editor, which can make automation available to your entire organization for any process. Also, it offers you AI-powered suggestions.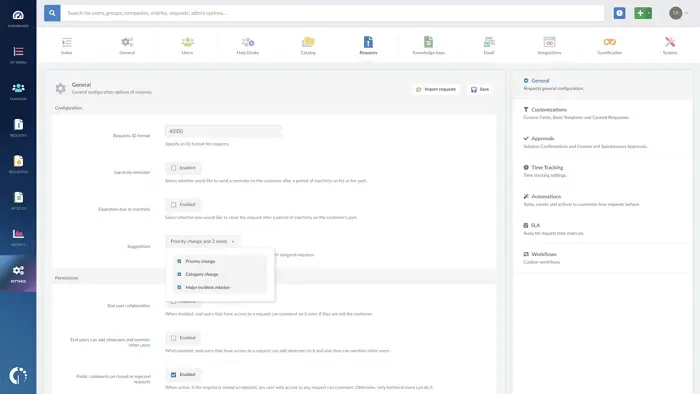 Enhanced report creation
While working on an IT project, you are required to create reports that can be used for both project purposes. And it can be shared with the customer as well. This is where ITSM solutions can be a great help.
For instance, InvGate Service Desk allows you to create reports faster and with more accurate information as it allows you to cross-analyze your reports over 150 metrics. So you can create better reports.
Enhanced decision making
ITMS applications can also be a great help when making important decisions. As InvGate reports are cross-checked over 150 metrics, you can easily understand a project's requirements and make better decisions quickly.
Automate customer responses
You can also automate customer response with an ITSM solution. For instance, you can share your dashboard with customers using InvGate Service Desk, as it allows you to create and share a custom dashboard with your clients.
This way, they can check all project details and share their feedback. Also, they will get better visibility on the status of the project. This way, you don't have to send emails to your client for approval occasionally. Also, your clients can keep an eye on the whole process.
Should you use Invgate service desk for your it business?
InvGate packs many excellent features and makes collaborating across projects extremely easy. It allows you to centralize all the communication into one platform and keep track of each project and task through time tracking.
Also, it allows you to create a cross organizations service process and is compatible with third-party apps. Hence, it is an excellent ITSM solution for you to check out.
Additionally, it comes with a trial period too. So you can check the solution out before switching to a premium plan.
Conclusion
InvGate Service Desk is one of the best IT Service Management (ITSM) solutions in the market with rich features. So go ahead and check out the tool and see how it is working for you.