Windows 10 comes with a Photos App, which allows you to edit images and videos. While the application works well, it is still limited at its best. If you are looking for the best movie makers on Windows 10, then today we are recommending Filmora9. In this post, we will discuss the video editing capabilities of the Windows 10 Photos App and Filmora9, and figure out which one offers better features.
Best Movie Maker software for Windows 11/10
Before we start with the comparison, here are some aspects of Filmora9, which has no comparison when it comes to the Photos App. Filmora9 offers faster import/export, allows you to edit 4K videos, offers Chroma key, or the green screen effect along with video stabilization. You also get access to free background music, text, transitions, filters, overlays, or more. Lastly, there is no keyboard support in the Photos app, which makes video editing a tedious job.
1] Media Organization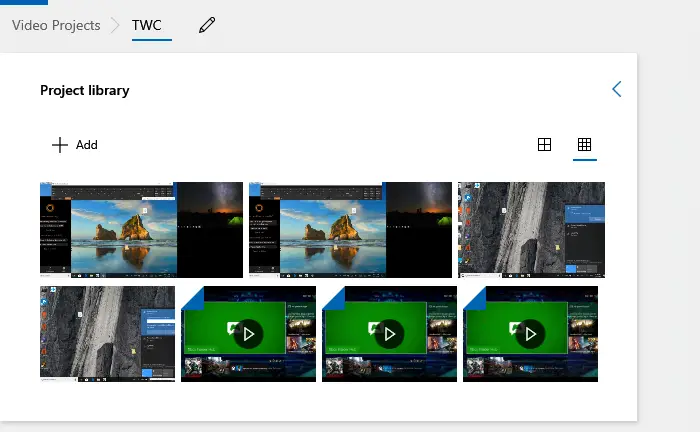 Photos App offers a "zero" media file organization. You can view it in a grid of preview format, and it is painful. Not only need to scroll to find your file, but you also have no way to filter them according to types. It only means if I have a 2-3 file editing job, maybe I can use it, but it will still be tough to manage.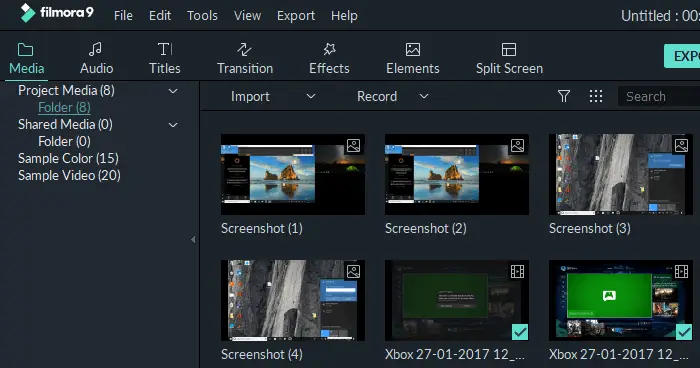 On the other hand, Filmora9 offers a professional level media organization. You can view by smaller thumbnails, sort them by name, group them, and more. There is a filter option as well, which allows you to see either audio, video, or images. The best part is everything is compact in Filmora9, that it makes the whole editing experience a lot faster.
2] Visible Audio Waveforms
Filmora9 offers visible audio waveforms. It means you can edit part of the audio, change volume, and have the option to edit in enhanced mode. It is handy when you need to modify part of the sound, merge with another audio file, and so on. You can also reduce the length by dragging the endpoints to the desired location, which makes it easy to remove part of the audio, which is blank or has noise.
Video editing has grown familiar, and people don't like to get limited to either s single background music or if they are not able to edit the video. That's what happens when you use the Windows Photos app. While it allows you to add custom audio, but there is neither a waveform nor you can edit the audio. Though it will enable you to change the length of the sound, there is no way to edit them at run time. It increases the time to edit the audio files using another tool.

3] Social Media Support
When making a video for home usage, a bit of fun from social media videos adds to the fun. Using Filmora9, you can import media from Facebook, Instagram. You can also instantly record videos using a webcam or PC screen and even do a voice-over. There is no such support for Windows Photos App.
4] Transition and Effects library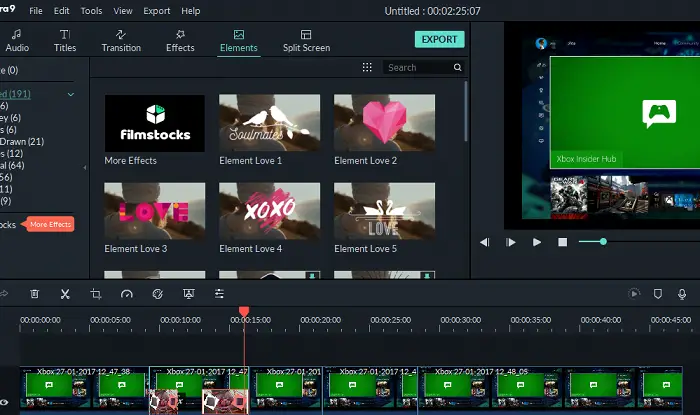 Applying a transition and effects is easy, and you can add multiple of them in one part of the video. All you need to is open the Transition/Effects/Elements section and drag and drop them to the video. It makes it an excellent fit for making home videos.  There are over 500+ transactions and effects available, and if you buy the higher version, you get access to their Filmstocks library.
The software allows you to set keyframes to control the effects and supports you to change the speed and duration of the animation. It also includes customizable motion graphics and text effects.
Photos App, on the other hand, offers limited filters, and you can only apply one of them. However, the Photos app has one advantage, which is the 3D effects. Thanks to the native integration of Windows 10, you can add 3D animations from the computer or Microsoft's 3D Library.
While Photos app does allow you to add text, but it is limited when it comes to customization. You get access to a few styles and basic layouts.
5] Color and Audio correction
Filmora9 offers professional-level Color and audio correction. It can automatically correct to set the right color tones; you can manually console shadow, mod-tone, color wheels makes it even better. And if you want changes to be consistent throughout the video, you can also use Scopes.
When it comes to audio, the automatic sync allows sync audio and video, equalize the high and lows of the sound to normalize the volume to a fixed level. It can also remove unwanted background noise, and crossfades helps you achieve a smooth transition between clips.
None of these are available with the Photos App.
5] Exporting Videos
Exporting video is an essential part of video editing, especially when you want to have an output for a particular set of the device. Photos app-only offer you to choose resolution when exporting the audio. In contrast, Filmora9 offers to export in formats like WMV, MP4, AVI, MOV, F4V, MKV, TS, 3GP, MPEG-2, WEBM, GIF,  MP3, upload to Facebook, Youtube and export to devices.
There is no doubt that Filmora9 from Wondershare Filmora is not only powerful but also feature-rich video editor, which can be preferred over Windows 10 Photos app. The later is only useful if you plan to edit one or two videos and probably helping out your kid to get a home video done. On the other hand, Filmora9 offers tons of features, rich controls, excellent editing controls, and more.