As we keep using our Windows PC, it gets slower with time. It's not the hardware, but mostly because we install and uninstall so many things – the junk files on the computer keep growing. While Windows 10 offers the in-built option to clean up the computer, today we are looking at a list of professional PC Cleaner software.
Best PC Cleaners – 2020
If you are wondering why a professional software is needed, then the answer is simple. This software takes one step ahead of where Windows cleaning stops. Windows cannot clean up junk registry entries; it cannot remove traces of files left by the software, and so on. Professional software that we are listing below offers a lot more than cleaning services.
Here is a list of the five best PC Cleaner speed-up & optimization software for Windows computers:
Advanced SystemCare Pro
Ashampoo WinOptimizer
CCleaner
System Mechanic Professional
AVG PC TuneUp.
The best part of the software is that you don't need computer skills to use them. Just select the option which works for your computer and the software takes care of the rest.
1] Advanced SystemCare Pro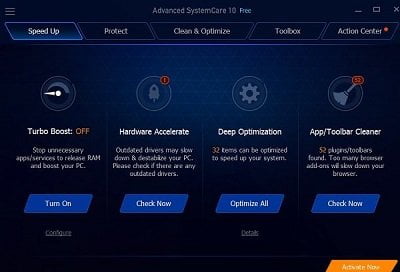 The company over the years have maintained an extensive database of information which helps to pinpoint issues on a Windows PC. The software offers advanced features, and performance that doesn't take a toll on the computer. One of the unique features is FaceID and biometric data support which not only secures the PC but can take pictures of anybody who tries to intrude. FaceID history encrypts and stores the photos of intruders on your PC so that you can check who secretly tried to access your PC.
Features:
Speed Up Your PC
Powerful Cleaner which cleans the installed driver packages, remnants, and unused programs from your PC thereby giving you more disk space.
Resource Manager monitors your Disk space, RAM and CPU.
Safe Browsing comes with a Spyware Protection Database and System Reinforce which provides better protection against malicious programs and other online threats.
Download it from filehorse.com.
2] Ashampoo WinOptimizer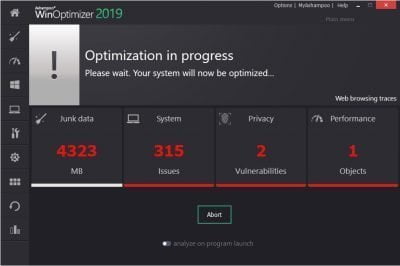 It is a powerful software which scans, cleans and optimizes your Windows PC effectively thereby improving the functionality and stability.
It offers a 1-click optimization technique which takes care of several issues at once. The list includes clean your system in-depth, eliminates web browsing traces, deletes unnecessary files to reclaim disk space, removes invalid Registry entries for improved performance and to avoid system errors.
The file scanner can also figure out if the files available on your computer was downloaded or is part of the system. It helps when you keep wondering looking at the task manager if the file is a virus.
Features:
Maintain System
Improve performance
Customize Windows
Analyze System
File Tools
Backup
Download it from filehorse.com.
3] CCleaner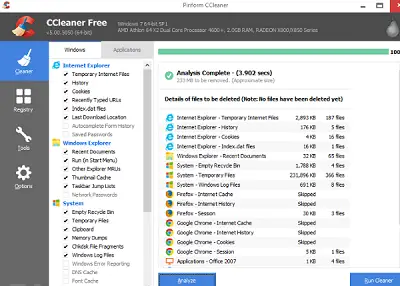 It's a popular PC cleaner software which I am sure most of have used at least once. The software was very famous for fixing registry settings and deleting junk files. Fast forward today, the software has evolved to incorporate Privacy settings along with system optimization, and cleaning tool.
The full-featured registry cleaner makes sure to create a backup before removing any junk entries so if you wanted to restore, its just one-click away.
Features:
Delete junk and broken files
Removes invalid and unnecessary registry entries
Remove programs from startup
PC optimization
Download it from here.
4] System Mechanic Professional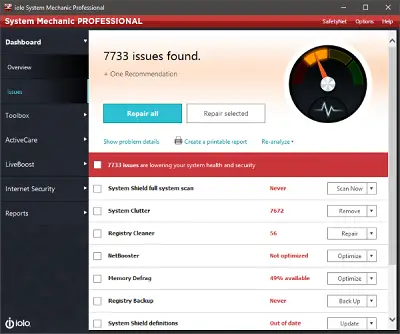 It's another related software which goes a decade back. Apart from improving the performance of your computer, the software now offers Anti-virus/Anti-spyware blocks and Protects Privacy.
What makes the software stand out is the Live Boost feature. It uses AccelWrite feature which offers real-time file optimization. It can prevent file fragments from getting generated to make sure the system performs well. Similarly, RAMJet feature can optimize RAM.
Next, you have Core Optimization and Power Sense. It makes sure the CPU resources are used in a balanced way. It makes sure that processes don't bottleneck CPU. Any process which is not used, and clogs the CPU running in the background is detected and marked.
Features:
Desktop File Incinerator is a file destroyer which makes sure it cannot be recovered using any file recovery software.
It cleans and repairs registry problems.
Eliminate unnecessary programs from startup.
Defragment system drive.
It removes junk files, private browsing data, and more.
Retrieves many lost and accidentally deleted files including photos, videos, and documents.
Identifies unwanted startup programs that slow you down by launching and running without your knowledge.
Get it from its download page.
5] AVG PC TuneUp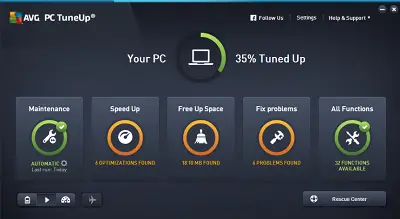 Apart from the regular cleanup of junk files, it offers a unique feature called Sleep Mode. It makes sure to boost your PC speed and performance when you are not using the system.
The software updater makes sure that all your software programs are updated regularly. It makes sure that none of the software has any security issue that can affect you.
Features:
Scheduled & automatic routine maintenance.
Speeds up access to your hard drive by defragmenting it.
De-clutters and cleans your registry.
Identifies programs which delay the startup and recommends to remove them.
Offers economy mode for laptops. It balances between power and work.
Stops unused programs from draining power.
Wipes junk data to free up disk space.
Remove duplicate files.
Download it from filehorse.com.
That concludes our list of Best PC Cleaners In 2019. All these listed software offer a trial period. You can install them and use it with all the features to experience what they offer. We recommend you try them and then evaluate which works for you
Actions to Further Improve PC Performance & Security
PC cleaners are good for removing unnecessary junk from your system, but quite often, poor PC performance is a result of more malicious malware and tracking programs.
As such, you can't rely on cleaners alone to ensure the security of your system and obtain the best performance out of it. Tools such as anti-malware and VPNs for Windows also have an important part to play in keeping your PC and your information protected.
Good anti-malware software will keep you safe from dangerous viruses that can seriously damage your PC performance and security, while a VPN will protect your online activities from being tracked by third-parties. In my personal experience, I use ExpressVPN for my browsing activities to safeguard myself online