When you have a lot of music videos, but you only want to listen to audio, then you need a video to MP3 converter. Any video to mp3 converters software can extract audio from these video files, and then you can listen to it on your phone or desktop. Today we are reviewing two software — Aiseesoft Video Converter Ultimate and Vidmore Online Audio Converter that can help you get this done.
Video to MP3 Converter Software
Both of these, Aiseesoft Video Converter Ultimate and Vidmore Online Audio Converter,  software offer professional-level software to convert videos to MP3 and any other audio format. If you have a basic requirement, you can use the second one for free conversion.
1] Aiseesoft Video Converter Ultimate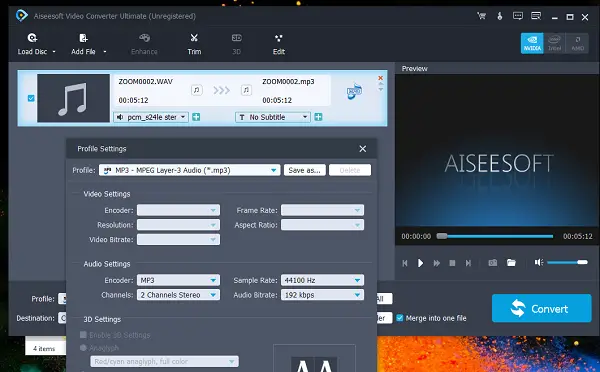 While it is a video converter, the software is a powerful audio converter as well. One of the critical aspects of extracting audio from video is making sure that it carries the metadata from the video to the audio. It makes sure when that converted audio is loaded into a music player, you can quickly identify it using those metadata.
Download Aiseesoft Video Converter Ultimate
Once installed, select MP3 Profile from the list.
Click on Add File.
You can add multiple files and batch convert them.
If you have any specific requirement, you can click on the Settings button next to the profile, and then change accordingly.
You can also choose to change the name, add subtitle, trim file, and enhance the audio file.
Select the location you want to save and hit the convert button.
While you need to purchase the software to unlock its potential fully, you can convert video to audio for free. If you have an audio file which is more than 5 minutes, you can only convert upto 5 minutes. If you have anything less than 5 minutes, you can convert only half of the audio.
Once the conversion is complete, you can choose to open the folder after conversion or shut down the computer.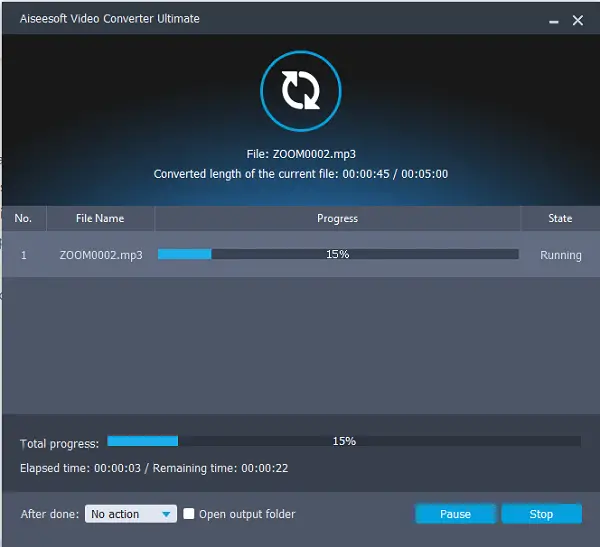 The software can also convert to other audio formats including MP3, AAC, AIFF, FLAC, WMA, and more for playing on your iPod, iTunes, and other players.
If you have DVDs, you can directly choose to convert them without any loss of quality and convert to FLAC, WAV, MP3, APE, and WMA, etc.
The conversion speed is fast, and if you have NVIDIA, Intel or AMD, it can take use the hardware acceleration to speed up the overall process. Here are the rest of the features of the converter:
Support external audio track and multi-audio track
Add external subtitle to video
Improve video quality and make your video visually energetic
Reduce video shaking to stabilize shaky video
Rotate and flip your video to the right angle
Support HD/4K UHD and 3D converting
Convert DVD to 2D/3D video formats.
2] Vidmore Online Audio Converter & Video Converter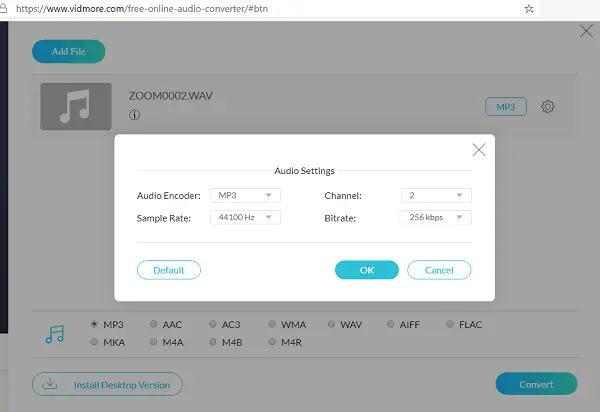 Vidmore offers two services. The first one is an Online Audio converter. It can convert one audio format into another audio format. It supports MP3, AAC, M4A, WMA, OGG, FLAC, WAV, AMR, AIFF, APE, and M4R formats.
Visit Vidmore.com website
Click on Add Files to Convert. It will download a small piece of software which works with the browser.
Next, click on the button again, and it will open a pop-up window. Here you can add multiple files.
Right next to the listing, click on the config icon and here you can configure the channel, bitrate, etc.
Once done, click on the Convert button.
It will then ask you choose a default location where the converted audio files are saved on the computer.
Once the audio conversion is complete, the folder will open to reveal the audio file.
I have noticed that the conversion is high-speed and reliable. It supports several lossless output formats like WAV, FLAC, AIFF, ALAC. The quality of the output files can be easily adjusted in the settings. The online tool is entirely free and easy to use.
The online version can also take video formats, but there seems to be a limitation on the size of the video, and it kept failing.
The second service offered by Vidmore is through the software. You can download and install the desktop software from the same link. It is interesting to note that the software is not just an audio converter, but offers an exhaustive video conversion solution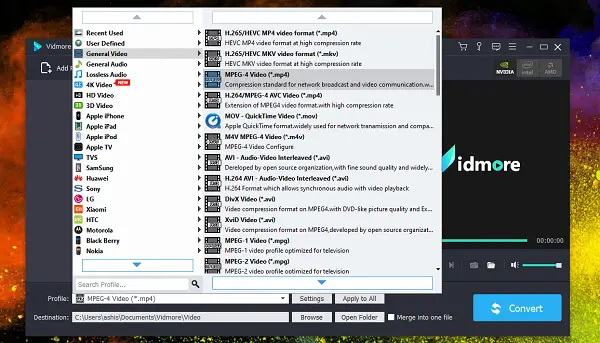 You can add multiple files, merge them, edit, enhance, and clip videos before final conversion. It even supports 3D video rendering, split-screen, and so on. If you want to convert a video into audio, you should use this tool.
Its good to see that these Video to MP3 Converter Software offer free conversion upto a certain extent. It gives end-user time to evaluate the software, and check on the quality of the conversion. Once you buy the software, you can unlock the full potential of the software.
Video to MP3 Converter -
$29.40
Converted MP3 -

88%

Functionality & UI -

88%

File Format Supported -

88%

Batch Processing -

88%