A few years back, building a website used to be a daunting job even for the experienced web developers. There were no website builders available. Fortunately, nowadays there are various platforms and tools available in the market that let even beginners with no prior knowledge to create an aesthetically pleasing and professional website within minutes.The best part is you need not know anything about programming and codes to use these platforms. Here are some popular newbie-friendly website builders that will make website development super easy for you.
Best Free Website Builders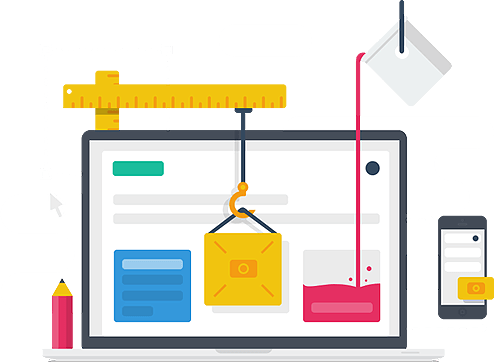 000webhost Website Builder
000webhost website builder is a popular free website builder tool from this longstanding name. The company came into existence in the year 2007 and has since then been offering free hosting, domain name, and a website building platform.

Its website builder is powered by Zyro which lets you play with a high level of customization. The builder is quite user-friendly that even a newbie can learn to build a website like a pro.
There is no coding required to create a website through this web builder. The simple drag-and-drop platform helps you manage and update your website in just a few simple clicks. Moreover, there are hundreds of free templates options you can pick from.
The website builder is competent to transform any website into a mobile-friendly website with just a few clicks. Apart from this, the platform also allows you to achieve a high level of SEO optimization. You can simply edit your meta descriptions, page titles, keywords, etc.
In short, using this builder, you can rest assured that your website will easily list in Google, Bing, Yahoo and other search engines.
Pricing- Absolutely free
Difficulty Level- Fairly easy
Best for- Blog and company website.
Wix.com
The Wix is another popular website building platform gaining popularity among newbies. With its free version, you get 500MB of bandwidth and 500MB of disk space.
However, with its free version, your domain name will end with wixsite.com. The format for the free Wix site is username.wixsite.com/sitename/page-url.The Wix website builder is pretty simple and user-friendly which lets you make a sizeable amount of site customizations. Getting started with Wix is quite simple,  you just need to sign up as you do for any other online services. You can even sign in with a Facebook or Google account.
It has more than 300 templates. Therefore, the platform suits almost every business niche. You need not worry about the template selection whether your business is about photography or food.Wix is a highly visual platform. You can add different kinds of elements on your site to make it look magnificent. To make your website more professional and functional, you may add things like slideshows, videos, images, text boxes, menus, etc.
Pricing- Free version with Wix subdomain (Email account cost $5 each)
Difficulty Level- Fairly easy
Best for- Blog, Online Store, Company Website.
SiteBuilder
It is one of the rapidly growing website builders focuses more on core features and a clean interface. With SiteBuilder, you get one email account and a domain name for absolutely free.The platform allows you to create a professional website in just three steps, i.e., Pick a Template,  Pick a domain name, Publish your website. There are more than 1200 templates which is quite a lot in comparison to other website site builders.Like many easy website building platforms, SiteBuilder lets you relish the freedom to drag-and-drop your content and create your dream website in just a few steps.
Its website builder is relatively simple to use. The templates are modern. You can click on page element to bring up customization options. Moreover, it also has the 'Save History' feature which many website builders do not support.Coming to the tech support, SiteBuilder offers live chat support where you can find the quick solution to your different queries. Moreover, you can also visit their FAQ page to find the answers to popular queries.Besides this, there is also a search button on their support which you may use to find the articles and links related to your query.
Pricing- Hosting is Free for starter plan (charges for Domain Name and Priority Support are separate).
Difficulty Level- Fairly easy
Best for– Blog, Company Website.
Squarespace
It is another good website builder that makes website development easy. However, it is one of the more expensive platforms on the list (costs $18/mo for a business website).
Though its website builder is pretty advanced yet it can be little difficult to edit for beginners. This builder is usually preferred by photographers, artists, bloggers, home decor companies, musicians, restaurant, etc.
Pricing– Paid
Difficulty Level– Intermediate
Best for– Bloggers, photographers, musicians, etc.
Weebly
Weebly is currently used by more than 30 million people around the globe. It supports instant account sign-up and activation. Weebly has a simple and clear interface that helps you build a great looking website without you having to learn complex web development codes.Weebly has approximately 80 SEO friendly attractive themes you can choose from.
You can begin your site on Weebly for the price of an email address and password. Its free version allows you to create a 10-page website with a 500MB of storage. However, this free version displays Weebly advertisement.Weebly also comes with easy to use pre-built drag and drop customization options. You can add different elements on your site to make it more alluring and professional such as slideshows, videos, images, etc.
Pricing- Free
Difficulty Level- Fairly Easy
Best for- Bloggers, photographers, musicians, etc.
Wrapping-up
Though there are a ton of delightful options out there to pick from yet, there are a ton of dreadful ones as well. So always consider the current and future requirements of your website in advance. Based on your requirements, go with the one that can work best for you. All the website builders mentioned in this article are globally renowned and have been used by millions of people across the globe.