Windows Proxies can be extremely helpful when browsing the internet without restrictions, scraping data from the internet, and other use cases. However, when buying Windows proxies, there are not too many options. So, what are the best USA proxies for Windows?
Well, this is where Smartproxy comes into the picture. It provides you with secure Windows proxies at affordable prices. But if you have never heard of it, here is a detailed Windows Smartproxy review.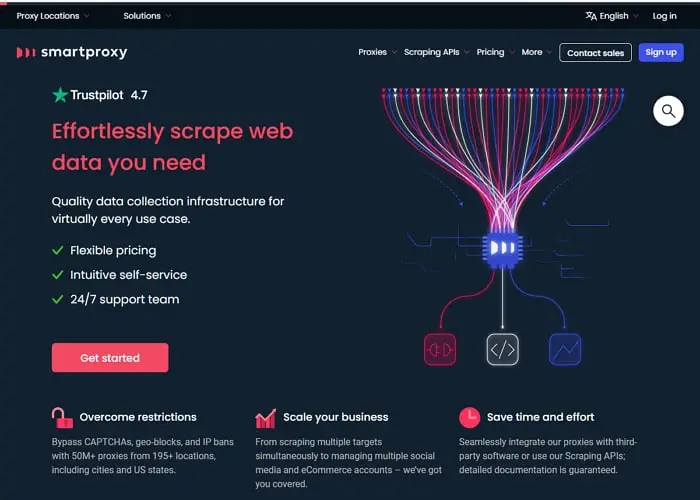 Which is the Best Windows Smartproxy from USA?
Smartproxy is one of the well-known proxy service providers out there. It provides different types of proxies for different needs, such as residential, data centers, mobile, and more. Plus, it offers you different APIs for different use cases.
How Does Windows Smartproxy Work?
Windows Smartproxy works by routing your internet traffic through a proxy server. The proxy server then changes your IP address and takes your connection to the destination.
When you connect to the internet using Windows Smartproxy, your internet request is first sent to the proxy server, then forwarded to the website or service you are trying to access online. Also, the end destination will only see your proxy server's IP address, not your device's.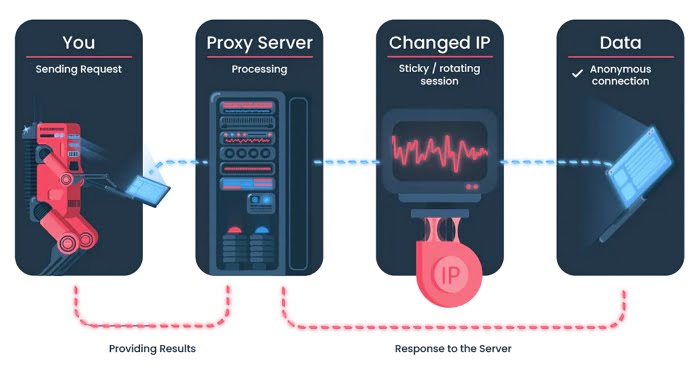 Furthermore, each time you connect to a proxy server, you will be assigned a different IP address from the existing pools. So if some website or service bans your existing IP, you can access it without issue. Plus, you will enjoy an utterly anonymous internet browsing experience.
Benefits of using Windows Smartproxy
1. Fast Windows Proxies
Smartproxy is known for offering one of the fast Windows proxies with reliable performance. The proxies have an average response time of less than 0.6s. Plus, you will get unlimited connections, threads, and IP locations from around the globe. Plus, it offers you IPv4 and HTTP(s) addresses.
2. Global Coverage
With Smartproxy, you are getting IP addresses spread across the globe. For instance, it provides residential proxies from 195+ locations globally and has 40 million real residential IPs. It also offers you 10 million plus mobile proxies and 100K+ datacenter IPs.
3. Affordable
Smartproxy's Windows proxy plans are affordable and relatively cheaper than its competitors and other alternatives.
4. Easy To Set Up
All Smartproxy's Windows Proxies are extremely easy to set up. Plus, it gets easily integrated with your tools like the web browser or other third-party add-ons.
Features of Windows Smartproxy
1. Residential Proxies
With Windows Smartproxy, you will enjoy access to residential proxies. Smartproxy has 40M+ ethically-sourced residential IP pools from 195+ locations worldwide. Also, with each IP, you will enjoy unlimited connections and threats, complete anonymity, and security. Plus, it offers a response time of less than 0.6s response time.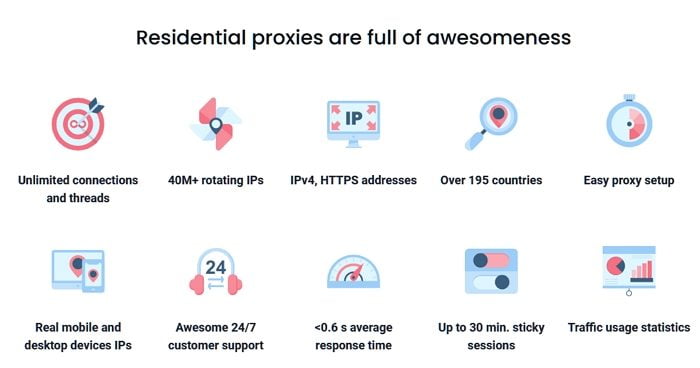 2. Datacenter Proxies
Apart from residential proxies, Smartproxy also offers you data center proxies. It offers you access to 100K+ IPs worldwide in over 400 subnets. Each IP offers you excellent speed and scalability with no errors or blocks.
On average, it offers you less than 0.3s average speed. Plus, you will get stability and reliability with a 99.99% uptime when scraping targets without advanced anti-bot systems. Also, the proxies are easy to set up and easily integrated with any popular web browser.
3. Dedicated Datacenter Proxies
If you want your dedicated data center proxy, Smartproxy helps you with that. As a result, you can own and control IPs that are only meant for your use.
With each dedicated data center proxy, you will enjoy unlimited threads and GBs, sequential and non-sequential IPS with 99.99% uptime, and more than 1500 subnets.
You will get over 400K US SOCKS5 and HTTP(s) proxies with an IP replacement option.
Pricing of Windows Smartproxy
Smartproxy's Windows proxies are flexibly priced – meaning you can pay as per your needs. Also, for each type of proxy, it charges you different pricing. For instance, you can get residential proxies plan for as low as $12.5/month, while a dedicated data center proxy would cost you $7.5/month.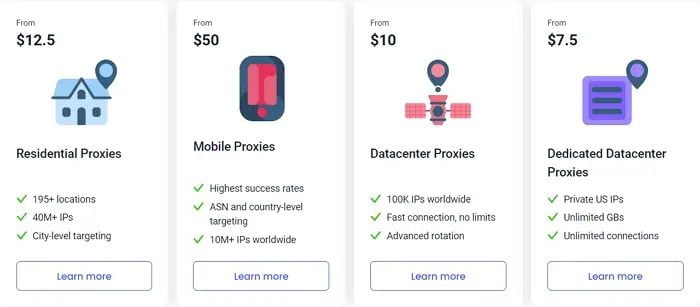 Conclusion
Smartproxy offers fast Windows proxies at an affordable price with different features and use cases. You can use these proxies for almost anything, like data scraping, sneaker coping, price aggregation, ad verification, etc. So go ahead and check Smartproxy out and see if it meets your requirements.