Choosing a VPN is not an easy job. There are so many features one has to look into apart from the pricing. These days Privacy is one of the top features people look into, so things stay anonymous. It is crucial, especially when you choose for a long term plan, i.e., 3-5 years plan as they come cheap. That's where VPN comparison services like BestVPN.co come into the picture. We will talk about how to choose Best VPN using BestVPN.co reviews and rating services.
BestVPN.co VPN reviews are dependable
Instead of comparing VPNs based on features mentioned on their websites, the team behind BestVPN.co signed up with over 180+ providers. Then the final review was based on multiple factors including VPN Jurisdiction, Logging Policy, Leak Test, Obfuscation. Performance, Transparency, Server Testing, and App Permissions.
Choose the best VPN
When you are on the home page, you can click on the tabs Overall best VPN, Zero logs VPN, Bypass geo-restriction, and so on to figure out a VPN based on your need. Going one step ahead, the reviews of each VPN also offer
1] User Satisfaction Score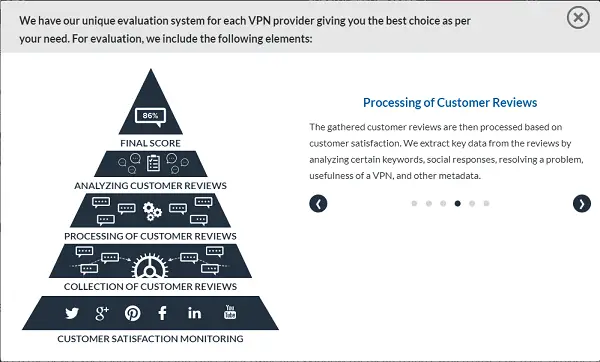 They collect feedback, discussions, and opinion about each VPN across verticals, including social media, and forums. These are carefully filtered to keep only those which are valid, and not just spamming the system. Post filtration,  the data is analyzed based on keyword, social responses,  problem resolution, and other metrics.
2] Our Score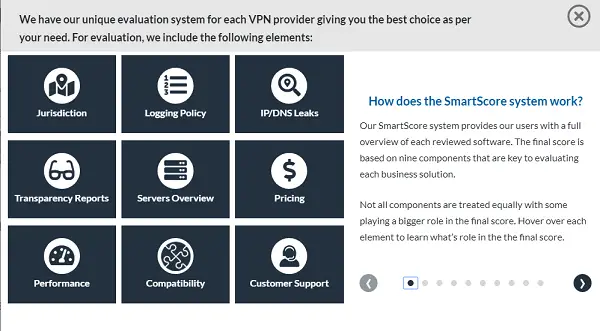 Based on factors like VPN Jurisdiction, Logging Policy, Leak Test, Obfuscation. Performance, Transparency, Server Testing, and App Permissions, each VPN is given a score. If a VPN is in a country where The government honors privacy, then it gets a high score. There are many countries which have formed group, and they are called 5 Eye, 9 Eye, 14 Eye. These countries don't have strict laws to prevent privacy so make sure to choose accordingly, especially if your country is part of it.
Further, Every factor has its subfactor. For example, if a VPN offers a trial, it gets a better score. Similarly, if there is a 30-day money back with no question asked, it gets a better score. Likewise, Physical servers win over Virtual servers. There are many VPN which claim to have a lot of servers, but they are virtual servers which slow down as users increase.
Overall website usability
As soon as you open the website, it offers the best VPN of the current year, followed by multiple tabs. These tabs are some important and significant factors based on which most of the people buy a VPN. Torrent, VPN, Bypass geolocation, and so on.
You can further read, and you should, a full review of the VPN for detailed insight or click on buy.  In the detailed review, you can switch between various sections to read what is most important to you.

Under each filter, it lists down top three VPN with an internal score, user satisfaction score, and list of essential features. In the end, you can follow the link to open to read the full review. If you want more, click on the top menu—Best VPN— and there are some additional filters, including China, Mac, Windows, Android, Cheap VPN, and more.
Apart from this, BestVPN has also put up a user guide to help you understand some of the criteria which usually gets overlooked. It includes the Leak Test, Obfuscation, Fake server, transparency, and so on.
The website also offers a Speed test which you can use to test your actual ISP speed, or if you are using a VPN, then you can use that too.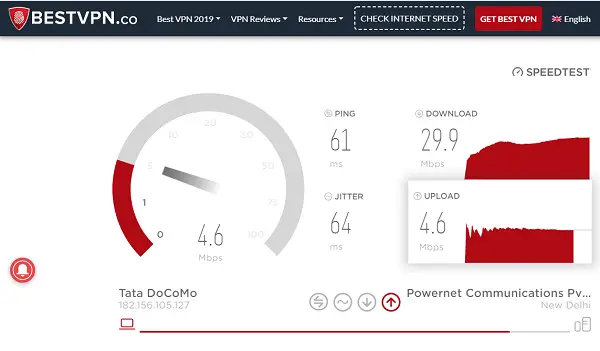 That said, the website also offers discounts (check their deals) if you buy through them. Each of the reviews has a link to the VPN, which may off provide special discounts for the users. It is evident that if you buy through their affiliate, they do get a commission. It's a good thing to do. If you are planning to buy a VPN, and are happy with their recommendation, make sure to buy through them.
Redesigned Website
BestVPN.co was redesigned to make sure they are more user-friendly, and make it easy for anyone looking to buy a VPN. What ultimately matters is that they do get to understand the information quickly based on their requirement. Here is a look of their old website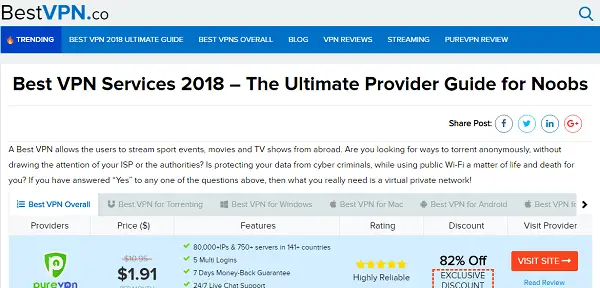 And here is how the new site looks like. You can notice how much they have changed from just being a blog almost to become a product which delivers the service which people seek.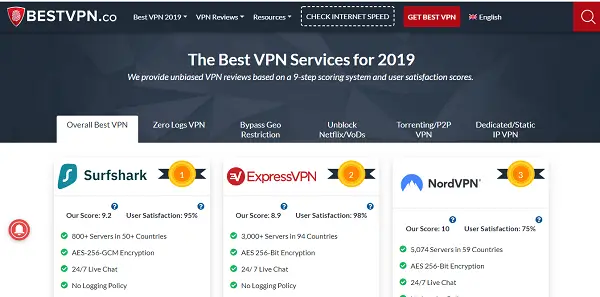 Lastly, they also have a dedicated category of How to Watch. You can learn to watch some favorite shows, Cricket and so on if it is blocked your country.
BestVPN.co is not just a website; it has evolved into a product. If you are planning to buy a VPN, read the review which provides solutions to the user to find the best VPN for their use cases.