Video Editors are a must these days. Most people have smartphones these days, which can shoot videos in high resolution. While the smartphones come with a built-in editor, but they are not enough for professional-level video editing. On top of that, most of the video editor, which offers tons of features are slow when it comes to processing. That's where you need a lightweight video editor like Bolide Movie Creator.
Bolide Movie Creator review
Bolide Movie Creator is a lightweight Video Editing software for Windows computers. It is a professional video editor that allows you to edit videos and audio files.  Along with all the necessary editing tools, you can also add cinematic effects to the video files to make sure the final video is presentable. One of the best things about the movie editor is that it is straight forward to use. Here is the list of features offered by the movie editor
Video Editing software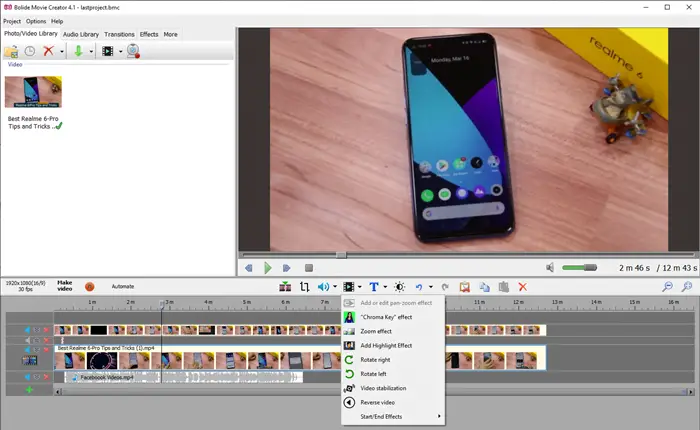 This software offers all the essential editing tools such as Split, Trim, and Crop videos. There are more options available for quick use if you right-click on the video. You must go through all of them to get a basic understanding of the editing capabilities. You can also click on the video icon to get access to special features such as Chroma key, Zoom effect, highlight effect.
Audio Editing software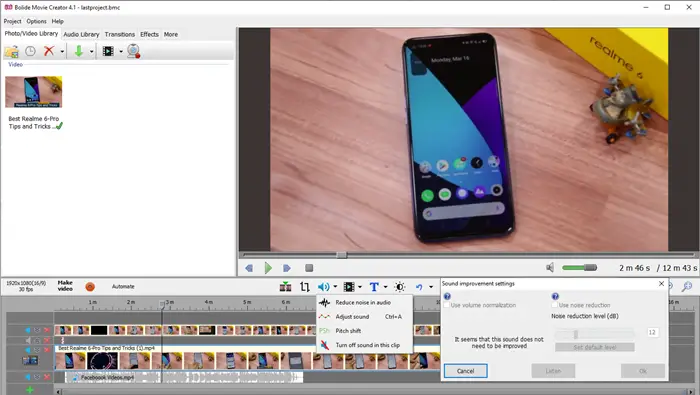 It offers four primary features—Reduce noise. Adjust sound, change pitch, or mute. Noise reduction is individually impressive as it will detect the noise automatically, and then you can set the noise reduction level.  To change audio levels in a video, select adjust the sound when a video is selected. It will instantly transform the view to waveform so you can change the audio level.
Timeline
It offers a non-linear timeline which allows you to overlap videos and audios. It makes sure you can combine videos and audio files in the way they can be mixed well. The timeline offers a dedicated video segment, and then you can add more depending on your need.
What we loved about the timeline that it can be collapsed to a minimal view, which is useful when you have a lot of files to manage. You can still get a preview and quick access to mute audio of the video if needed.
Media Support
It supports a large variety of media formats, and when they are added to the editor, it sorts them into respective audio and video libraries for each project. It supports webcam through third-party software, which makes it useful if you want to create PIP videos. On similar lines, it also offers audio recording if you ever need to do voice over. These files will become instantly available in the media section.
Effects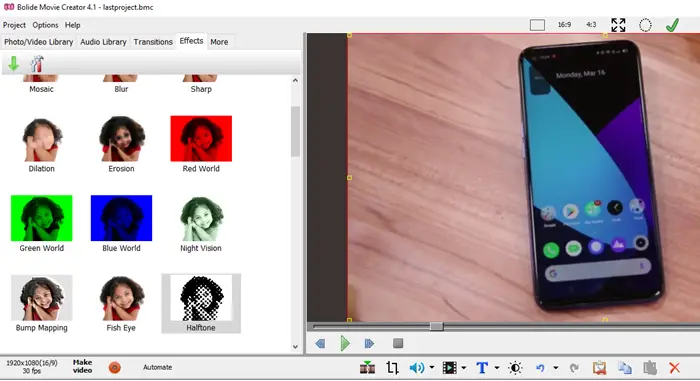 These are important to improve the overall impression of the video.  It supports 50+ visual effects such as
Video Transitions and Effects
Fading for Video Clips
Text Comments with detailed settings
Change visual levels, i.e., color correction, saturation, highlights, transparency, and so on for Video files.
Adjust audio levels by using pitch shift, reduce noise, etc
Change video speed, rotate, zoom.
Supports creation of  Virtual Screen Template
Freeze Frame support
Make sure to right-click on any part of the audio and video to get quick access to functions and effects. Then there is an Automate feature that can add overlap and fading effects between all the videos.
How to edit video with Bolide Video Editor
Step 1:  Launch the video editor and drag and drop the files into their respective section. There are five prominent sections here, which include Photo/Video Library, Audi Library, Transitions, Effects, and Virtual screen.
Step 2: The next step is to align the videos on the timeline. Since you can create multiple timelines, it makes overlapping a lot easier. Once you have arranged them, it would be a good idea to sync the files wherever needed.
Step 3: Once you are done removing unnecessary parts of the video, its time to edit the video properties. The toolbar on the top of the timeline offers all sorts of controls that can help you fix the audio and video file.
Step 4: The last step is to export the video and audio files. Click on Project, and then you'd save as a video or audio file. When exporting the video or audio file, you can choose the quality and format.
Pros:
Supports H.264 encoding with hardware acceleration, if available, on Intel, AMD, NVidia GPUs.
Supports NTSC, PAL and a variety of 4:3 and 16:9 aspect ratios
Render videos in AVI, MP4, WMV, MKV format
Almost zero learning curve
Cons:
Only available for Windows
Overall, Its an excellent video editor that can create impressive videos with less resource, and tons of effects to be applied to the videos. You can add great visuals, soothing background music, text captions, voice-overs, and more. Since the software is easy to use, anyone with basic knowledge of managing files can use it.
You can download it here from movie-creator.com.