Ever wondered why music on certain device sounds better compared to others. It is mostly because of the processing and enhancement that is offered by the device.  Even though everyone listens to the same Spotify playlist, each user experience changes with the device; that is where audio enhancers such as Boom 3D comes into the picture. It is one of the software that we have seen to deliver what it says, and it's crazy good.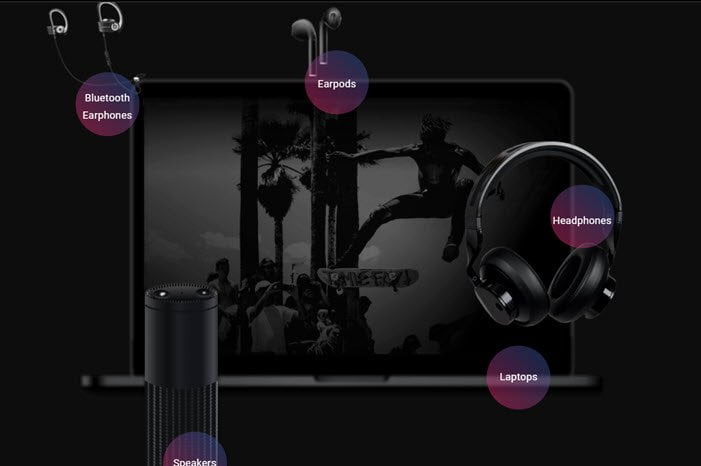 Boom 3D software review
Boom 3D is an audio enhancer software that works system-wide, i.e., it enhances audio before the system delivers to the speaker. It will work with any streaming audio service, application on the computer, gaming, and more. So if you want to hear every little sound, especially during gaming, this software delivers that.
When you open the software, it offers presets, which I would call audio experiences. Press on it, and it will instantly activate. The best way to understand them is to keep the music playing in the background and toggle between them. The experiences include 3D Surround, Ambience, Fidelity, Night Mode, Spatial, and Pich. Along with this comes an equalizer, which you turn on or choose to change as per the music.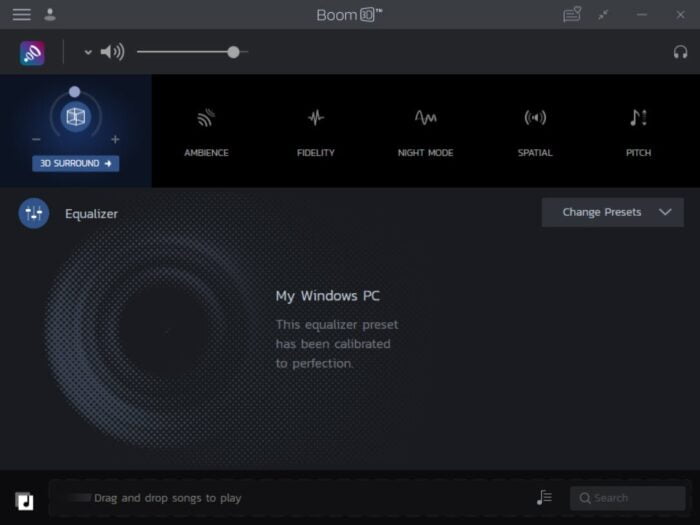 We also noted that once you install the software, it creates a virtual speaker that will become the default speaker. The virtual speaker changes the audio experience and then sends the audio to the real speaker.
Enhance your audio and music experience multi-fold
Now let's talk about the feature set, followed by my experience of how it changed the audio experience after using it.
1] 3D Surround Sound: It creates a virtual 3D surround audio system and then lets you adjust the subwoofer gain and audio intensity. It also upgrades the experience by extracting every note and nuance from an ordinary stereo track or any compressed audio and playing it back. Overall it adds a theater-like audio experience and immersive experience using its sound algorithm.
2] Equalizer Presets: While enabling Equalizer should be more than enough, but you can always choose from the 31 presets they offer.
3] Volume Booster: Available for Mac, it offers a system-wide volume booster that is undistorted.
4] Customizable Audio Effects
Ambiance: Bring your favorite games and movies to life and feel the background ambient sounds moving all around.
Night Mode: Perfect for watching movies or playing games at night.
Fidelity: Improves the overall quality of the audio by boosting the weaker frequency bands of audio.
Spatial: The spatial effect intensifies and enhances the 3D soundscape.
Pitch: Adjust the pitch of the music by 5 semi-tones to match others.
5] Audio Player and Internet Radio Stations: 
If you have a local music collection, it also acts as a media player making it easy for you to manage all your music. It also gives you access to 20,000+ Internet Radio Stations. You can choose between local or based on country, and their popularity.
My Experience in using this sound enhancement software
When I start using software that claims to do things independently, I usually leave it turned on and let it do that job. However, for Boom 3D, I turned on the 3D Surround for a while, then enabled the equalizer, and later turned it off. The difference was substantial.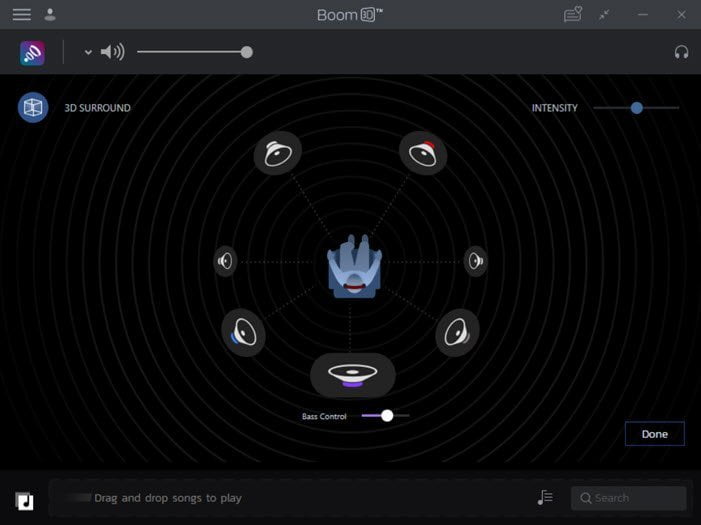 The software is not just about increasing the loudness – it's about quality!  The 3D Surround Sound is a patented technology, while the Equalizer offers 31-bands.  To clearly understand, I went into the 3D Surround setting and turned off every virtual speaker. Then I turned them on one by one to figure out how the difference was created, and it was pretty impressive. While it is all virtual, it was making a solid difference.
That said, the speaker you have will make a lot of difference as well. I tried it on JBL speaker and my Windows default speaker, and I can understand it. However, the difference in audio experience with and without the software is big.
My second favorite feature is the Night Mode. Usually, we lower the overall volume because there can be a sudden increase, disturbing others. Suppose you use the Night Mode in Boom 3D. It makes sure harsh sounds are reduced, and the quiet sounds are heard clearly.
Boom 3D works and we recommend it highly!
Boom 3D works system-wide, and the audio of any movies, music, games, calls, etc, are improved and enhanced to a large extent. It has a free 30-day trial, which you can download from here to experience before buying it. It is also available on macOS, which offers volume boost and individual app volume controller. It is also available on iOS & Android.  However, it works differently. It is a full-fledged music player that uses patented 3D audio technology and integrates with Spotify & Tidal from within the app.
Overall the software is an excellent software & highly recommended – and now that we have tested it, you should download the trial and see if it's worth it. While you may not use every mode, but 3D audio and Night mode are super useful. Boom 3D is available on both Windows & Mac.
Boom 3D Sound Enhancement -
49.99$
Audio Editing Quality -

99%

Functionality & UI -

90%

Batch Processing -

95%

Equalizers Options -

95%