Music Sheets are hand-written or sometimes printed using software, but when it comes to editing, it's a tedious job. Another big problem with the printed sheets is scanning them accurately as they are written on paper. That is where software that can scan such sheets come into the picture. They use OMR (Optical Music Recognition) tech to scan and convert. One of the best software is the Capella-Scan which has more highlighting factors and specializes in converting a hand-written or digitally printed music sheet into a digital score ready for editing and printing.
Capella-Scan Music Notes Scanning software review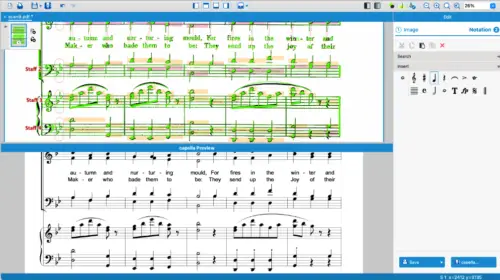 Capella-Scan is an OMR software that can scan music sheets and make them playable. Once the sheet is scanned, the note and text recognition function is activated. It can also recognize notes, including bar lines, accidentals, clefs, etc., and transform sheet music into capella or MusicXML files that can be used in any music notation software. You can then go ahead and make minor adjustments, play the note right away, and hear what it sounds like. The software also mimics the play in a digital piano view which makes things realistic.
The scan feature automatically recognizes whether the text is a lyric, linked to the appropriate notes, descriptive text, headings, etc. Each page usually takes between five and twenty seconds to load.
It is quick and straightforward to correct any errors or missing elements. It is not uncommon for elements to be recognized as music but incorrect. A red barline indicates that the note values do not match the time signature, making it easy to spot. A mistake can be corrected by dragging and dropping the right note over the wrong one.
How good is the Capella-Scan software?
You can print the scanned file to your specifications by opening it in Capella-Scan notation software, which is sold separately. You'll discover that your new file can be edited using every one of the formal specification program's score editing features. Naturally, you can create part extractions or alter the notes yourself. There is no limitation in editing. A Capella-Scan distinguishes by combining text components and chord or voice names. You can use them in office or personal work according to your references.
The identified items are colored-drawn by a capella-scan right onto the scanned score. It allows you to detect mistakes right away. Additionally, the export preview allows you to see what will appear in the target program in black and white. Capella-Scan has been enhanced. Many features of the score layout, accolade brackets, staff line size, etc., are transmitted to a Capella-Scan. It avoids usage after the layout alterations in the system or work.
Highlights of Capella-Scan software for Windows and macOS
The user should be aware of the advantages that Capella-Scan over competing OMR applications. The include the following:
Outstanding classification efficiency, particularly PDF files which are about 97 percent recognition.
An intuitive and fully equipped user interface is available to edit the identification result.
Capella-Scan notation preview displays a clean copy, precisely as the scanned document.
Voice control is comfortable as well as text recognition in many different languages.
The recognized notes can be exported directly from Capella-scan to Wave or MP3.
The integrated player can play back the recognition status.
The software enables simple file scanning, opening, session restoration, and several other information searches. Another file preview will show up on the right side if a file is chosen from the list of "Recently opened" files.
Their dashboard was recently updated for more straightforward access and usability, similar to the apps. The actual document is visible in the center of the main screen. Users can mark as well as hide certain parts that are placed on each of its four sides. The new user can quickly learn things through the online pages for the OMR software.
Is it worth choosing the Capella-Scan?
Yes, the answer would be a resounding YES! If you are interested in using it, you will be able to identify its benefits. Due to multiple highlighting factors, people prefer to use capella-scan. Apart from this, you will be able to face more things to maintain and acknowledge the full details in different aspects.
The app offers a demo, trial, and free version that one can use to understand how it works. The demo version also shows how the scanning and correction work. The trial version allows you to try out the program for 15 days as a full version with all functions.
Capella-Scan Pricing & Download
The software is priced at US$ 235.00, which you can buy from capella-software.com. While it's a one-time purchase, Capella-Scan allows simultaneous activation on (up to) two computers. The license works on Windows and macOS. You can use the key that comes with the purchase for activation. There is no information if you need to pay extra for the next major upgrade.
Conclusion
If you are looking for software that can convert your hand-written or printed music notes into a digital file, this is a must-have software. Not only can the software accurately scan, but it can also figure out the mistakes and fix them. Capella-Scan is  best software to scan sheet music and transpose it. You can also hear it live and test your changes to improve it. One of the best parts is that even if you cannot read music, click between the lines with the mouse, and the notes are automatically added vertically to the chord and horizontally to the melody.
Capella Scan 9
Processing Time Of Scan -

98%

Functionality and UI -

98%

Voice Recognition -

98%

Multilingual Text Recognition -

98%