A VPN or Virtual Private Network is essential today as it helps you with enhanced online privacy and security. It creates a secure and encrypted connection between your device and the internet. However, when it comes to choosing a VPN for your needs, the market has a lot of options to offer. But one option that stands ahead above the rest is ClearVPN.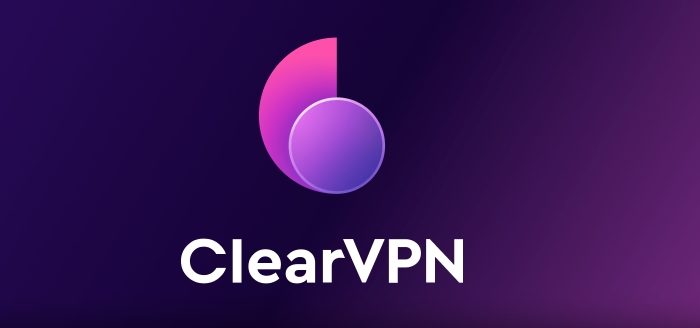 Why is ClearVPN the best VPN for your device
ClearVPN is new to the game compared to other VPN solutions, but it's already creating much buzz. So how good is the VPN? Well, let's learn all about  it in this ClearVPN Review:
What is ClearVPN?
ClearVPN aims to become a VPN solution that everyone can easily use. It doesn't require technical skills or a general understanding of a VPN. Instead, it is packed with intuitive features and offers a pleasant interface that is a pleasure to use.
It is a VPN solution crafted by MacPaw, an Ukranian company. The VPN was launched in November 2020, and within a short period, it has become one of the top solutions. Also, it has recently launched ClearVPN 2, which is much better than its earlier versions.
ClearVPN is exceptionally well designed, has a brand new user interface, and only focuses on offering the essential features you need daily.
Getting started with the VPN solution is extremely easy; it comes with one of the fastest servers in the industry. Moreover, it blocks ads and helps you bypass geo-restrictions with ease.
Key Features of ClearVPN 2
No Log Policy
One of the best features of ClearVPN is its no-log policy. The VPN provider doesn't store, share or even collect your online activity, personal info, or IP address. As a result, you get a completely secure experience, and only you would know about your online activities.
No Restrictions
With ClearVPN, you will enjoy zero restrictions while browsing the web. It will help you bypass geo-restrictions, access content, and connect to countries with the fewest web restrictions. In short, it will help you access blocked websites and content.
Fastest Server
ClearVPN has one of the fastest servers in the industry. It automatically picks an optimal IP address based on your current location. So you can enjoy a faster internet speed while connected over a VPN. You can also do that even if you want to select a specific server.
Top Protection
You also get enhanced protection with this VPN solution. It blocks ads and helps you connect to countries with the strongest privacy protection laws. However, this might hamper your overall internet speed of yours.
Multiple Locations
With ClearVPN, you will get access to multiple locations. So you can surf the internet without any restrictions. Also, thanks to its location servers in 40+ countries, you can bypass geo restrictions and access country-specific content.
Streaming
Streaming shows on Netflix, Hulu, and other services has become common. However, you already know that streaming services only make certain content available to a specific location.
To access those content, you can use VPN to bypass any geo-locked content restrictions. Also, you don't have to find the correct server. Instead, choose one of the VPN presets by selecting a streaming service.
Multiple Streaming Apps Supported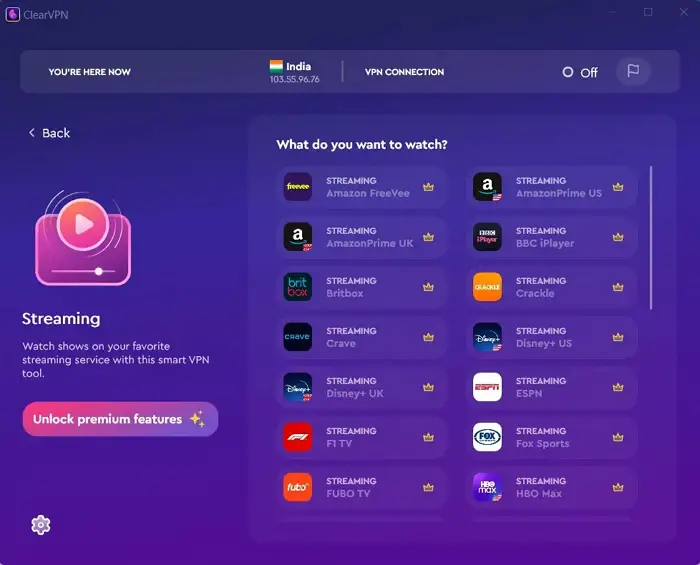 ClearVPN also supports a wide range of streaming apps. So no matter what platform you use for watching content, ClearVPN will help you. Some of the available apps that this VPN solution supports are Amazon Prime, BBC iPlayer, Hulu, Crave, Disney+, ESPN, HBO Max, and many more.
Encrypted private connection
The VPN also offers you a secure and encrypted connection. ClearVPN 2 uses industry-standard AES-256 encryption and cutting-edge protocols such as OpenVPN and IKEv2. As a result, your connection remains private.
User Interface
Finally, ClearVPN comes with an excellent user interface. It doesn't work like any other utility app. Instead, the VPN solution is designed to make your user experience effortless and visually engaging. As a result, you can access all its features with ease.
Our view
Clear about its purpose: Protects your privacy with top-tier encryption and a strict no-logs policy.
Simple and intuitive user interface: Change your locations with a click.
Surprisingly fast servers: You won't even notice you're using a VPN.

Download the trial today and see for yourself:

30-day free trial: No credit card required.
Works on all devices: Windows, Mac, iOS, and Android.
Secure your privacy: Protect your data from hackers, ISPs, and governments
Download ClearVPN
Visit ClearVPN.com and click on the Try for free button to download its small 2.6 MB setup file. Install it and see how it works for you!
ClearVPN 2 Pricing
The next question you may have in mind is – how much does it cost? Well, compared to other VPN solutions, ClearVPN 2 is priced well.
It comes with three different plans that include 1 Month, 3 Months, and 6 Months, and these plans are priced at $5.00/month, $4.00/month, and $3.50/month, respectively.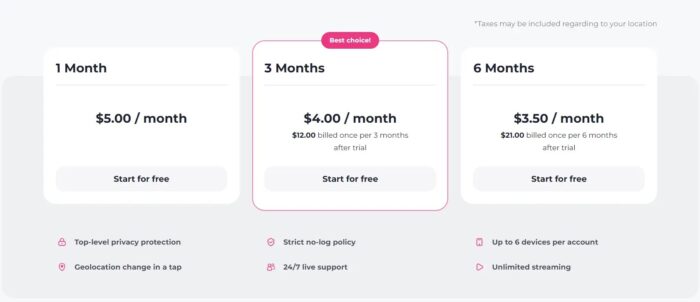 With all of the plans, you would enjoy top-level privacy protection, a strict no-log policy, unlimited streaming, 24/7 live support, and use the VPN service on up to 6 devices.
TheWindowsClub exclusive readers offer
If you follow us regularly and have read our posts often you will know that we come up with offers from time to time. Here is an exclusive offer for you!.
Follow this link to and use the coupon windowsclub30 for a 30% discount.
How to Use ClearVPN 2?
Using ClearVPN 2 is extremely easy; as mentioned earlier, it doesn't require understanding VPN or technical skills. Instead, you can get started with the VPN by following the below steps:
1. After downloading ClearVPN 2 from its official website and install it on your PC or Mac.
2. Launch the app, and you will see multiple options. However, to connect to a VPN server instantly and without any hassle, select the Smart connection card and click on Connect Me button. And you will be connected to a VPN Server chosen by ClearVPN based on your optimal IP address.
3. If you wish to use a specific location, click on Pick Country under the Location changer card. Then select one of the available locations to connect to its server.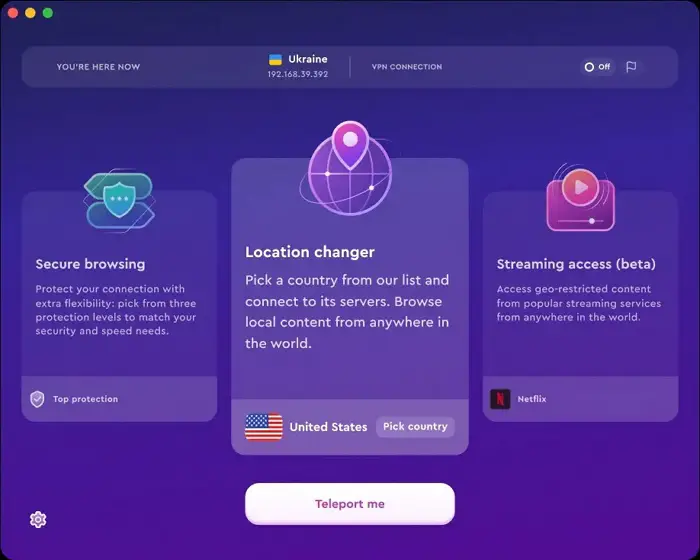 4. If you want to use ClearVPN for a streaming app, click on the Streaming card and then click on the change button to select any available apps, and then the VPN will apply the best streaming settings. So you can enjoy unrestricted content access.
It is compatible with your Windows PC, iPhone, Mac, Android, tablet, and other devices.
ClearVPN
Functionality & UI

Availability of several location & servers speed

Kill Switch & data protection

Encryption & No Log Policy