Ransomware attacks have been in rising from past few years, and it is hitting the businesses badly. For those who don't know, Ransomware attack is a specific kind of attack on your computer system where the attackers encrypt all your business data or lock your system, and demand a ransom against it. If you are a victim of Ransomware attack, you need to pay a hefty ransom to get your valuable data back.
While there are many anti-ransomware tools available in the market, it is always recommended to keep a data backup to be on a safer side. To help you protect your valuable data, CloudBerry is now offering ransomware protection functionality in CloudBerry Backup v5.8.3.
Ransomware Protection in CloudBerry Backup
Just having a backup is not the complete solution as during the event of an attack, all your existing backup is overwritten by the encrypted data, and you then have to pay the ransom anyhow to get your data back. This is where CloudBerry Backup helps you. It is designed specifically to protect your existing data from being overwritten by the encrypted ones during a ransomware attack.
How does CloudBerry Backup help
CloudBerry Backup, the flagship product of CloudBerry in its latest update included a new feature which protects a customer's file-level backups during a ransomware attack. CloudBerry Backup detects the Ransomware attack and the possible causes of encryption in the files and prevents your good backup from being overwritten. Once you enable the ransomware protection in a backup plan, CloudBerry analyzes each of your file to check if any of the files are encrypted.
While creating the backups, this program checks the original byte structure of the file and compares it with the current byte structure. This is how they check if a file is encrypted. The program creates the backup normally and prevents all your existing backup from being deleted, thereby keeping it protected from any malware encryption. In the event of a ransomware attack on your PC, you can select the most recent good backup and restore it.
The updated CloudBerry Backup 5.8.3 comes with the enhanced algorithms to further reduce the false-positive detections.
Using Ransomware Protection in CloudBerry Backup
You can first download and use the trial version of CloudBerry Backup 5.8.3. You first need to enter your email address to get the program. Download and install the program on your computer. It is a lightweight program and takes just a few minutes to land on your PC (depending upon your internet connection of course). You will get an activation code to activate your trial version.
CloudBerry Backup is available in 3 different editions:
Home Edition which is free and for private use only. You can use it on the Desktop OS.
Commercial Version – This is a paid version, and you need to buy the activation code to activate this version. Offers a 15 day trial.
Restore Only – This is also a free version of CloudBerry Backup where you can restore your previous backups only.
Downloading and installing the CloudBerry Backup Ultimate is pretty simple. You just need to follow the given instruction and continue with the installation wizard. Before you start creating a backup, add a cloud storage provider of your choice. It supports more than 30 cloud storage providers including the most popular ones like Microsoft Azure, Google Drive, OneDrive, Backblaze B2, etc.
The non-technical users might find it a bit tricky as the list is quite long, in such case go for the most popular ones only. The most commonly known storage vendors are filtered on the top of the list to help you chose one.
Once you are done with the download and installation, launch the program. The interface is quite simple, and the main overview has it all. Click on Backup Plans >Create a new backup plan and check the box saying Enable Ransomware Protection.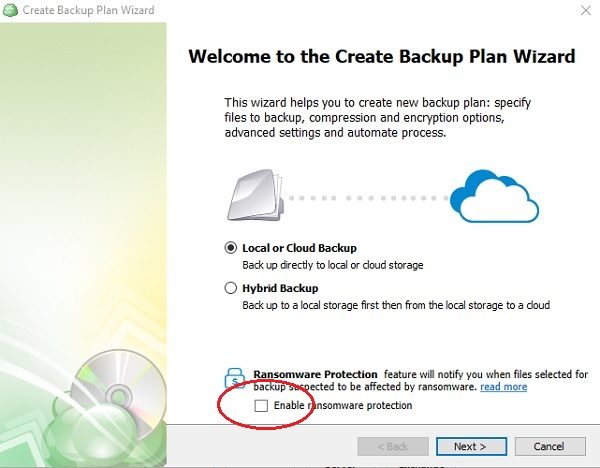 Select the storage account for your backup or create a new one. Click on add new account and select the storage provider you want from the grid. Sign in and create a backup.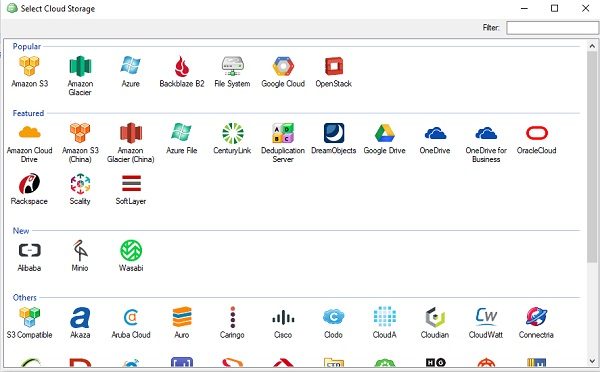 If the program detects and encryption changes, it disables any deletes of the stored backups. You can manually check the list of infected files and delete them or can approve if there are any false positive detections.
Click on Show in Folder to inspect the file manually in your File Explorer. If you want to remove any backup file, select the file and Delete.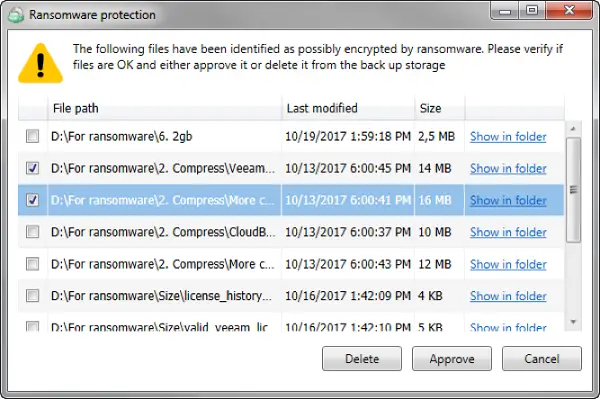 Remember that CloudBerry does not provide any cloud storage, it only helps you creating the file-level backup and restoring it when required. CloudBerry gives their customers over 50 different cloud storage providers to choose from. So there is no vendor lock-in, you can backup to different storage services.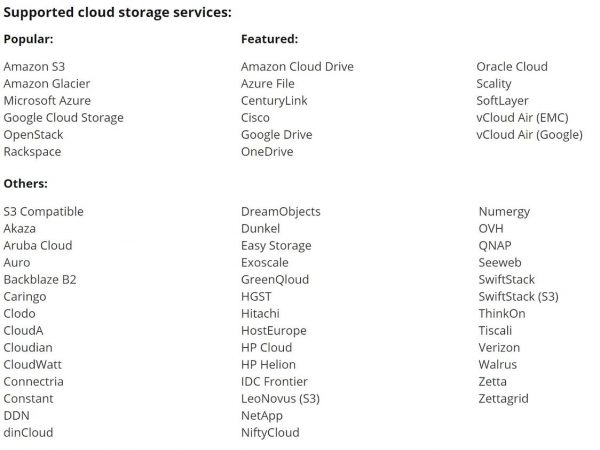 While CloudBerry provides many other modes of backups but please note that the ransomware protection currently is available only for the standard file-based backups only.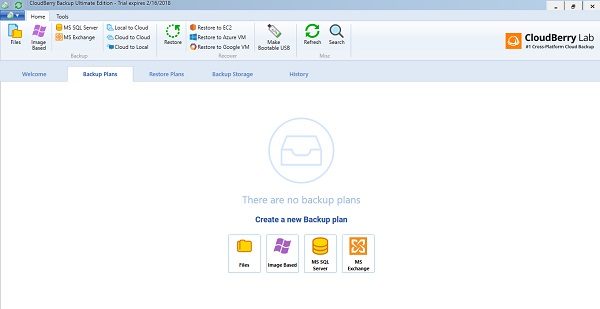 Other backup modes include-
Image-based backup which creates a full system state backup or you can say, a full operating system backup which you can apply using a bootable USB. So basically, CloudBerry lets you create a single backup file which restores the underlying servers OS too. So you can create a backup of entire operating system and restore it as it exactly it was before any disaster.
MS SQL Server and Microsoft Exchange are also directly supported by CloudBerry Backup.
Overall, CloudBerry Backup Ultimate is a nice, traditional and useful backup program paired with the cloud-storage vendors. It is the best solution when it comes to the security of your data, and with the latest update, it works as an additional layer of security against the ransomware attack too, which indeed is a bonus. The best part of this software is that all the encryption takes place on the client machine and you can rest assured about the security of your valuable data.
CloudBerry offers two main backup features for Windows, Linux, and Mac OS. Small businesses can get the desktop backup edition worth $29.99 and the server backup edition for $119.99." Larger businesses can avail the monthly subscription licensing for file-level backup which starts at $5 per month per server and image-level backup which starts at $6 per month, per server.
CloudBerry Backup Software With Ransomware Protection
Backup Quality -

88%

Functionality & UI -

88%

Data & privacy -

88%

Performance -

88%