CloudBerry Backup Ultimate is designed to deliver the Bring-Your-Own-Storage approach to the world of cloud backup solutions. Unlike many other solutions on the market, it supports just about any cloud storage provider on the market – Amazon Web Services, Microsoft Azure, Google Cloud Storage, OpenStack, BackBlaze B2. The list goes on up to 30 different storage providers and their services. When it comes to cross-platform, effective and affordable backup solutions, CloudBerry has hardly any competition.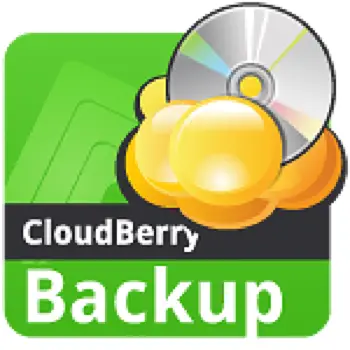 CloudBerry Backup Ultimate Edition is an application aware backup, that is also capable of image-based backup and recovery directly to your virtual environment.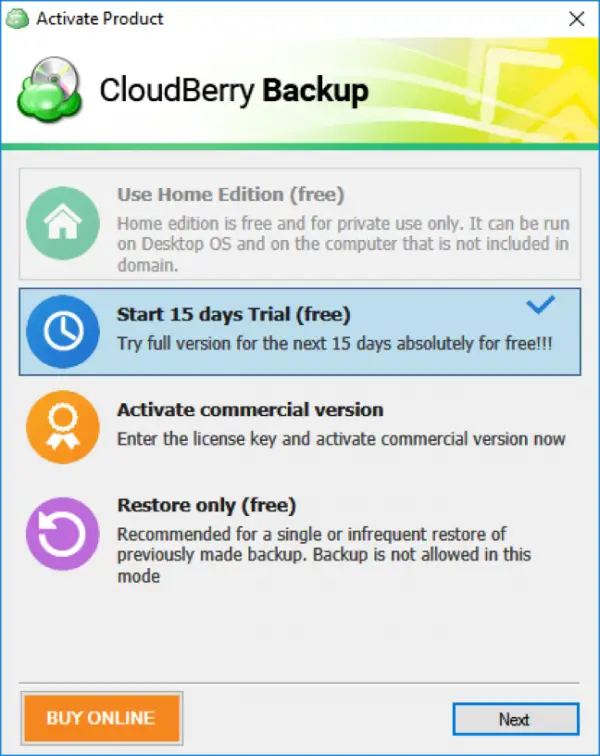 Installation and setup
The installation process is common for all Windows users – you simply download the package from the official website and install it.
Once the product is launched, you have to design a backup plan. Apart from this, you also need to add your backup destination – a local or a cloud one. There are options of various filters to customize the backup settings. You can run backups with a specific schedule, in real-time or without any schedule (which is not recommended). Galore of optional pre- and post-execution scripts can be run as per the requirement. E-mail notifications configuration and Windows Event Log entry creations are optionally available for successful or failed backup tasks. All of that can alternatively be performed using the command line interface which fully mirrors the UI's functionality.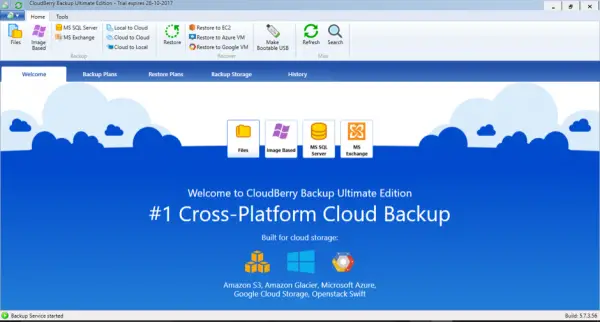 Backup features
CloudBerry Backup Ultimate offers a wide range of backup features, types, and options.
Incremental block-level backup
When you do a file-level backup it is a waste of time, money and space on your storage to perform full backup all the time. Which is why, CloudBerry offers an incremental block-level backup option with which the solution uploads only the modified parts of files, instead of the whole files.
Real-time backup
Unlike conventional backup plans, which are executed at the designated time, real-time backup is constantly observing and collecting the changes made to the files. Further, every minute CloudBerry Backup performs backups to mirror those changes in the cloud. It is similar to the way Google Drive works in that files in the cloud are always up-to-the-minute with your local files. That way you can be sure that your files are always secure and accessible from the cloud.
Hybrid Backup
Following the best practice in the backup industry unquestionably demands some sort of mix of local and cloud backup. With that in mind, many of our users opt to configure at least two different backup plans—one for local and the other for cloud backup. This approach is not particularly efficient in that it puts extra workload on the utilized computer. First, the files are uploaded from the computer to the local storage—let's say a local NAS—and then the same process repeats to upload the files from the computer to the cloud storage. A more reasonable approach here would be to first transfer the files to the NAS and then upload them from the NAS to the cloud. That would give some relief to the main computer, requiring fewer disk operations.
The hybrid backup now combines those two backup plans into one which naturally makes it easier to do the setup process. Further, encryption and compression are only performed once during the initial backup to the local storage. The already encrypted and compressed files are then uploaded to the cloud storage.Single backup plan, less workload on the main computer, single encryption and compression, and simplified configuration make for a much better backup experience. 
Image-based backup
Image-based backup comes in the box and enables you to create a complete snapshot of your system and subsequently upload it to a local or cloud backup destination. On top of that, you can back up only selected partitions of a given hard drive or SSD — the degree of customization is truly comprehensive. When it comes to restoring data, you have plenty of options ranging from Hyper-V & VMware restore to cloud restore to Amazon EC2, Microsoft Azure, and Google Cloud Platform. Alternatively, one can perform a file-level restore for individual files which might come in handy when swift and immediate recovery is warranted.
SQL Server backup
"CloudBerry software for enterprise cloud backup tightly integrates with Microsoft SQL Server's built-in backup and restore mechanism, and also complements SQL Server compression by adding encryption, flexible scheduling, and a range of other options offered by the Backup Wizard. The full, differential, and transaction log backup are at your command; transaction logs, in particular, can be performed every minute for those who process and store critical and sensitive data. It goes without saying that all the backed up databases can be restored to their original location in the event of a disaster.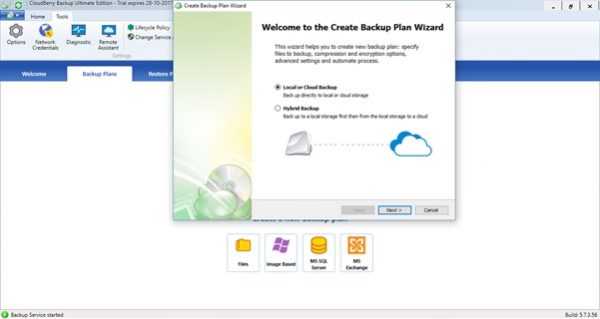 Exchange Server Backup
Another strong point of CloudBerry Backup is the full support for Microsoft Exchange. To wit, our app performs a full backup and restore of Microsoft Exchange Server. And in case you want to restore individual files, we have you covered as well. The built-in backup storage viewer lets you look through individual files and restore them one by one.
Secure backup with encryption and compression
CloudBerry Backup Ultimate provides secure backups with up to 256-bit military grade encryption. Any data sent to the cloud is also encrypted via the SSL protocols to secure the data during transit. Furthermore, some cloud vendors offer their proprietary server-side encryption, meaning that your data is doubly encrypted: on the one hand by the cloud storage service, and on the other, by CloudBerry Backup. For those of you who are in charge of data with sensitive names, certain vendors offer filename encryption, so you should feel perfectly protected in all aspects of security.
Compression is another benefit that comes with CloudBerry Backup Ultimate software. This feature reduces data overload, minimizes storage costs, puts less strain on bandwidth and accelerates the backup execution. Coupled with block-level backup, compression will unquestionably prove to be beneficial with respect to storage fee expenses.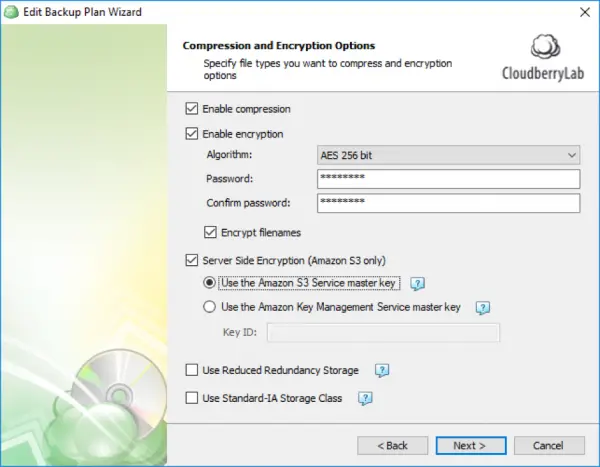 System Requirements
System requirement for CloudBerry Backup Ultimate includes Microsoft.NET Framework 4.0, 1.4 GHz 64-bit processor, 512 MB RAM, 100 MB minimum disk space, Gigabit (10/100/1000 base) Ethernet adapter.You can download it from the CloudBerry web page of this enterprise backup software
CloudBerry Backup Ultimate Edition -
Free Trial
UI & Navigation -

90%

Backup Speed -

90%

Encryption facility -

88%

Connectivity to apps -

90%

Cloud Backup & Backup Image -

88%