A MOV file is a standard multimedia file format that uses the MPEG-4 codec for compression. It was developed by Apple, and while it's compatible with Windows, it is not easy to play the file without using a third-party player. It is also not supported by many smart TVs, which makes it painful.  In this post, we will share how you can convert 4K MOV Video to MP4 on Windows 10 flawlessly.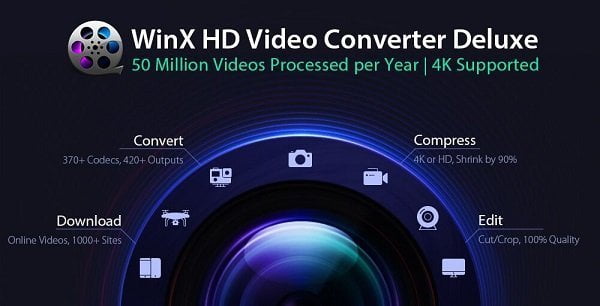 Why do you need to convert to MP4 format?
There are several reasons why you may want to convert any MOV file to MP4 videos. It is popularly used by DSLRs, Drones, Video recording cameras, and Apple devices. The biggest problem is that when it comes to editing, MP4 format is commonly supported compared to MOV. Also, the size of the MOV file is ten times that of MP4. It gives enough reason to convert MOV to MP4
There are a couple of solutions if you want to convert the MOV file. You can convert to MP4, H.264, or compress to 4K Mov to HD videos. It will make sure to keep the quality, but reduce the size, and make a versatile video file.
Convert 4K MOV Video to MP4
Today, we are suggesting WinX HD Video Converter Deluxe, which in our opinion, is the best option to convert MOV to MP4. The software can use GPU acceleration so it can convert 4K videos on Windows.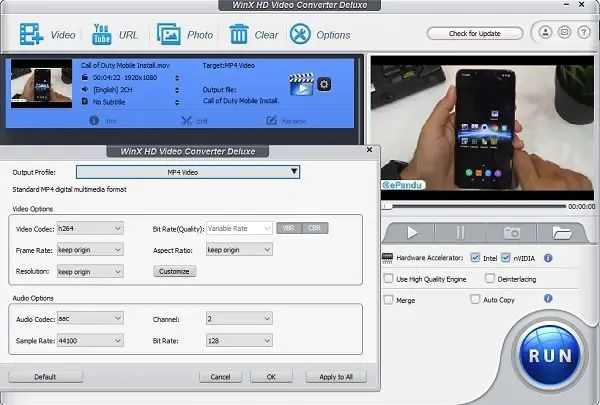 Once you install the software, launch it to start the video conversion.
Click on the plus button to add a video to load the MOV video.
While it will automatically suggest an output profile, select MP4 in the output profiles, choose H.264 preset as the video codec.
In the next step, you can choose to crop & expand trim videos, add subtitles, increase or decrease audio.
Hit the RUN button to start the video conversion.
You can configure other options as well, including Frame rate, aspect ratio, resolution, audio codec, sample rate, channel, and bit rate. If your computer supports, make sure to choose hardware acceleration, e.g., Intel and NVIDAI. Another advantage of using the editor before rendering the final output is that it further reduces the file size of the video. If you are crazy about frame rates, then it supports 60/120/240 fps.
It is clear that the software is straightforward to use. It doesn't offer sophisticated features which can confuse the consumers., Instead, it provides straightforward options which is easy to understand. Even if you find that difficult, the default options do their job efficiently.
Features of WinX HD Video Converter Deluxe
1] File Format Support
This HD video converter supports 370+ video format files and 420 output files, which includes MOV, MP4, MKV, AVI, WMV, M2TS, HEVC/H.264, and many more.
2] High Compression
While we know MOV files take a lot of space, so does the 4K videos. When converting MOV to MP4, the output size is reduced by 90% with no compromise on the quality.
3] Acceleration
It also makes sure that the CPU is not overburdened as it can use GPU acceleration. It results in 47X real-time faster conversion speed without video quality loss. It uses Level-3 Hardware Acceleration, Intel QSV, and Nvidia CUDA/NVENC to encode and decode videos.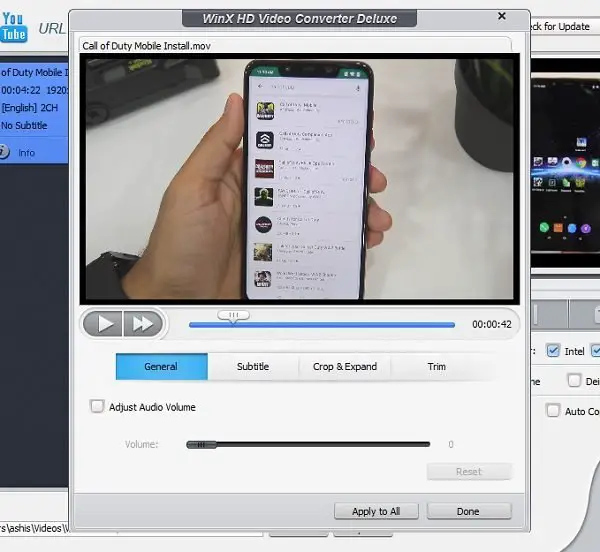 4] In-built Video Editor
That said, the software offers a video editor on top of the converter. Many like to remove part of the video from the final output or join multiple videos to create a mix. On top of this, you can add subtitles, stabilize videos during the conversion.
5] Video Downloader
Lastly, you have two more features — online video downloader and tool to convert photo picture slideshow into videos. When you select a source, i.e., online videos, movies, TV shows, playlists, channels, you can batch download them. It makes it easy if you have too many videos to download. Also, you can choose to save them as MP4, AVI, MOV, MP3, etc. However, I would strongly suggest you use a VPN when downloading online videos. Not all services allow it officially, and if you use the same IP again and again, it can be problematic.
The software also suggests downloading 4K videos only when you can use the  GPU hardware acceleration tech.
6] Create Slideshow with Music
We all love to create moments of celebration to cherish it again and again. If you have a lot of pictures, you can drag and drop those photos, add music to create a wedding, birthday, travel, corporate, or personal slideshows quickly. Later you can convert them into the video. The best part, there will be no watermark added to it. Anybody watching them would feel that its a result of professional work.
WinX HD Video Converter Deluxe comes highly recommended as it lets you convert & edit video file formats with ease. If you don't believe us, just download the free trial & get special discounts on its purchase.