While DVDs are getting obsolete but they were for a long period of time. Many people backed up everything on it, and then there are Home Videos, Movies, and so on. However, they don't have an unlimited life, and as they get used, scratches appear and eventually become unreadable.
So you must make a copy of your DVD Collections for many reasons. DVD Collections can break and collect scratches which will make them unreadable. DVD Players are getting scarce. While they are still there, but with everything going digital, it may not last long.
WinX DVD Ripper review
There are a couple of options, such as creating an ISO which can open on the computer. Then you can also choose to store the content of your DVD into HDD, USB, NAS for convenient playback and management. You can also burn the DVD on your computer and make a backup copy to avoid damaging the original DVD.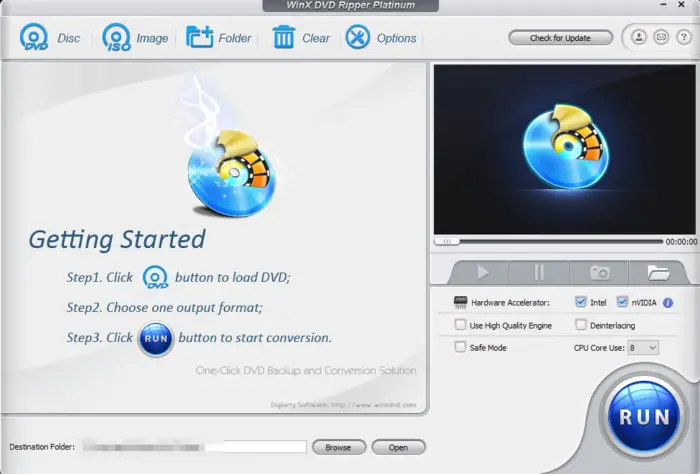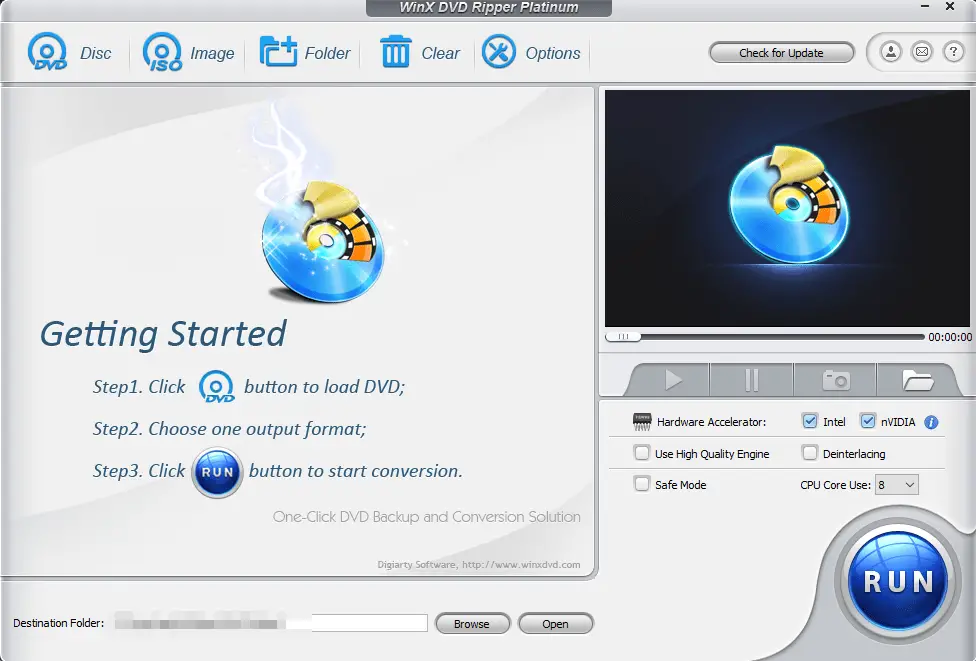 Rip Region-Locked DVD Movies and TV Series to MP4
Backing up or Creating a copy of a DVD is not an easy job, especially when it comes to old DVDs which carry scratches, are region locked, or are carrying DRM protection. But the best part is that you can easily create a backup of your DVD collection onto your hard drive or any USB device.
WinX DVD Ripper is professional DVD Copy Software that offers one of the fastest and accurate ways to create DVDs. On the basic level, it is a DVD ripping tool that copies DVD movies to hard drives, portable media players, or mobile devices. The ripped DVD can be viewed on almost any kind of media device such as PC, Mac, Mobile devices, Xbox, iPhone, and more.
Why WinX DVD Ripper is the best option for DVD copy?
Before we start, you should know that the software is powerful, there are no limitations, and no watermark added.
Accept any old, new, region-locked DVD movies, TV series, kids' DVDs,, and homemade DVDs. It can also trick Disney Fake checking tech, which restricts making a copy of the disc.
Four unique DVD Copy modes: clone DVD to ISO image; clone DVD to a folder at a 1:1 ratio; backup DVD main title content; copy DVD title fully to MPEG2 file with all Videos/Audios/Subtitles.
Support to copy DVDs to video formats such as MP4, MOV, AVI, MKV, H.265, H.264, and more. This makes sure it can run on any screen and can be streamed from anywhere, including NAS and Plex.
Fast speed (within just 5 mins) using Level-3 Hardware Acceleration tech i.e., using CPU and GPU acceleration.
1:1 DVD content copy, no video & audio quality loss. It makes sure to keep the original structure intact along with video/audio tracks, chapters, subtitles, and more.
It offers flexible controls for the format, quality, frame rate, resolution, and more. You can also crop, trim, merge DVD videos into one file.
How to copy DVD to MP4 video with this DVD ripper
While many other software can rip, what makes them annoying is too many settings that increase the complexity. WinX DVD Ripper, on the other hand, makes it easy to copy DVDs to your computer thanks to the settings and intuitive user interface, which doesn't confuse the consumer. Here are the steps to copy DVD to MP4.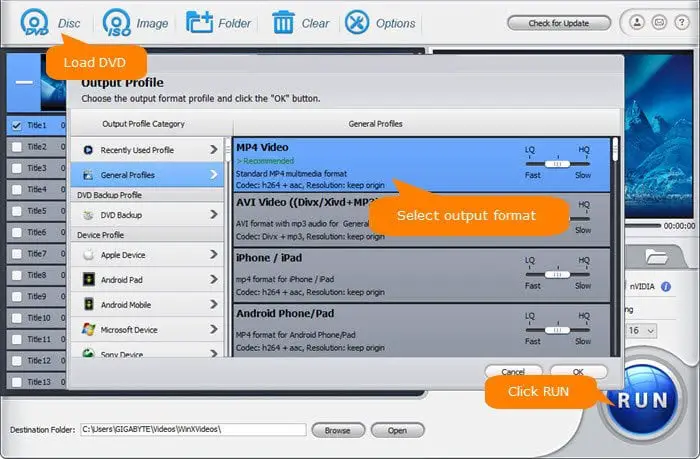 Step 1: Open WinX DVD Ripper, then insert the source DVD and select the DVD option. A primary DVD drive will be automatically detected and the disc information loaded. You can change your DVD player from the dropdown box if you have more than one.
Also, I will suggest you choose the checkboxes for hardware acceleration, high-quality engines, deinterlacing, and the number of cores you want to use.
Step 2: The next step is to set up the output profile for the ISO. Almost all of the functions of the software can be controlled with the Output Profile automatically displayed.  Select MP4 video from the format, and make sure to select the quality of output.
Step 3: To begin the conversion, click the Run button. Make sure that you change the default location and choose a location on the hard drive that has enough storage space. It is not necessary to wait long for DVDs to be burned and backed up because the software does it faster.
That is straightforward, and what you love the most about it is that it helps you create lossless DVDs and offers high-quality playback.
Conclusion
DVDs were built in such a way that people won't be able to copy them. On top of that, video files were not in a format that can easily be played. It was always a game of hardware and software for everything to work.
However at this age, as the relevancy drops, it is a better idea to make use of professional ripping software that can rip the DVD movie disc to a DVD folder, an ISO file, or an image file to allow you to copy the DVD movie onto your computer. We have to say that WinX DVD Ripper is one of the best tools to copy DVDs to MP4 video. We have seen how useful WinX DVD Ripper is, and can work with almost any format of DVD.