With the increasing number of websites and online services that we are using, a good password manager has become a requirement now. It has always been recommended to have a strong, complex and a unique password for all your accounts. But remembering all these passwords is not possible at all. Writing them down creates a very big security and privacy issue. So we are left only with maintaining them in a password manager application. In this review, we are talking about Cyclonis Password Manager. Cyclonis is an all in one package that offers a variety of features other than simple password and account management.
Cyclonis Password Manager Review
Cyclonis Password Manager is completely free of cost, but you may need to signup for a free account. Once you've installed the password manager desktop software, it will automatically take you through the signup process. Once you've created your account, it is time to select a place where your data will be stored. Cyclonis Password Manager offers a variety of choices here. Either you can simply store the data on your local machine, or you can select any of the cloud providers. Choosing a cloud provider will also let you synchronize your data with other devices. Supported cloud providers are Dropbox, Google Drive, OneDrive and iCloud.It's helpful to Protect your data, devices from all sorts of iphone spyware
As a part of the setup, the application will automatically import your saved passwords from browsers and will also take you through the process of installing browser extensions.
Browser Extensions
Cyclonis Password Manager is compatible with Chrome, Mozilla Firefox, Microsoft Edge, and Safari. Browser Extensions provide quicker access to your saved passwords and also lets you quickly add new credentials on the go. Once you have the extension installed, you can see the small Cyclonis button adjacent to all the applicable text fields. Clicking this button can automatically log you in without manually entering the password. Moreover, whenever you log into a new website, the application will automatically prompt you to save it making it much easier to add new credentials to the database. You can also create the records manually by entering all the details.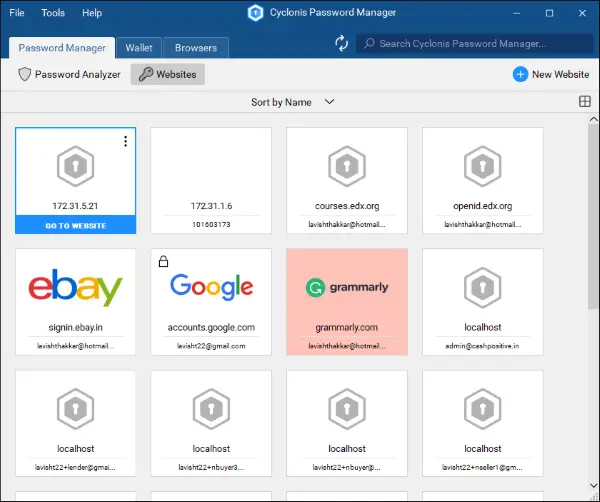 Wallet
Cyclonis Password Manager also doubles up as a secure and encrypted wallet and a note-taking application. You can add your card details, and PayPal accounts to ensure faster checkout while shopping online or while making a payment. It saves you from entering the card details again and again or from saving your card details with third party websites.
Other than that, you can also maintain your identity cards with this application. It can hold your Passport, Driver's License, Social Security Card, Tax Number or any other sort of identity card. This feature comes handy if you have a lot of cards and they are getting difficult to manage in your physical wallet.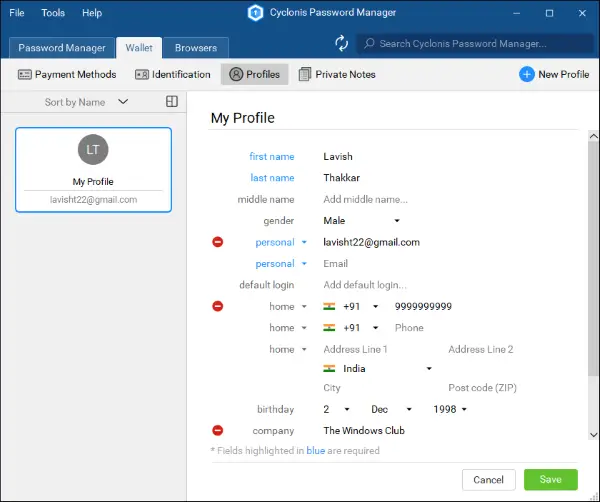 The third entity that you can create under Wallet is a profile. A profile comprises of all about a person. Here you can add your Name, Email, Address, Phone Number, Birthday, Work Information, etc. These profiles will let you signup for websites easily as you will no longer be required to fill those long signup forms. Profiles are an easier way to maintain your latest information and ensure consistency in all your accounts.
The last thing you can store in your Wallet is Private Notes. These are simple text-based notes that are encrypted before saving. The application comes preloaded with quite a lot of templates for private notes. It can be a software license, database configuration, bank account details, etc.
Password Analyzer
How complex should a password be? Are you aware how many of your passwords are strong enough? If not, the password analyzer will do that for you. Password Analyzer is included in the password manager section; it is an inbuilt tool that provides you statistics about the saved passwords. You can quickly view your security score and a few tips on how to improve it. Security Score is a very good measure of complexity and hardness of your passwords.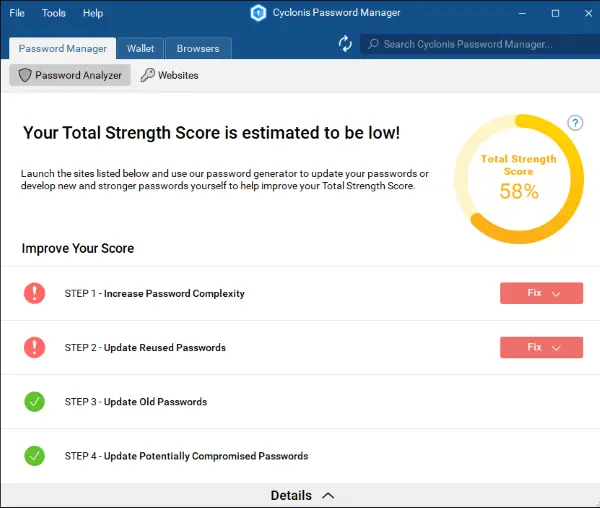 Clicking on 'Details' at the bottom will pop up a new menu with all the essential stats about your passwords. You can check which of your accounts have a weak password and how many of them are reusing a password. You can consider these numbers to improve your security score and make sure all your accounts have a secure password.
Password Generator
To complement all the features, Cyclonis Password Manager comes with a built-in password generator that can generate random passwords of any length and complexity. You can choose whether you want a password containing only letters, numbers or even special characters.
Device Manager
As mentioned, Cyclonis Password Manager supports multiple devices and synchronization of data across them. It comes with a full-fledged device manager that lets you view the devices that have access to your Cyclonis account. You can revoke access from any device by simply clicking the cross button corresponding to that device.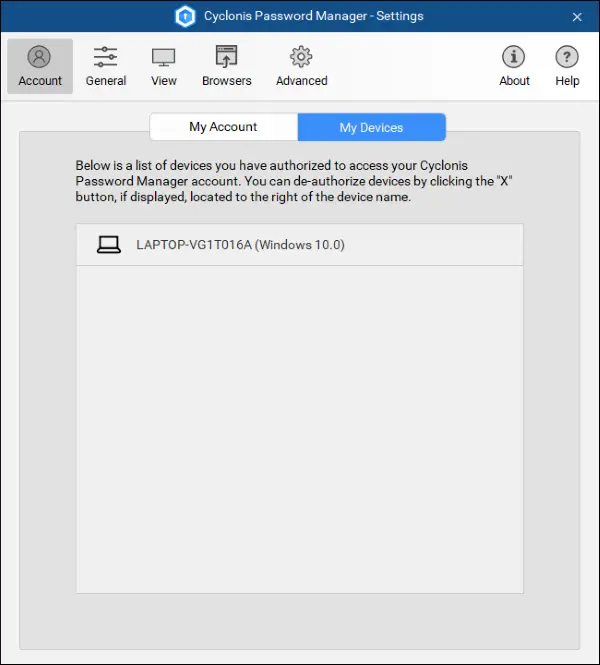 Verdict
Cyclonis Password Manager is one of the best password managers. The good thing being it offers all the features for free. There is no premium version or paid upgrades. Many similar tools offer paid upgrades for features, but Cyclonis comes with all those features for free. The tool has a simple to use and a good-looking user interface. It is fully capable of replacing all your existing paid password manager applications. It comes with browser extensions available for all the popular browsers that can facilitate hassle-free logins. Also, the password analyzer proves to be really helpful in the entire process of securing your accounts with good passwords.
Click here to download Cyclonis. Apart from offereing a free desktop software, they also offer free browser extensions for Chrome, Firefox, Edge as well as Safari.
Cyclonis Password Manager
Password & Encryption -

88%

Functionality & UI -

88%

Data & privacy -

88%

Browser Extension -

88%