If you are searching for a tool that allows you and your team to work together online, Deskfirst will be the best tool for you. Deskfirst is an online collaboration tool that provides teams with a familiar desktop environment to work together on files, projects, and tasks. It offers a lot of useful features. This article presents Deskfirst review in detail.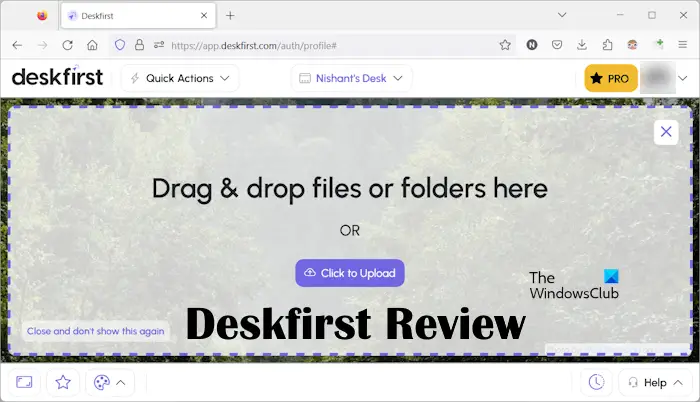 Deskfirst Online Collaboration Tool
To use Deskfirst, an online collaboration tool, you need to visit their official website and sign up by creating a new account. Alternatively, you can directly sign up with your Google account. It has a wide range of useful features. Deskfirst offers the following three plans:
Starter plan
Pro plan
Custom plan
Among the three plans mentioned above, Starter is a free plan. You can select the plan based on your team size and your company's needs.
Features of Deskfirst
Let's see what Deskfirst features you get by using this tool.
Drag-and-drop file sharing: File sharing is the basic requirement of every organization. There are a lot of methods to share files with your team. Network Sharing on Widows is one of the file-sharing methods. But for this, you need to set it up properly, and if you are not good at networking, it will become a challenging task for you. Deskfirst made file sharing easy. With Deskfirst, you can share files via the drag-and-drop method. Once you share your files, they will be accessible to all your team members who have access to your desktop.
Real-time collaboration: Deskfirst comes with a real-time collaboration feature. This feature lets you and your team work on the shared files or documents in real time.
Task management: Managing a team in an organization is not easy. That's why Deskfirst comes with a built-in task management system so that you can manage your team easily by assigning tasks to your team members, tracking their progress, etc. You can also set deadlines for assignments or work you assign to your team members.
Video conferencing: What if your team members work from home and you have to plan an urgent meeting with them? Don't worry; Deskfirst made this easy for you. Deskfirst also supports video conferencing so that you can meet with your team members remotely without any difficulty.
Screen sharing: An online collaboration software is incomplete with the screen sharing feature. With Deskfirst, you can share your screen which makes it easy for you to demonstrate ideas or collaborate on tasks.
File versioning: File versioning is also a useful feature of Deskfirst. Deskfirst keeps track of all the changes made in a file, so you can revert the changes and restore the previous version of your file(s).
Branding: With Deskfirst, you can brand your shared desktop environment(s) with your company's logo.
How to use Deskfirst
Using Deskfirst is easy. The SHARE button is available on the top left side which allows you to share your Deskfirst desktop with other users. As you click on the SHARE button, a new window will appear with the following two options: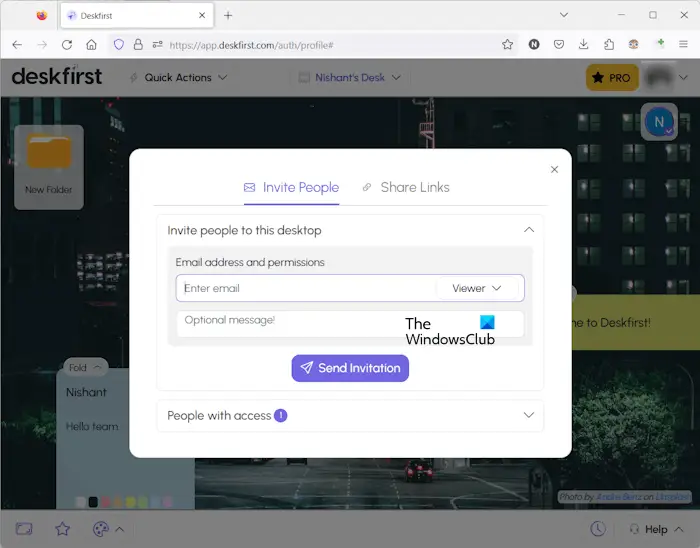 Invite People: Here, you can enter the email address of a user and send him the invitation in his email. You can also set the user's permissions to Viewer, Editor, and Manager.
Share Links: Here, you can share your desktop with the users by creating a shareable link. The shared link will expire automatically after 7 days but you can change its expiration time by clicking on the drop-down. You can also set a password for sharing your desktop through the shareable link.
If you have shared your Deskfirst desktop by sending an invitation, the shared desktop will remain available in the user's account until he or you remove it. Now, the user can view your desktop and access all the files you upload on your desktop.
Quick Actions
The actions available in the Quick Actions menu allow you to upload files, create new folders, create new shortcuts, create Sticky Notes, etc.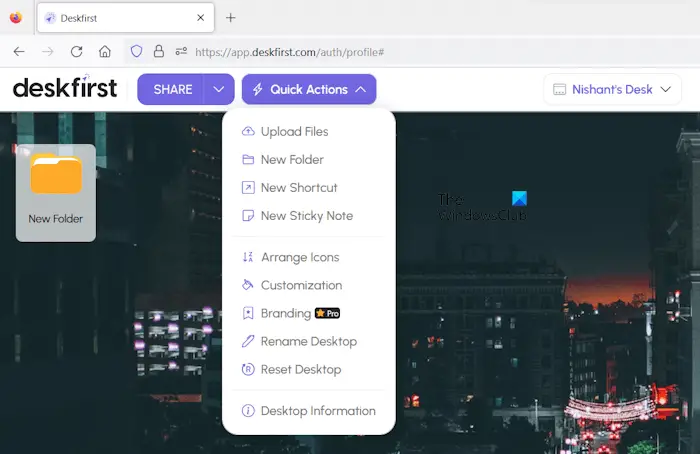 To upload files, select Quick Actions > Upload Files. After that, select the files from your computer to upload them to your account. All the uploaded files will remain available on your Deskfirst desktop and accessible to all the users with whom you have shared your desktop.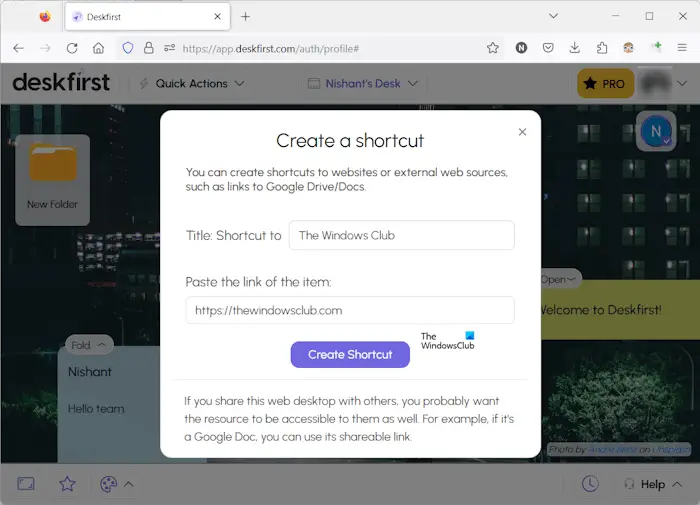 You can also create shortcuts to websites. To do so, go to Quick Actions > New Shortcut. Now, give a name to your shortcut and enter the correct URL. After that, click Create Shortcut.
You can also create multiple folders on our Deskfirst desktop and keep different files in different folders.
Manage your desktops
Deskfirst allows you to create multiple desktops. To get started, click on your desktop name and select New Desktop. The Desktops Manager allows you to view and manage all desktops owned by you and shared with you.
Deskfirst Benefits
Let's see some of the Deskfirst benefits.
Improved productivity: Because Deskfirst brings you and your team on the same platform to share files, and collaborate on files, projects, and tasks, it will definitely boost your and your team's productivity.
Reduced costs: With Deskfirst, you can conduct meetings remotely. Hence, it will help you reduce costs by eliminating the need to travel for meetings.
Increased collaboration: Deskfirst provides a central place where you and your team can share files and work on the documents in real time.
Improved customer service: Deskfirst can also help improve your customer service. With Deskfirst, you can easily collaborate with your customers and provide them with a facility to store and manage files in one place. The best thing about Deskfirst is that it does not require installation on your customers' computers.
Deskfirst pricing
Currently, Deskfirst offers three plans, Starter, Pro, and Custom. The Starter plan is free but has some limitations, such as:
You cannot create multiple web desktops.
The number of files per desktop is 500.
You will get up to 2 GB of storage space.
The data retention limit for inactive accounts is 120 days.
You can share your desktop with the users as Viewers only.
The Starter plan is good for startups.
Medium-sized businesses can opt for their Pro plan. Let's see some highlights of the Pro plan:
You can create up to 100 web desktops.
The number of files per desktop is 25000.
You will get 500 GB of storage space.
The data retention limit for inactive accounts is unlimited.
You can assign any permission to the users while sharing your desktop.
The Custom plan is good for large-scale businesses. If you want to purchase their Custom plan, you need to contact their Sales team.
Deskfirst is a powerful online collaboration tool that provides you with many benefits and boosts your and your team's productivity. It makes sharing and collaborating very easy, and we recommend you check it out yourself to find out how good it is!