DJing can be enjoyable, but the real fun comes from having good DJ software. The software significantly manages your track lists, mixing, looping, playback, and other essential tasks. However, when it comes to DJ software for Windows, limited options are available. Therefore, the question arises- which DJ software is the best? Well, this is where you can try out the djayPRO Windows Software. It is one of the best DJ software for Windows, and here is everything you need to know about it:
DJay PRO DJ Player software for Windows PC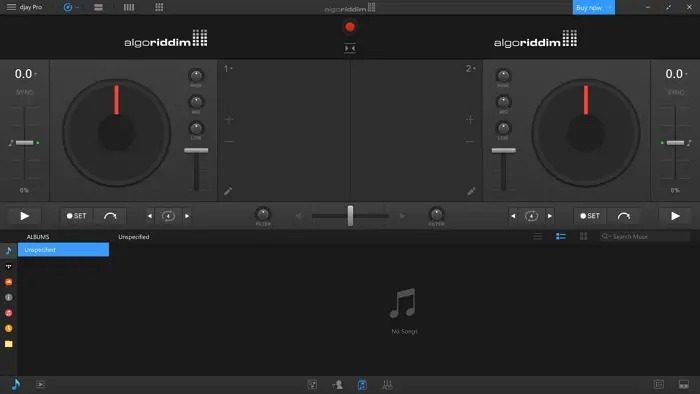 djayPRO is one of the top Windows-based DJ software. With this one, you will get access to a complete toolkit required for performing DJ.
It packs a wide range of features that fit the needs of both pro and newbie DJs. One of the software's best features is that it easily integrates with your music library, plus you get four decks.
The software is also designed to offer you maximum flexibility. You can easily switch between 2 or 4 decks, samples, and an expanded library.
Plus, with its easy hardware integration, you can plug in any DJ console with the software and take your performance to another level.
Key features of djayPRO
Supported audio formats: djayPRO supports multiple audio formats to offer you a seamless DJ experience. So, no matter your audio format, you can easily mix and match songs from your music collection without worrying about compatibility issues or converting the audio track before using it. Some audio formats it supports are MP3, WAV, AIFF, FLAC, and OGG.
Beat-matching capabilities: As a DJ, you know beat-matching is essential. It is syncing two tracks so their beat aligns and plays at the same tempo. To make this job super easy for you, djayPRO comes with a built-in beat-matching capability so you can easily mix songs.
Looping and scratching: Looping and scratching is another common thing in DJing. To make it super fun, the software has looping and scratching features. So you can easily loop tunes or scratch as per your creativity and performance needs.
Effects: With djayPRO, you also get a wide range of effects. You will get effects like reverb, echo, flanger, and chorus. Also, it is available as an in-app purchase if you want additional effects. You can also add up to three chain-able audio effects per deck.
Recording and playback: With djayPRO, you can also record and playback. As a result, you can record your mixes and play them later. This not only saves time for your future gigs. It also allows you to create your own mixes and share your tracks with others.
djayPRO Pricing
The software will going to cost you $49.99. However, the price is justified when you look at the features the software is offering. It is one of the few DJ software that can integrate with streaming websites like SoundCloud. So you can use songs directly from the platform. It also offers you multiple waveform layouts, comes with different samplers, and supports recording.
Moreover, the software is pretty easy to understand and use. So, whether you are just starting as a DJ or already a pro in the game, the software will help you with everything you need.
Before you buy the software, you can sign up for the demo and try out djayPRO. We are sure that you will be delighted with its features.
djayPRO is a powerful, advanced Windows DJ software suitable for professional and newbie DJs. It has many features, SoundCloud integrations, and multiple tools to take your DJing to the next level, and so we recommend it highly!