Most of us delete the file from hard drive, and then from recycle bin, and assume that files are gone forever. That's not true, not even close. When you delete a file from Windows, it only deletes its listing from Master File Table. The table is responsible for maintaining a list of files on the computer. When you delete a file, it only deletes it from here, and mark the space as Free Space. The OS can replace this anytime with other data. Point is unless you are removing the data physically from the hard drive, anyone can extract it using recovery software. In this post, we are talking about DoYourData Super Eraser software. It can permanently erase your files from the Hard disk
DoYourData Super Eraser review
DoYourData Super Eraser is professional software that offers multiple ways to delete files from your hard disk permanently. It includes Erase Files/Folders, Wipe Hard Drive, and Wipe Free Space. Once you install and activate the software, you can use any of the software depending on the circumstances. For all the methods, it uses HMG Infosec Standard 5, U.S. Army AR380-19, DoD 5220.22-M ECE, Peter Gutmann's algorithm. The government and the military use it.
Data Erasure Standards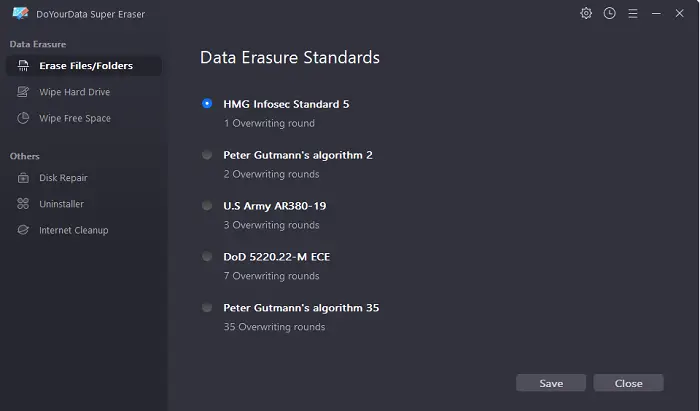 Once you have downloaded and installed this software, run it. Click on the COG icon or the settings icon on the top right of the application. Here you can choose how many times will the original data be overwritten. The more the number of overwrites, the less chance for somebody to extract data from the computer. However, it also means it will take more time to finish the process.
HMG Infosec Standard 5: One Overwrite
Peter Gutmann's Algorithm: Two Overwrite
U.S. Army AR380-19: Three Overwriting rounds
DoD 5220.22-M ECE: Seven Overwriting rounds
Peter Gutmann's algorithm: Thirty-five overwriting rounds.
Right next to is the history of past erases. It can help you figure out which files were removed from the computer using this method. Let's talk about the software features in detail:
Erase Files/Folders
Wipe Hard Drive
Wipe Free Space
Other Tools in Super Eraser
1] Erase Files/Folders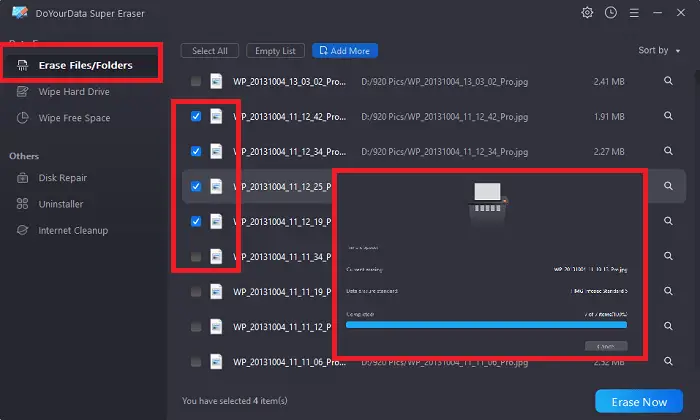 Effective and straight forward. If you wish to Delete select files or a folder, then use this.  Click on Add button, and then select File or Folder. It will then delete each of the files using the HMG Infosec Standard 5.  You can sort the files by name, path, and size. If you wish to preview the file, then click on the magnifying glass icon, and you should see it in the File Explorer.
2] Wipe Hard Drive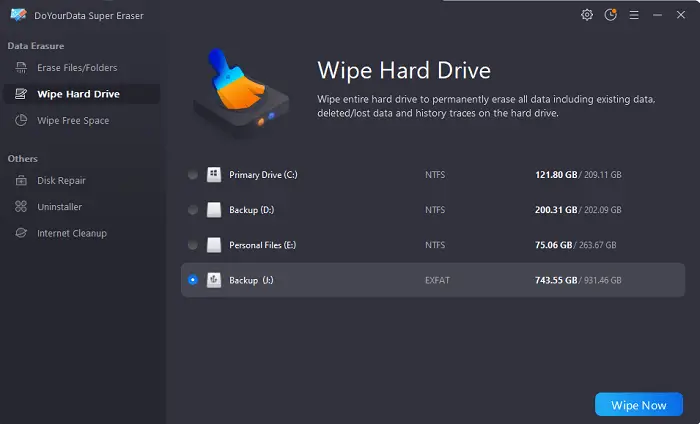 This method should be used when you are either going to give away your existing hard drive or planning to permanently erase data before selling a computer. In either of the case, you do not want anyone to find what is on the storage disk.  You can wipe out individual partitions, which in turn will also empty the master file tables. Depending on the erasure standard you chose, completion time may vary. The process will remove all the data from the selected drive. So be sure you want to do that when you use it.
3] Wipe Free Space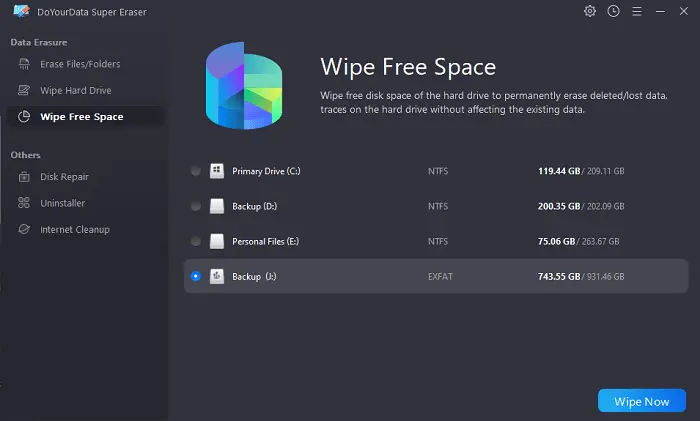 It is the safest option to use with the software. It will only delete traces of data that you have removed from the computer, but they still are on the storage device. The software will query the MFT table and find out data that have been marked as deleted or Free space. It then goes ahead and writes some random data on that particular location. Once the process is complete, all deleted data have been overwritten by the software with arbitrary data. It makes sure nobody can extract the deleted data from the computer. You can run this operation which uses your computer, which makes it super convenient.
Once deleted, we checked if the software works using third-party recovery software. While it was able to find the file name, the file itself was not recoverable. If you use other standards where it overwrites data multiple times, I am sure the file name will not be visible anymore. It proves that the software does what it claims—Data cannot be recovered by any data recovery software or service.
4] Other Tools in Super Eraser
Disk Repair: Use it to repair or format your existing partitions.
Uninstall: Completely remove files from the computer. It will make sure to remove any additional files that are usually left by the standard uninstaller.
Internet Cleanup: It will clean up all internet junk files and traces. The advantage here is that you can remove from all browsers uninstalled on the computer.
Not only does Super Eraser help you permanently erase files using a robust algorithm, but it also makes sure to help you with Disk Repair, the uninstallation of the software, which is tough to get rid of. Lastly, Internet Clean up enables you to clean all junk from the browser.
You can download a copy from here, and if you purchase it, you get a 30-day money-back guarantee. It also offers free lifetime updates, which means its one-time fee you pay, unlike many other recovery applications that provide a subscription-based model.