Most of the issues in Windows are caused due to outdated, bad or corrupted device drivers. Most of the computers run on outdated drivers for months, and when there a feature update available for Windows 10, either the system crashes, or the device doesn't work as expected. One more problem that occurs sometimes is that the new drivers update through the Windows Update system cause the problem. Keeping all this in mind, in this post, we are recommending Driver Talent. It is one of the best driver updater software for Windows you should try.
Driver Talent Driver Updater for Windows 10
Driver Talent is a professional driver downloader, updater, and features a backup system to make sure you never lose the old driver that was working fine. The first time you launch the software, it will scan for all the installed drivers in the system. After the scan, it will instantly figure out the status of the driver, and if any of them are outdated. If yes, then it can offer a direct way to update those drivers. Let us take a look at its features:
Scan and Find Outdated drivers
Backup and Restore Driver
Find and backup Peripheral Driver
Pre-Download drivers for another PC
Driver Talent Tools
1] Scan and Find Outdated drivers
Some of the updates on the laptop where skipped for too long, but Driver Talent was able to figure it out. Updates for the motherboard, display adapters, and the sound card was available. I didn't expect it because WIndows update should have taken care of it, but that's not the case.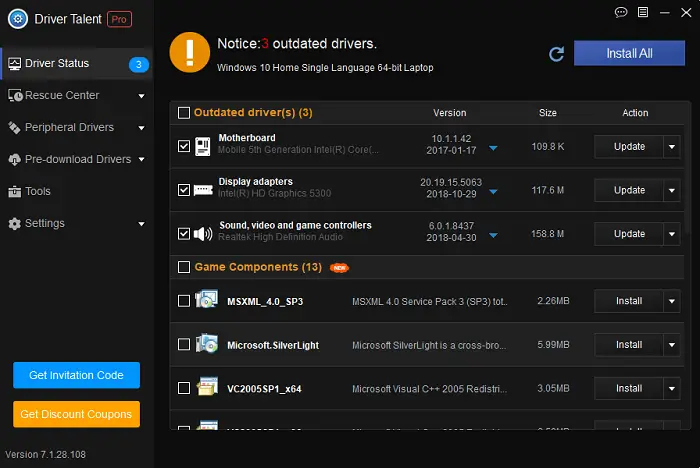 So you can see how important it is to find out drivers like these because they can improve the performance, battery life, and offer better resolution.
One of the best parts is that Driver Talent displays a list of the older version of the driver, and recommends the best one. However, if you think the earlier version was working well, then you can choose to install it.
2] Backup and Restore Driver
The next in this list is the backup and restoration of drivers. Switch to Rescue Center, and you have three options—Backup Drivers, Restore Drivers, and Uninstall Drivers.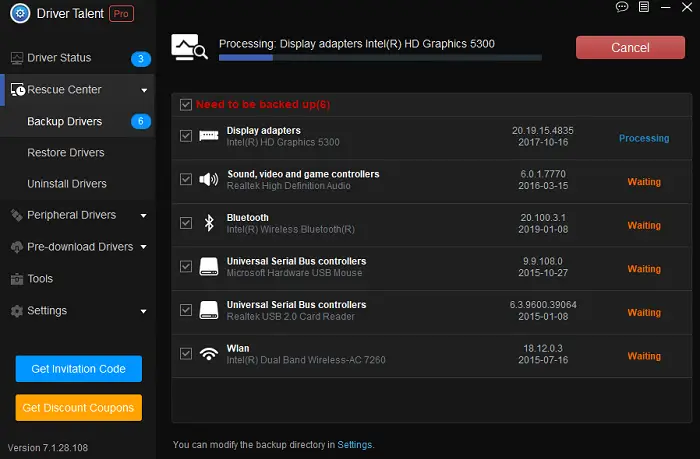 Backup Drivers: It will automatically recommend you a list of drivers that should be backed up. These drivers are usually those that are OEM specific drivers, and it could be challenging to find them later, especially if you are reinstalling the OS on the computer. The backup process is rather quick, but it will also depend on the number of drivers in the backup list.
Restore Drivers: If you have issues with the recently installed driver, you can rollback to the older version using your backup. The software offers a one-click restore of all or individual drivers, which makes it incredibly useful. Important to note that driver backup will maintain a copy of the earlier versions as well.
Uninstall Driver: Do not use it unless you don't have a choice. The feature uninstalls the driver entirely and leaves no trace.
3] Find and backup Peripheral Driver
It is one of the coolest features of Driver Talent that can do two things:
It can find printers on the network and take a backup of the driver.
Take a backup of all connected USB drivers as well. If you are using a wireless keyboard and mouse, this will come handy.
4] Pre-Download drivers for another PC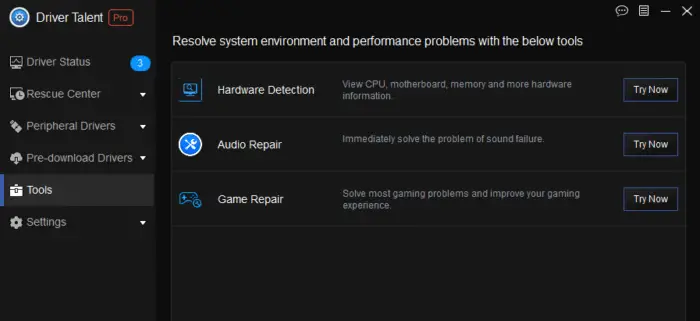 If you have a hardware profile of another computer, then the software can pre-download the software for that computer. It makes sure that when you set up that computer, you have all the drivers with you.  And if you are skilled enough, you can choose to combine the driver with the Windows 10 ISO. That way, you can install the driver along with the Windows installation. All the drivers are WHQL certified or official, so they are 100% secure and ad-free.
5] Driver Talent Tools
It offers three tools —
Hardware Detection,
Auto Repair, and
Game Repair.
You can use these tools in case of emergency, and see if it works. While it can fix, but it should also work for you.
Driver Talent for Network Card
That said, if you face a lot of issues with your network, then Driver Talent offers a particular version for Network Card. It's designed for fixing wireless or wired drivers offline, downloads drivers from their libraries. Why is it crucial? A lot of people work from home, and if the network cases issue often, then all you would get is an interruption.  It works for all commonly used network adapters and includes all features of Driver Talent.
Conclusion
Overall, Driver Talent is a fantastic tool which can take backups of your existing drivers, and also restore when there is a need. Equally important is that it keeps versions of the drivers making sure you always have something that was working.
Even in the free version, the software is handy. The free version offers:
Find outdated, missing, corrupted, broken, damaged, and incompatible drivers
You can then download the correct version of the drivers and install them.
It also supports versioning for drivers.
Restore network drivers from backup
Uninstall drivers completely without residual files
Special offer for our readers
If you are reading this, and feel that Driver Talent is the tool you were looking for, then use the coupon code DT4TWC. You can apply it to the purchase of all license types. Follow this link to purchase Driver Talent or you can first download & try it out on your computer. The software is available in English, German, French, Portuguese(BR), Russian, Armenian, Japanese, Bulgarian, Polish, Turkish, Greek, Arabic, Korean, Persian, Slovenian, and Spanish.
Referal Hunt Program
If you plan to buy the software, then you also have a chance to get into their referral program. It helps you get a free lifetime license for one PC. Here is how it works:
When you install the software, it shows a gift icon on top of it.
Click on it, and register by filling in the details.
Once confirmed, every user has an invitation code to generate the 20%-off coupon for friends.

A free 7-day license for 1 PC will be sent if a user completes two successful invitations with valid orders.
A free lifetime license for 1 PC will be sent if a user completes five successful invitations with valid orders.
Note: Coupons only apply to lifetime license purchasing.