EaseUS Data Recovery Wizard is a professional data recovery software for Windows, that can recover deleted or lost data, or data that was accidentally deleted or lost as well as one encrypted by Ransomware. We all are surrounded by data on our phones, laptops, hard drives and what not. Practically every piece of information on your computer is data. While some part of it may be precious to you and some part may not. But accidents do happen and if you have lost important data to these accidents, you may get what I am trying to say. But there must be a way around? Yes, indeed there is.
As we've already mentioned in many of our articles that whenever a data gets deleted, it does not leave the storage device until unless it is overwritten by some other data. Which leaves the possibility of data recovery but you definitely need some professional hands doing it for you. But why go somewhere else when you can use EaseUS Data Recovery Wizard to recover your lost data and important files.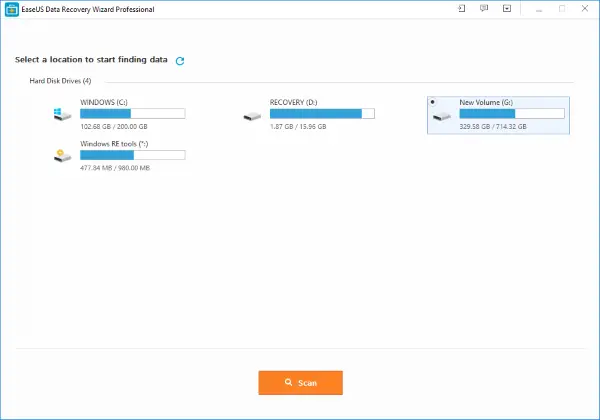 EaseUS Data Recovery Wizard
Whatever situation you might be in, EaseUS Data Recovery Wizard is a professional data recovery tool that can help you out. Not just deleted or lost data, the tool can help you even recover data that was encrypted by WannaCry or Petya attacks. While these ransomware attacks have been around for a while now, you can use this tool to recover data if you've been affected. Here are a few other situations, that tool might help you out:
Here are a few other situations, that tool might help you out:
The files accidentally got deleted even from the recycle bin
You formatted the hard drive while the data was present inside it
Hard drive Physically Damaged
A crypto-virus attack on your computer
The OS crashed, or someone accidentally plugged out your computer from the power supply
You accidentally deleted a partition
RAW Hard Drive Recovery
Or any other similar situation
Not just your computer's hard disk, EaseUS Data Recovery Wizard can help you recover data from other portable storage media like USB Drives, SD Cards, External hard drives, Mobile Phones, etc. To view a complete list of supported devices, head over to the product's website.
This is a powerful professional tool and has an amazing recovery rate. The features like Raw hard drive recovery, deleted partitions recovery, and recovery in case of ransomware affected computers puts this tool ahead of its competitors.
Recover Data using EaseUS Data Recovery Wizard
The tool has a simple wizard like interface and is very easy to use. The entire data recovery process is divided into three steps:
Select
Scan
Recover.
You need to select a drive on which you want to perform a scan. If you've lost data from any of the drives, make sure you don't use it until you have recovered your data. Do not install anything or copy or delete data from that drive. It is also recommended to install this tool on some other drive so that you may not lose data permanently.
So, select your drive, it can be a drive from your computer or an external drive and proceed to Scan it. You can recover deleted file from the Recycle Bin Files, from an external Memory Card or Drive too.
The program will perform a quick scan that would just find the files that are easy to recover or just recently deleted. While you browse through the results, the program will continue doing a deep scan in the background that would look for more files that can be recovered. The deep scan can take a long time to complete, sometimes hours depending on the size of the drive.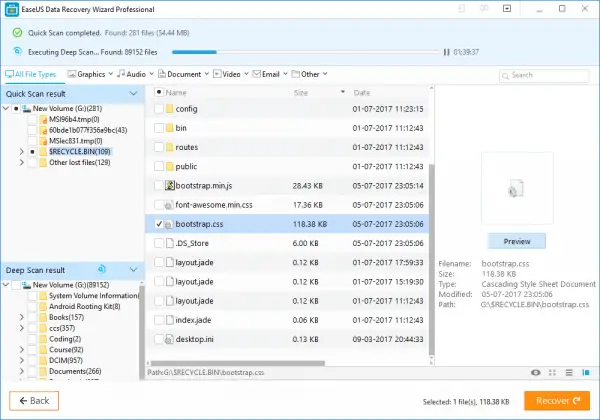 Once the scans are complete, you can view the results. You can browse through the files that are still available and can be recovered. To make the process easier, you can filter the files from some available filters. Or you can directly make a search query to find out if your file is available. Moreover, you can even preview some files before actually recovering them. Now, this is quite an amazing feature.
Just select the files that you want to be recovered and click the 'Recover' button. Choose a folder where you would like to save the files, and you are pretty much done with recovering your files. The recovery process is rather fast. You can even export the entire scan results for future reference.
Variants Comparison
EaseUS Data Recovery Wizard is available in three variants, and choosing a right one for you is a crucial step. The first one of them is the Professional, it comes with all the recovery features mentioned in this post and is fully able to scan and recover your files easily. The Pro edition can cost your around 69.95$ on a discount. Next is the Pro+WinPE edition, it comes with all the Pro features plus the ability to create a bootable data recovery media for emergencies. The emergencies could be your computer not starting up. Pro+WinPE comes with a discounted price tag of 99.90$. The last variant is the Technician Edition which comes with all the features available and also lets you offer data recovery solutions to your clients. Technician edition can cost your around 299$.
Verdict
EaseUS Data Recovery Wizard is an amazing data recovery tool. It comes with all the professional features you will ever need to ensure a safe and trouble-free data recovery. And if you happen to be affected by WannaCry or NotPetya ransomware, you should give this tool a try. In nearly 50% of the cases, the users were able to recover data deleted by Ransomware. This tool is everything you need to recover your data. Just make sure you do not overwrite the deleted data by using that storage media till your files have been recovered.
Visit easeus.com to download EaseUS Data Recovery Wizard.
Get the EaseUS license FREE!
Easeus has a special offer for TWC readers. 5 winners will be selected randomly after 10 days, and they will get a life-time license FREE. This license code can be activated only once, and it can not be activated after reinstall, and it will not be eligible for technical support. To win a license, simply share this post on Facebook or Twitter and posts its status URL here. Make sure that we are able to access your email ID.
EaseUS Windows Data Recovery