Thanks to our years of habit of using Microsoft products, Microsoft Visio is what we think of when it comes to choosing a diagramming and vector graphics drawing application. However, Microsoft Visio with all its popularity and years in the market may not be the best pick for you especially considering the hefty price that it demands.
A licensed copy of Microsoft Visio costs around $530 and that too for just one PC. This is exorbitantly high cost especially when you have a good Visio alternative available in the name of Edraw Max.
What more works for Edraw Max is that it comes at less than half the cost of Visio (plan are discussed later in the article) making it a great alternative to consider for your pocket. However, it is not just the price but it also serves you a better assortment of features.
Thinking if it's really better than Visio for the attractive price it offers? Here is a review of Edraw Max to explore different features of this software and we will also look at the ones which are unique and not offered by Microsoft Visio.
Edraw Max is not just an affordable Visio Alternative but packs a lot many features that Visio does not.
Edraw Max is the best Visio Alternative
Edraw Max is a useful all-in-one diagramming and graphics tool that can serve all of your purposes. Whether you need to draw Basic diagrams, flowcharts, floor plan, Engineering diagrams, Website wireframes, UML diagrams, or Graphics, you can find what you want in Edraw Max.
What really you would love in this software is its vast variety of readymade templates and shape library. Both have plenty of options for the user, and because of that, it widens the possibility of designs that it can create.
Edraw Max Features
Although Edraw Max comes with a plethora of features, we thought of bringing the 10 best features that really stand out.
1500+ built-in templates (More than Microsoft Visio)
Organized and Easy to Understand User Interface
Import and Export files to various formats
15,000 ready-made symbols
Supports 280+ kinds of Diagram
Cloud-Based
Cross-Platform Availability
Standalone infographics Template
2000+ clip art included
Image Editing Feature
Let's look at all these features in detail.
1] 1500+ built-in templates (More than Microsoft Visio)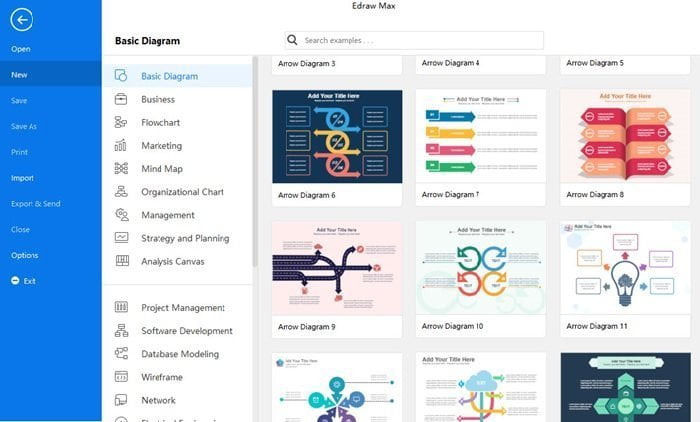 A readymade template is a quick way to start on the diagram and Edraw Max offers a huge library of free templates to choose from.  Compare it with Microsoft Visio and Edraw Max completely outshines the former.
2] Organized and Easy to Understand User Interface
The User Interface of Edraw Max is very easy to understand and use. You will be able to use most of the features without much challenge. All essential tabs are clearly arranged and allow for easy use.
Also, it allows for Drag & Drop Interface and is very much like an Office-like UI to get started easily.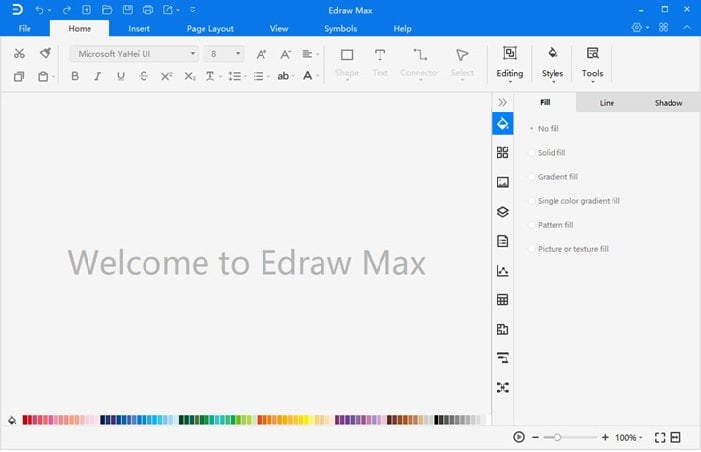 3] Import and Export files to various formats
Edraw Max allows you to easily export and import your files to popular formats like Visio, PDF, Word, PPT, JPEG, HTML, and SVG. So, even if you have existing Visio files, they are easy to export.
4] 15,000 ready-made symbols
If you are creating a Network or an Architecture diagram you will agree that readymade symbols are what make your task easy. Edraw Max offers 15,000 ready-made symbols that you can for your drawings. You also get access to over 50,000 vector symbols that you can use and even customize to fit your needs.
5] Supports 280+ kinds of Diagram

Edraw Max Supports 280+ kinds of diagrams like a flowchart, business process diagrams, p&id, genogram, electrical diagram, org chart, project management diagram, and more.
6] Cloud Based
Edraw Max also offers a cloud-based experience allowing you to easily share your designs with others by putting them on the cloud using various services. You will be given an HTML link for sharing, and you would be good to go. Thus, you can freely work on the same project with your team members at any time, on any device.
7] Cross-Platform Availability
Edraw Max works across equally well on 3 major platforms – Windows, Mac, and Linux and is also available online (Web-based).
8] Standalone infographics Template
One unique feature of Edraw Max is that it has integrated standalone infographics template which can be used in business presentations and marketing collaterals.
9] 2000+ clip art included
Another unique feature of Edraw Max is that it has 2000+ clip art included for your ready use.
10] Image Editing Feature
Edraw Max has image editing features that can help to enhance the images. You can also adjust the brightness, contrast, and transparency for the pictures.
Edraw Max versus Microsoft Visio Comparison
The below screenshot shows the features comparison between the 2 drawing tools. Edraw Max not only contains the features that Microsoft Visio has but also over scores its competitor.

Using Edraw Max on Windows
Having looked at the major features, now let us explore how to use this software.
Download the installation file from edrawsoft.com and complete the installation
Once downloaded, you will see the below screen wherein you have to choose the template that you want to work with, and you will see different variations of it. I chose the flowchart. Double click on the template you want to work on.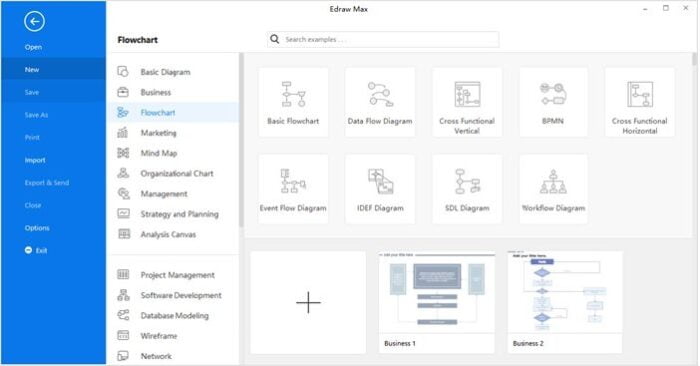 The following screen will open with the template in front of you.
You simply have to drag and drop the flowchart boxes from the Basic flowchart shapes panel and you will be good to start with your diagram. The arrows linking between the shapes are also automated and you will simply love the easiness with which you can complete your drawings.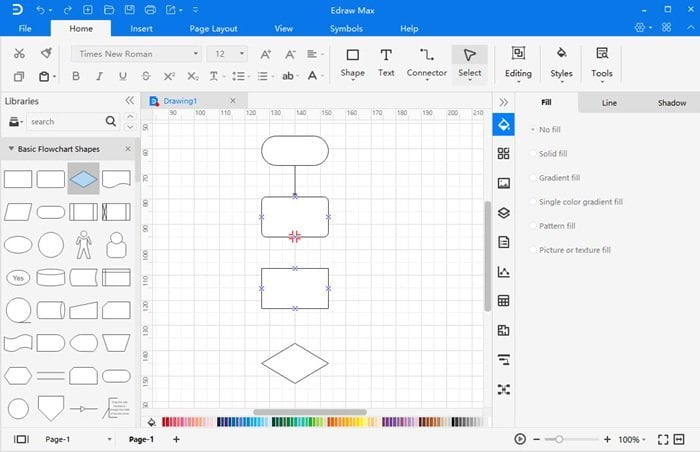 Edraw Max plans and pricing
For individuals, the following 3 plans are offered,
Perpetual License: For $139 you can use the software indefinitely and will get 3 years of guaranteed upgrades. 1 license is for 2 devices
Lifetime License: For $179 you can use the software indefinitely with a lifetime of guaranteed upgrades. 1 license is for 2 devices
Subscription License: For $99 you have to pay $8.25 per month for a year with guaranteed upgrades. 1 license is for 2 devices
For Businesses, there are guaranteed discounts based on the number of users you want the license for. To make the purchase, visit the website.
Conclusion
Edraw Max is definitely the best Visio Alternative – in fact, it overtakes Visio on many counts.
During my review, I was amazed at the number of templates and features on offer. Most drawing tools including Visio does not offer much when it comes to designing is concerned, however, Edraw Max is an exception and rewards you with excellent designing features and work environment.
It works extremely well and at the same time provides everything at half the price that the expensive Visio does.
Highly Recommended!