AI or Artificial Intelligence makes many complex jobs pretty easy, and one such job is video creation. With the help of AI tools, you can convert random text into videos for your business or personal content.
There are quite a lot of video creation tools available out there. However, my favorite has to be Elai.io. With this one, you can build customized AI videos with a presenter. However, if you have never heard about the tool before, here is a quick Elai.io review:
What is Elai.io?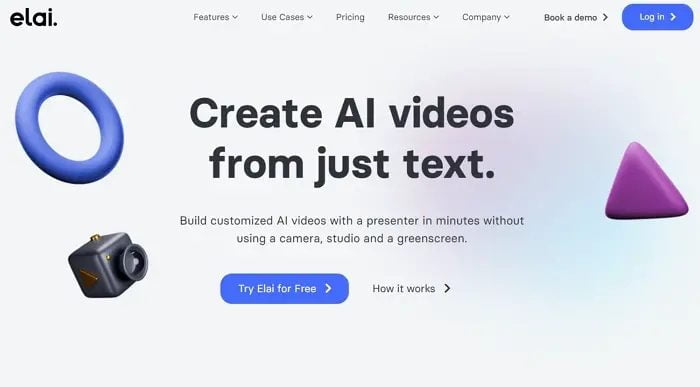 Elai.io is an AI-powered video creation platform that allows you to build customized AI videos with a presenter in a few minutes without using a camera, studio, or green screen.
Create AI videos from Text and Speech
The tool allows you to create a script and generate a video from scratch. Elai.io is also powered by GPT-3 and has multiple AI presenter profiles. So you can choose your own AI profile for your videos and create unique content.
Even if you don't have a script, you can instantly turn any article into a video. The tool can be used for various purposes. For instance, you can create training videos, marketing videos, social media posts, etc.
Additionally, to protect itself from being misused, it follows responsible.ai's guidelines.
ELAI Review
Existing Templates
With Elai.io, you will get access to multiple templates. You can choose any templates and customize them according to your taste and liking. So there is no need to create an AI video right from scratch. Instead, you can choose from existing templates and create a video instantly with the help of Elai.io.
65+ languages
With Elai.io, you will get access to over 65+ languages. So you can create your videos in multiple languages targeting different regions. Some popular languages it supports are English, Arabic, Hindi, Bengali, Catalan, and many more.
Multiple Video Presenters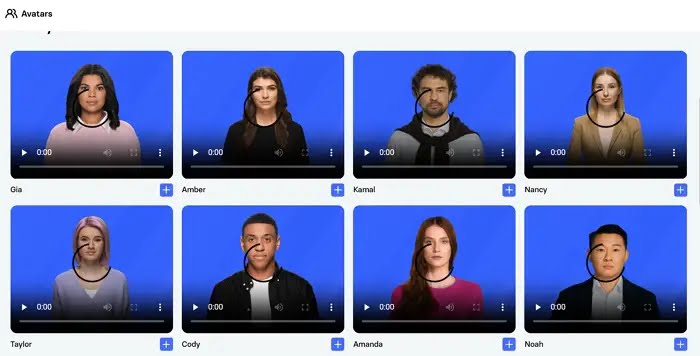 You are also getting access to multiple video presenters with the Elai.io library. You can use any of the presenters for your videos. Also, Elai.io offers you personal avatars. But it would be costly to get one made for your business.
It offers you access to 25+ video avatars. These avatars represent different ethnicity around the globe. Also, thanks to AI avatars, there is no need to worry about shooting videos by yourself.
Text To Video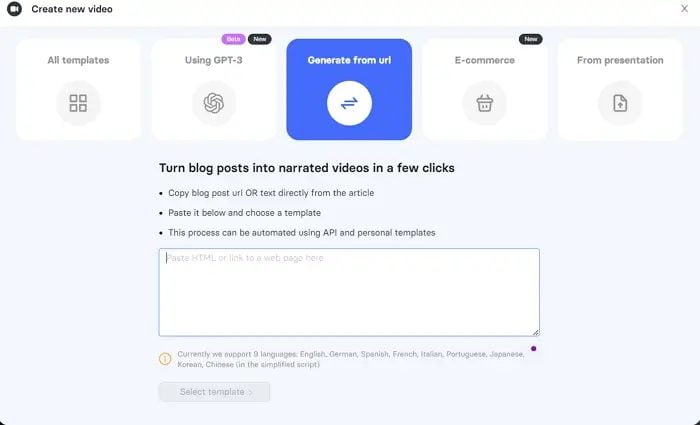 With just a few clicks, you can convert any text to an AI-powered video. Simply copy and paste a link to a blog post into the video builder to generate video content. Also, you can create your script or paste your script into the video editor to generate an AI video instantly.
PPT To Video
You can also instantly use Elai.io to transfer PDFs or PPTs into AI videos. The tool allows you to create engaging videos without much effort. All you have to do is upload your Pdf or PPT files, and it will generate an AI video. Also, you can use different avatars and voices to narrate your presentation to create an engaging video.
How to create AI Video using ELAI?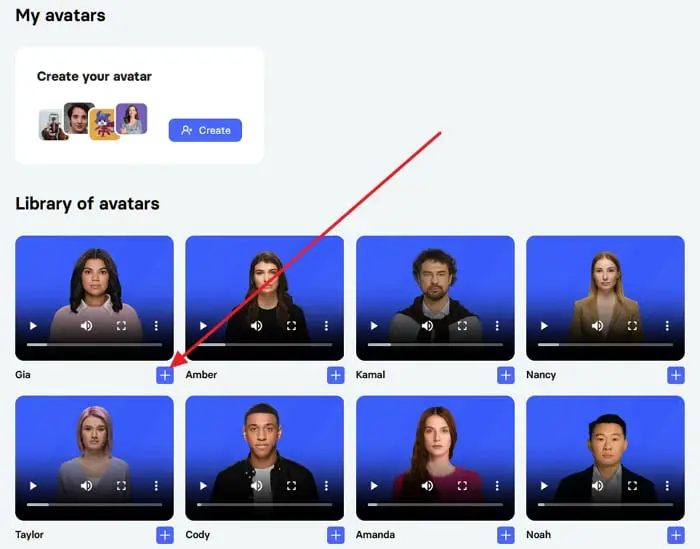 Once you signup, go to the My Avatar section and select one of the avatars. You can also use your own Avatar to personalize it further. Once done, click the plus button next to the listed avatars to start the process.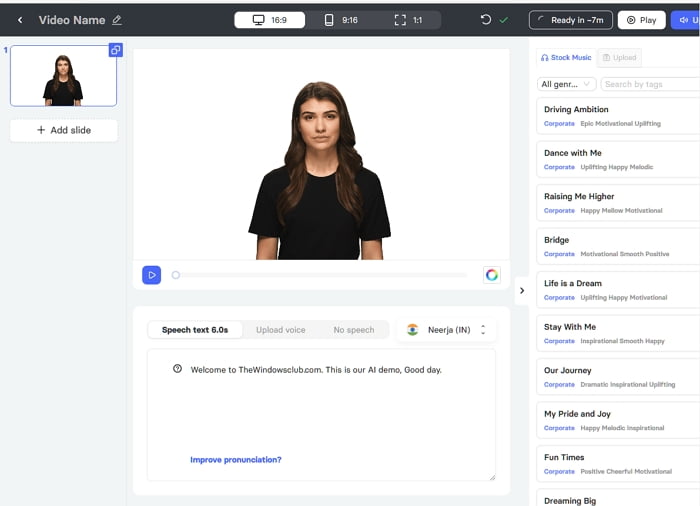 In the next section, you get a video editor where you can add text, upload your voice, or choose a no-speech video. You also get the option to add images, videos, and stickers. In the same section, you can choose the audio style.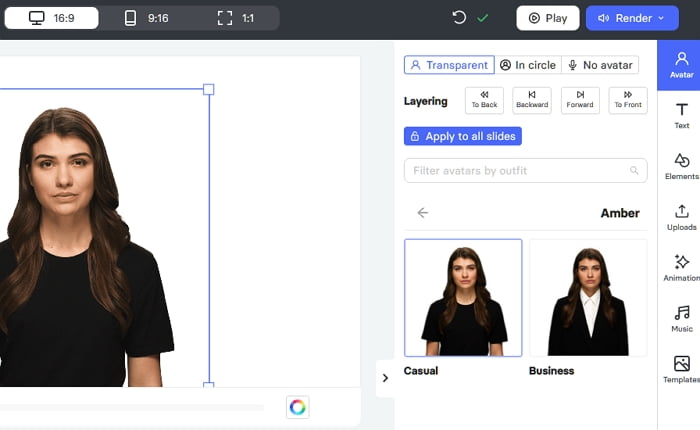 Once through it, click the Render button to create the video. The time will depend on how many slides you have, the number of audio, speech, etc.
Elai.io Pricing
Elai.io has four different plans. These plans are Free, Basic, Advanced, and Custom. The free plan is more of a trial, offering you 1 minute of free credit. So you can test out how the tool works out for you.
The Basic video plan offers up to 40 video minutes/month credit. One minute of the video refers to one credit. But you cannot create 4K ultra HD videos with a basic video plan.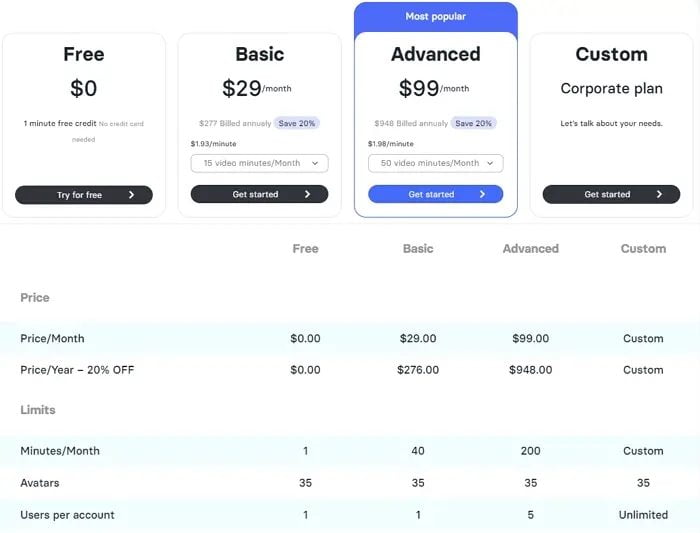 The Advanced plan has no restrictions; you will get credit for 200 Video minutes/per month. Lastly, for the corporate plan, you need to contact customer support.
Conclusion
Elai.io is a great tool for instantly generating AI videos. It has many valuable features and a wide range of libraries of avatars and voices. It is safe from misuse as they follow responsible.ai guidelines. So try the tool's free version to see how useful it is.