No surprise that employee monitoring software remains one of the best ways to make your business grow. A good tracking tool in the workplace gives an employer total control over the company and offers a comprehensive window into staff members' activities on company computers. There's plenty of employee monitoring solutions available on the market today both for Windows and macOS. Such an abundance of choice makes it harder to make the right decision and to set up software suitable for your purposes. Whichever type of employee tracking solution you're looking for, this article will investigate the most popular software for this purpose and identify efficient monitoring tools for your company.
Why Do You Need Employee Tracking Solution?
There's no doubt that a modern workplace can easily distract employees from their daily business tasks, especially when it comes to using internet-connected devices at work. Trustful employers may think that their staff is highly productive and that each team member works hard during a business week, but there is always an opportunity for employees to waste company time chatting on social apps or surfing the Net purposefully. To help you prevent such behavior, employee monitoring software tracks any kind of computer activity as well as controls clocking in and out of each worker, identifying slackers and late-comers.
However, employees' inefficiency isn't the only problem that an employer may face. While previously tracking solutions may have been used to improve staff members' productivity, this year control over employees is more about security. The point is that these days most corporate data leakage and security breaches happen within a company rather than due to external threats like hacker attacks. In fact, security breaches can be caused by anything from an employee who deliberately leaks the company's essential data and shares it with your competitors to an accidental loss of data (for example, when a device has been lost).
This is where an employee tracking solution comes into play. The tracking tools may not only prevent an attempt to steal vitally important data of your business but also notify you if somebody from your staff simply comes up with such an idea. The latter issue can be easily solved by setting up alerts on unwanted keywords or turning a computer into a secret surveillance device that will record everything that takes place near it via webcam and microphone.
What Features Should Best Employee Monitoring Software Offer?
Since employees' inefficiency and data leakage remain the most frequent problems for businesses these days, let's identify monitoring features that may help solve these 2 issues and, consequently, that are essential for a good employee monitoring software.
–         Keystrokes logging. In-built keylogger records all keys that a computer user types in on a device. This feature is very handy if you need to check how your employee is spending his business hours, for instance, to find out whether he's typing an annual financial report or a love declaration message to a colleague. Recording keystrokes is also useful when you suspect a coworker of planning to leak your data and when you want to check if he/she shared these plans with other staff members.
–         Screen recording. Enabling this feature means that whatever happens, you will always have a recording of the device screen that may help you investigate the staff's unlawful actions.
–         Time tracking and productivity statistics. A modern employee monitoring solution should control the time when employees clock in and out and show if they are efficient over the day. This feature will be helpful for HR-department who are responsible for monitoring employees' productivity.
–         Screenshot Capturing. Tracking software can make screenshots at any important event (for instance, window change, running an app or pressing "Enter"). Screenshots will give you a clear picture of what your employees are doing at work.
–          Applications and websites monitoring. Tracking all visited websites and running apps, a businessman will always know if workers waste time chatting on Facebook or surfing the Net.
–         Apps and URLs blocking. This function of monitoring software is used by employers to prevent their staff from being tempted to scroll through Instagram feed or check LinkedIn messages.
–         Alerts. Tracking software warns you when an unwanted keyword has been typed or a dangerous website has been visited. Good feature for security purposes.
–         Removable driver's control. Again it's better to ensure that nobody is trying to leak your company's data. Employee tracking solutions can track USB, SD cards, and HDD usage.
–         Recording via microphone and webcam. A good tracking solution turns workers' devices to surveillance tools. Using webcam and microphone, it silently records what's going on near the computer, letting you know if the work climate at your office is positive, what issues the colleagues have and how they solve them, what is discussed at work, etc.
–         Remote control and several ways of data viewing. Remote settings make running an employee tracking tool rather easy and convenient. Besides, when a program offers several methods to access to recorded data (locally, email delivery, remotely via online account), you'll be able to get smart reports about employees' activities wherever you're located.
–         Invisible Mode. The purpose of employee monitoring software is to improve the staff's efficiency. That's why it's essential to make certain that the software you installed to track your employees doesn't distract their attention. Making such a program hidden means that your workers won't notice that it is running. However, you should first thoroughly review your state laws. Why? You'll find an answer in the next paragraph.
Legal Considerations for Employee Monitoring Tools
Rules regarding employee tracking software vary from state to state as previously. Activities an employer can monitor as a rule depend on the location of the company, the owner of the tracked device, and a type of information an employer records. Federal law doesn't forbid spying on workers' gadgets, but some US states have restrictions on what kind of staffs' information businessmen can monitor. Some states allow collecting email communications but require companies to notify workers when capturing biometric data. In other states like Delaware and Connecticut, employees are protected by privacy laws and must be notified that their daily activities are being tracked. Keeping these limitations in mind is still very important. So before installing an employee tracking app on a device, revise your state laws, as well as whether any new legislation or legal proceedings are likely to make sure that you don't break the law.
Workplace privacy and employee monitoring may become a more challenging area of the law than ever before. This is mainly connected with a decision by the U.S. Federal Trade Commission that made an employee monitoring company in Florida provide written consent from employees who would be tracked by special applications, as well as an explanation of legit purposes for which monitoring would be applied. This accident may cause big changes in laws concerning employee monitoring. For employers, this means that tracking app developers can soon require companies to provide written permission from employees in which they agree to be tracked. So don't be surprised, if a software vendor asks you to collect all team members' signatures before providing you access to the app.
Best Monitoring Solutions for Employee Control
Due to its powerful features and tracking abilities, Spyrix is the best tool to control your workers this year. This software allows simultaneous monitoring of up to 500 computers. It's compatible with both Windows and Mac operating systems. The program is easy to install and use, so you don't require an IT department to set up Spyrix.
This soft is indispensable when it comes to evaluating your staff's efficiency. Firstly, it offers a smart time control system that fixes the exact time of clocking in and out, identifying your late-comers and lazybones. Secondly, Spyrix collects data, analyses it and creates representative graphs and charts representing how team members spend their working hours (websites visited, used apps and many more). If you're HR-manager, such features will make your life much easier doing most of your analyzing job for you. Based on time and efficiency stats provided by Spyrix, you can ensure performance appraisals are consistent at the office, find out who in your staff is disengaged and discover where your workers need extra coaching.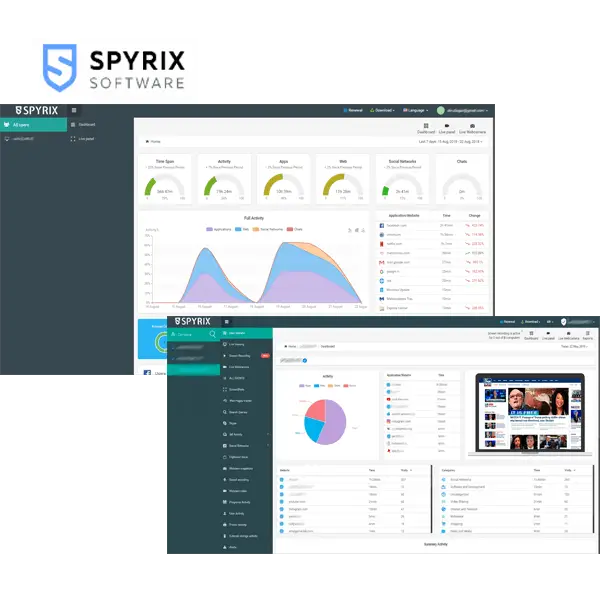 Further, Spyrix Employee Monitoring comes with various recording features that may give a business owner a clear picture of what's happening in their team. For instance, it controls all pressed keys, content copied to the clipboard, records computer screens and lets you view them in real mode and creates screenshots at a set time period or important events. Moreover, the tool records social activities (LinkedIn, Skype, Discord, Facebook, email and others), that tell much about what your team members do at work. Everybody knows that some employees waste time chatting with one another on Skype or checking the news on Facebook. Spyrix can kill two birds with one stone, identifying workers who waste time on social messengers and blocking unwanted apps or websites. You may create a list of unwanted keywords and you'll be warned if they are typed in.
Interestingly, Spyrix can turn your company's devices into the silent surveillance system. It will secretly record video and audio via webcam and microphone and take snapshots. Such records are handy when you need to prove the team's unlawful actions or intentions. For the same purpose, you may use printer and USB-drives control. The software will simply notify you if a flash-card was used to steal corporate data and you'll easily prevent an attempt of leakage. It's very important that it has a stealth mode, which means that employees won't be distracted by the program. Spyrix has many methods of viewing recorded information, including:
–         Remote access via an online dashboard from any place;
–         Sending reports about users' activity to email and Gmail;
–         Viewing logs locally on the PC;
–         Sending logs to cloud storage (GoogleDrive and Dropbox);
–         Access to recorded data via FTP or LAN.
Subscription cost begins with $3/user per month. Spyrix Employee Monitoring offers a 14-day free trial.
ActivTrak for Employee Monitoring
This tool is the next on our list thanks to its advanced security technologies. To begin with, ActivTrak controls USB activities, monitors events connected with a file download and closes unwanted or unapproved apps. You can also prohibit some apps and websites or sort your employees into different groups according to their daily tasks and block websites from one group, leaving it available for another. In addition, ActivTrak has good monitoring features like screenshots capturing and screen recordings. As performance improvement is the purpose of tracking software, ActivTrak lets you set up time limits on social activity, compare individual performances across employees, and even view main points of user interface that reflect the current behavior of a person.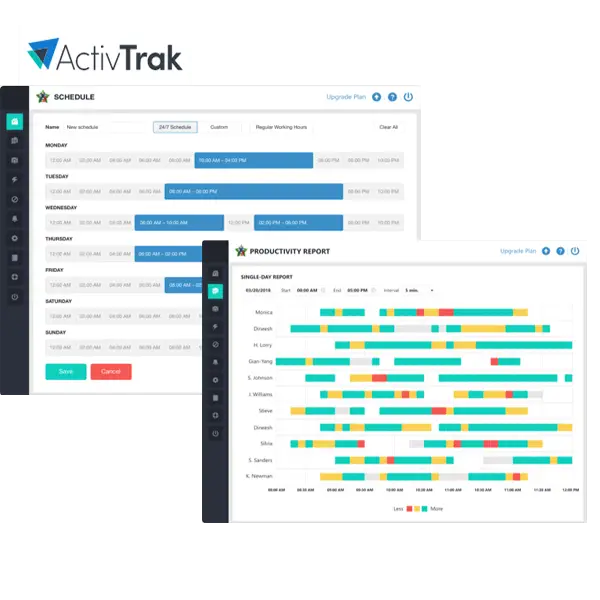 Additionally, the program analyzes the efficiency of employees and helps you identify the most productive team members. Data is represented inconvenient graphs, showing you time spent productively and unproductively, idle time, etc. Efficiency is evaluated for different time periods, so you can view reports about each worker for a day, month and a whole year. Business owners and HR-department can easily use this information to reward efficient employees, motivate staff and improve discipline if needed.
ActivTrak can also take care of sensitive data it collects (for example, financial information, personal contact information etc.). For an extra cost, the software will make sure that such data captured by screenshots is hidden before anyone sees it. ActivTrak may also classify captured screenshots according to the type of content they contain and divide them into Adult, Violent, Medical, or Racy material. Other advantages of ActivTrak are:
–         Remote installer;
–         Data exports;
–         Unlimited number of monitored users;
–         24/7 technical support;
–         Free trial.
It's always difficult to choose between the best software on the list, that's why we offer you to watch the following video review of Spyrix Employee Monitoring and ActivTrak.
Teramind for Employee Monitoring
Teramind is compatible with Windows and macOS and has a great variety of features. It tracks user activity in real mode covering visited websites, used apps, sent and received messages, social media, pressed keys and clipboard events. Like other good activity monitoring programs, Teramind can also prevent data leakage as it controls each file transfer. The biggest advantage of this software is the fact that it analyses user activity, identifies deviations from normal behavioral baseline, and notifies you. Such strategic risk scanning detects suspicious actions before they represent a real threat.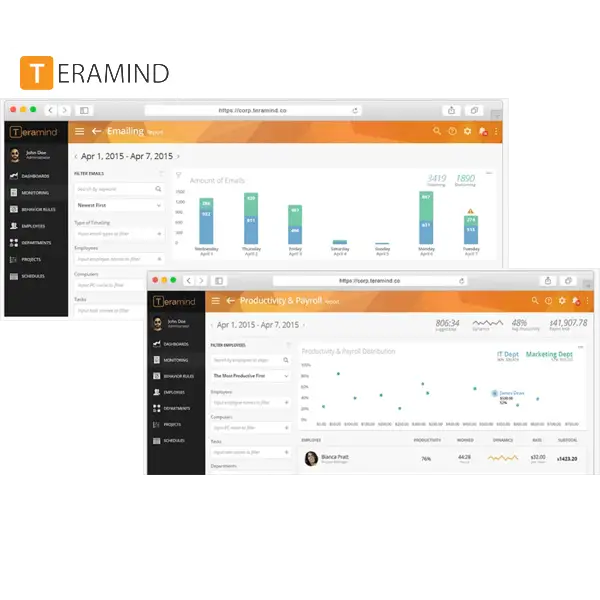 For productivity boost, the app offers you to check graphs representing employees' performance, to detect laggards or high performers, and further to take measures to motivate your staff. For security purposes, Teramind records computer screens, live surrounds, and sends alerts. It can help business owners improve the efficiency of customer support or sales department as it tracks email history, capturing all inbound and outbound emails and saving all attachments. Knowing how your team members interact with your current or potential customers, you can check if they do their best to boost your sales and if they offer the level of service you expect. Teramind also offers:
–         Monitoring of social media, including posts and comments;
–         OCR search with natural language processing;
–         Multi-screen capture;
–         Recording search queries;
–         Risk reporting.
The prices depend on the number of computers you need to track. For example, a one-month subscription for 5 devices will cost you $125.
Veriato
Veriato is a comprehensive employee tracking software solution with impressive features that can also improve your employees' performance and reduce the risk of data leakage. Like any good tracking program, it has recording features, including keylogging, application use tracking, web searches and visited URLs control, and screenshots capturing. Moreover, the software spies on every upload, download, USB usage, and file transfer so that you could control any attempt to steal or transfer corporate data. The app can even show you the location of the target device in case it has been lost or stolen.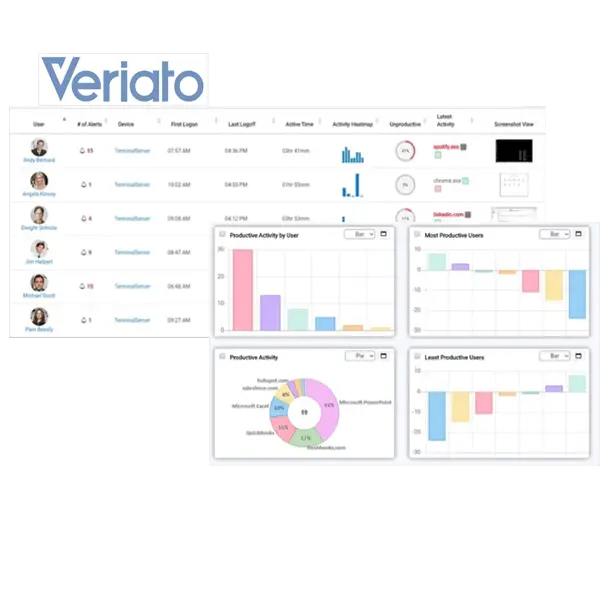 Surely, Veriato has an in-set smart time control system that presents HR-managers with detailed reports about workers' efficiency. Like Teramind, the software records any changes in the behavior of staff members and can identify unusual or suspicious activities not typical of the workers. Veriato records actions performed in social apps during the business week as well as instant messaging in the workplace. Emails written or received in Microsoft Outlook and Google are also monitored by the app. Besides, it lets you set up alerts to warn you when your team members try to access a dangerous URL or install unproductive applications. The soft offers some add-ons that can make your monitoring even more powerful:
–         Data loss prevention feature. This option lets you find sensitive information on your firm's devices and to track its movement. If an unwanted user gets access to such data, you'll instantly be notified and be able to block such a user from transferring it.
–         Endpoint control feature, allowing admin access to the data on the lost device and to remove it from the PC. Good add-on if you don't want sensitive data to fall into the wrong hands.
The cost of the subscription depends on the number of PCs and your operating system. If you need to control 3 devices, it will cost you $450 per year.
Hubstaff
Hubstaff software has a user-friendly interface and runs on Windows and macOS. Interestingly, it lets you identify activity levels based on keyboard and mouse usage. Screenshots are taken at a set time interval so you won't need to disturb your team to learn projects' status. Besides, you can create tasks for your employees locally in the app and set time and budget limits for completing the task. The app can help you manage, approve and deny timesheets. Additionally, the program allows checking the time when team members start and finish working. Let's take a brief look at what else can be controlled with the help of Hubstaff:
–         Payrolls, meaning that an admin can generate payments using recorded hours and pay rates;
–         Invoices that an employer can download based on time monitored;
–         Time-off and holidays management.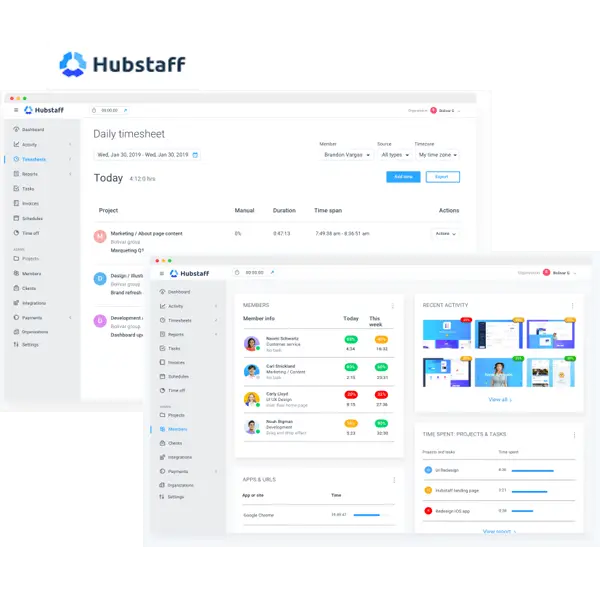 The software has 4 plans depending on the features employers are looking for. The free package lets you track time and efficiency, control a limited number of payments and make a limited amount of screenshots. The most powerful package (Enterprise) starts at $20 per user/month. On the one hand, it may not be affordable for everyone, on the other hand, it includes extra options like VIP support, concierge account setup and higher limits on public API, which sounds to be really helpful.
Comparison of Best Employee Tracking Solutions
Spyrix Employee Monitoring

(price starts at $3 per user per month)

Features for

Efficiency Improvement:

Keylogger

Screenshots

Snapshots from web camera

Websites

Saving of all search queries (Google, Yahoo, Bing, etc.)

Facebook&Skype Activity

Social activity

Websites and apps blocking

Live Panel

Features for Security Protection:

USB-drives control

Printer control

Alerts

Websites blocking

Screen recording

Hidden recording from microphone

Hidden recording from web camera

Domain users monitoring

Ways of Data Delivery:

Online account

FTP

LAN

Cloud storages (Google Drive, Dropbox)

E-mail

Locally in the  program

Mobile apps

ActivTrak

($7.20

per user / per month

with Annual Сontract)

Keylogger

Screenshots

Websites and apps blocking

Setting time limits

User behavior control

Productivity analysis

Time control

Clipboard control

USB detection

Webhooks

Risk Scoring

Screenshots

File transfer control

Screen recording

Sensitive data protection (screenshots)

Online dashboard

Mobile apps

Locally in the software

Teramind

(price starts at $10 per user per month)

Apps monitoring

E-mail tracking

Website control

Keylogging

Instant Message Control

Clipboard monitoring

Searches

Activity blocking

Active vs. idle time analysis

File transfer tracking

Automated alerts

Printer control

Insider Threat detection

Malicious behavior

User activity video recording

Veriato

($10 per user per month)

Screenshots

Web searches

Email monitoring

Time control

Social media tracking

Application usage

Instant messaging

Keylogger

Websites filtering and blocking

File movement

Unusual behavior

Print tracking

USB drives control

Data loss prevention

Alerts

Endpoint control

Hubstaff

(price starts at $10 per user per month)

Screenshots capturing

Time tracking

Scheduling & attendance

Time off & holidays

Invoices

Payroll

Timesheet approvals

Payroll

Apps control

URLs recording

Location tracking

Geo-fencing

Online dashboard

Online app (coming soon)