In a world where storing and sharing files online is an everyday necessity, there are lots of services that offer this very functionality — but on different terms.
Today, we are introducing FileWhopper. It is a service geared specifically towards users who need to send really large files online: photos, videos, work assignments, etc. If you need to send over files as large as 10TB and more with no loss in quality and zero compression, FileWhopper is probably exactly what you are looking for.
FileWhopper review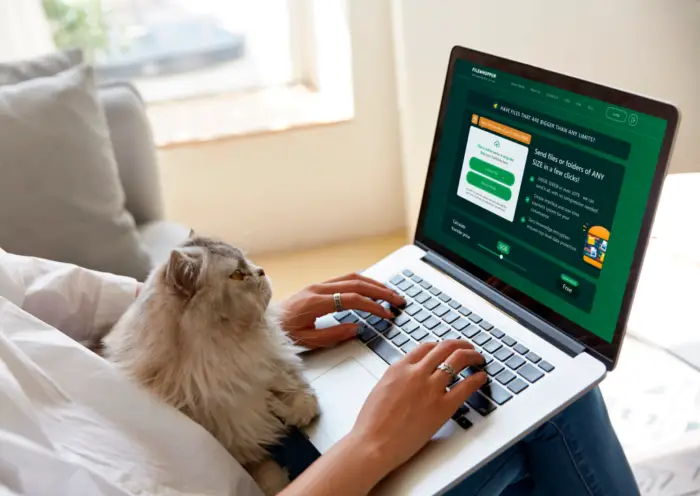 Sending large files and folders at a reasonable price
When you want to send a large file or folder to someone just this one time, you probably don't want to upgrade to an expensive cloud storage plan or sign up for a monthly subscription that you are not going to use. Unfortunately, this is often what you have to do when using most data sharing and storage services.
FileWhopper is different. The service lets you send files and folders from your computer to another person at a reasonable price and without unnecessary commitments. Let's see what makes FileWhopper such a great choice:
There is no max size per file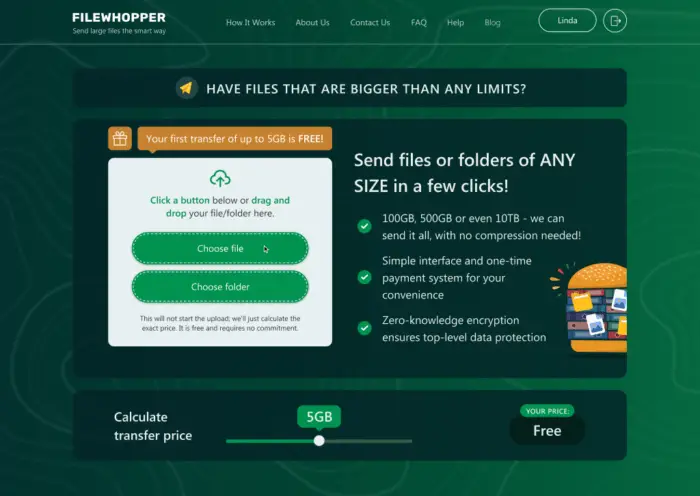 It allows users to share their files and folders online with others from all over the world. The tool has no limit on how big the files and folders can be and doesn't compress large files or optimize images to make them smaller. 1GB, 500GB, and even 10TB files and folders can be easily sent, and you will not receive an error message.
You pay as you go
Unlike when using other services, you don't need to pay for creating an account or subscribe for a monthly fee. Instead, you only need to pay when you send something through FileWhopper or decide to buy additional services.
You get an instant quote based on the size of your file or folder
FileWhopper offers a way to get an instant quote based on the size of your file or folder. The service uses a slider that you can move to estimate the cost of your transfer based on the file size. You can also upload a file or folder on the service's homepage and see how much you are expected to pay for sending it.
A tiny desktop app helps to upload data and generate a shared link
FileWhopper uses a tiny app to simplify the transfer process and make it faster, more secure, and smoother. The app will encrypt your data and automatically resume the transfer after any error, pause, Internet connection loss, etc. The tool also allows users to  upload and download files and folders simultaneously, meaning your recipient(s) can start downloading your data without waiting for you to finish uploading it.
Your data is encrypted and locked with a password
FileWhopper implements zero-knowledge encryption to provide top-tier protection, which is a cutting-edge method of ensuring data safety. To put it simply, the FileWhopper app lets you encrypt your file or folder with your secure password right on your machine, and this password is not sent to the FileWhopper servers. This way, even if there is an attack on a FileWhopper server, your data's security still won't be compromised, as the decryption key has never reached or been stored on the FileWhopper servers.
How does FileWhopper work?

The process is straightforward. All you need to do is create an account, then drag and drop your file or folder to get an estimate, buy a few additional services if you need them, upload your data, and share the assigned download link and password with your recipient.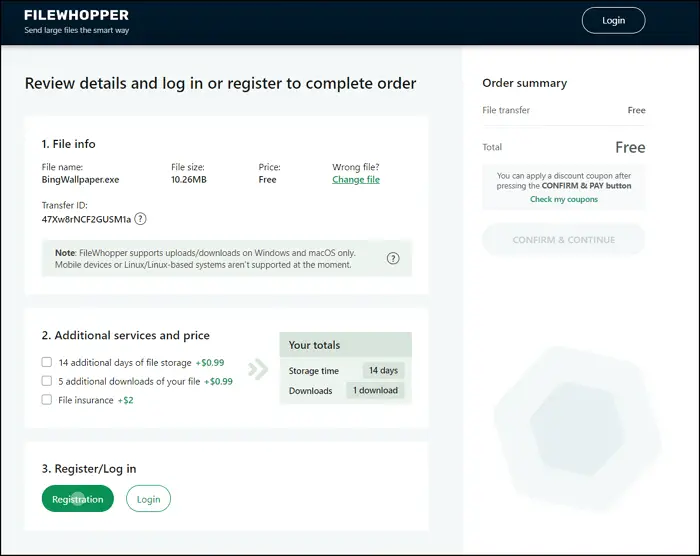 The service also offers the first transfer of up to 5GB for free so that you can enjoy the full FileWhopper experience and see everything for yourself.
Once registered, you can manage all your transfers, payments, and coupons and see your transfer history.
It is interesting to note that you can choose the number of allowed downloads, which will make sure your data is not misused if the password becomes known to someone else. If you are not sure, only allow a single download by one recipient.
How does FileWhopper compare to other services?
Most of the popular services you see around are based on monthly payments and come with limited cloud storage for your data. FileWhopper is meant for large-size file transfers, imposes no limits or monthly commitments, and provides top-level security.
Uploaded data is usually available for 14 days and is deleted from the servers once downloaded or when the selected storage period is over, so you don't need to search for and delete outdated data.
On top of that, FileWhopper doesn't occupy additional space on your computer. Its tiny app auto-deletes once the transfer process is over, and the service doesn't have sync issues.

Conclusion
FileWhopper is a file-sharing service that allows users to efficiently send large files and folders online.
This tool excels in how it handles files and folders. FileWhopper has a great way of keeping your data private and tracking your transfer status. Because of this, users do not have to continuously ask people if they have downloaded the file or folder they sent.
Also, the service is straightforward to use and will help you share files and folders of any size securely. It's not the only file-sharing service out there, and you may have to spend some time researching other options before settling on a service, but we hope that this review has given you a good idea of what FileWhopper offers and that you can make the decision that's right for you.
FileWhopper Review -
Free
UI & Navigation -

95%

File format Support -

95%

Security & Privacy -

95%

Ease of Sharing -

95%