Video editing is no longer a professional activity, with the advent of great camera phones and small cameras, simple video editing has become a normal day to day task. But to make your videos look stunning, you need great software. And in this post, we've covered a great video editing tool called Filmora Video Editor. The tool supports both basic and advanced video editing and is a good replacement for Windows Movie Maker.
Filmora Video Editor Review
The tool is a complete solution to all your audio/video editing needs. If you are a basic user, you will find this tool quite simple and easy to use. All the elements/features are carefully placed and easily accessible. If you are a power user, you will find this tool quite interesting as well.
Every video or movie project starts from raw clippings. Filmora Video Editor supports almost all the popular video formats. You can import videos from your Phone, iPad, Camera or even from social platforms such as Facebook. Other than videos, you can import static images and audio files for your project.
Video Editing software
Talking about basic video editing, Filmora Video Editor supports most of the operations. You can split your video and remove unwanted parts. Then you can crop or rotate a clip. Other than that, you can speed up or slow down a part of the video. You can adjust brightness, contrast and other color related settings. And lastly, you can control audio levels and add effects such as a fade.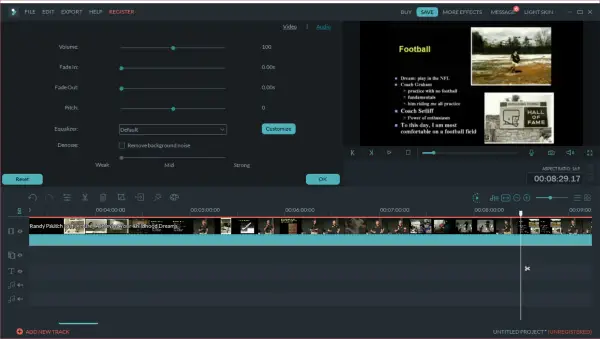 The tool offers quite a lot of audio enhancements; you can try to remove background noise or use a custom equalizer. All in all, you can make your video's sound perfect. There is also an option to detach audio from the video so that you can edit audio and videos separately. Or you can simply add custom audio over the existing.
Filmora Video Editor comes with a great timeline which is the heart of all the video editing. Timeline makes it very easy to drag and drop your clips. You can quickly arrange them in order, use simple tools on them and even fix them up with the audio tracks. Timeline works flawlessly well and makes video editing very simple.
Effects Store
Now coming to other effects and downloadable content, Filmora Video Editor has a complete repository of effects that can be downloaded and used in your projects. The library is updated every month with new effects, transitions and audio tracks.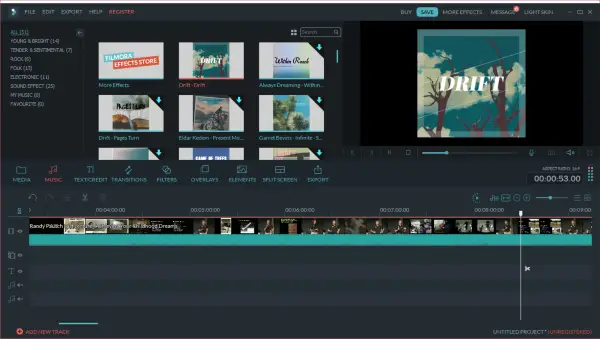 You can practically download any audio track from the store and use it in your videos. There is a huge collection, and you won't have to look anywhere else for free audio tracks for your videos. Coming to text/credits, again there are tons of designs and options available. You can add an opening or ending text/credit. Or you can add a styled text on top of a video clip. There are many options available, and you will never run out of options.
A quite a lot of transitions are available as well. Sometimes it gets difficult to choose one because of a lot of options. You can add transitions so that all your video clips blend into each other and the entire film appears to be continuous. All the transitions are segregated into well-defined categories so that you can quickly find an appropriate transition for your project. Also, you can use the search feature to look for a particular transition.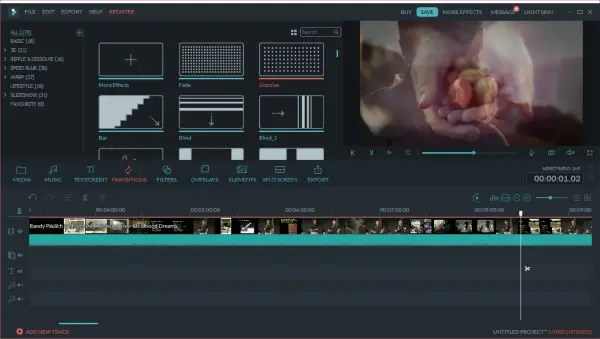 Filters are more of like camera filters that you get in applications like Instagram. Filmora Video Editor brings you beautiful filters that can be used across the video or at some parts. Again, the number of filters is huge, and plenty of options are there.
Overlays are cool animated frames for your videos. Although they do not go well with professional videos but are very apt for personal projects.
Elements area gives you access to hundreds of animated elements that you can add on top of your existing videos. Elements can be customized and edited to some extent. You can mostly control their appearance and the animation that they follow.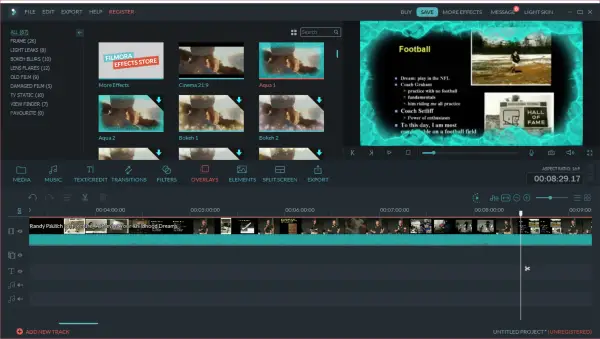 The last option or effect that is available is the split screen effect. This effect would let you play 2-3 different videos by diving the viewable area into parts with different proportions. Once added, you can drag the video for each part that you want to play a different video for. This is a very interesting and professional effect. It makes your videos look professional and lets you display more on the same screen.
The most important aspect of a video editor is its export capabilities. Filmora Video Editor performs well here as well. It lets you export your videos in quite a lot of formats. You can export in a particular file format, or you can choose a target device. The devices available are iPhone, iPad, Android Generic, Apple TV, PS4, SONY TV. The program would also let you upload the video directly to YouTube, Facebook, and Vimeo. And lastly, you can export it as a DVD friendly format so that your creation can be burned later and viewed on a DVD Player.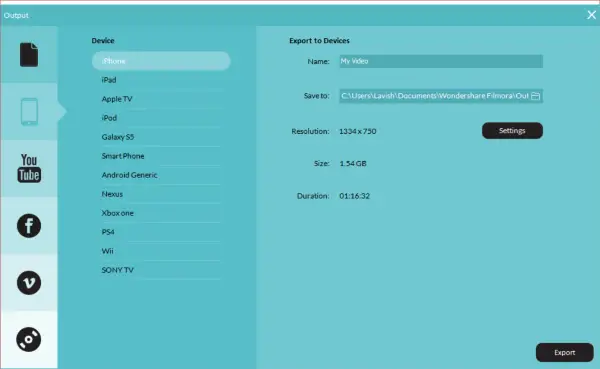 Filmora Video Editor is a must-have outstanding all in one video editor for PC. The best part about this tool is the number of effects and other downloadable content that it comes with. There are so many options that you will never feel stuck with the same sort of effects, transitions and overlays. The tool is pretty simple to use, even for beginners. You can make your video look good within minutes.
The tool is available as a free trial, and a full version license can cost you around $39.99. Click here to buy Filmora Video Editor.
Filmora Video Editor -
39.99$
Software Performance -

90%

Navigation & UI -

95%

Video Editing Options -

92%

Quality of Editing -

90%

File Format Support -

94%