While shooting a video is easy, what is tough is editing the video and adding all kinds of effects to deliver the right promise. It is not just about adding a text, putting up a b-roll, and so on. The bar has been raised, and what you see in the movies is now coming to many videos on YouTube and other video sites. So if you want to create a fantastic video with such effects, we are reviewing the Filmora X.
Filmora X Review
Filmora X is a professional-grade video editor who can create fantastic, cinematic videos using all the effects.  The Editor offers video effects, green screen support, split-screen (multiple videos in the same frame). The recent update has rolled out support for Motion tracking, Keyframing, Color Matching, and Audio ducking.
But before we get started, let's talk about usage and performance.  It's a great editor for beginners as well, and that's what we love about it. There are tons of tutorials for all its features on the official website, and it takes only a few minutes to learn.  I was able to run the software on my ten-year-old PC with SSD, 8 GB RAM, and NVIDIA GeForce 8400 GS.
Filmora X Features
That said, let's take a look at the list of some of the fantastic editing features to make your video stand out. Depending on your need, you can use these features, and it will need a bit of practicing to master it. Here is the list of features we loved:
Motion Tracking
Keyframing
Color Matching
Audio Ducking
Video Effects
Green Screen
Split Screen.
1] Motion Tracking:
Those who shoot many motion videos add text and objects that can go along with the motion's object. It looks cinematic.  The software allows you to select an object in motion and link it to another object, such as text or an element you add from the software. The result is that both move in sync. You can attach clipart like images, elements, text, or video clips.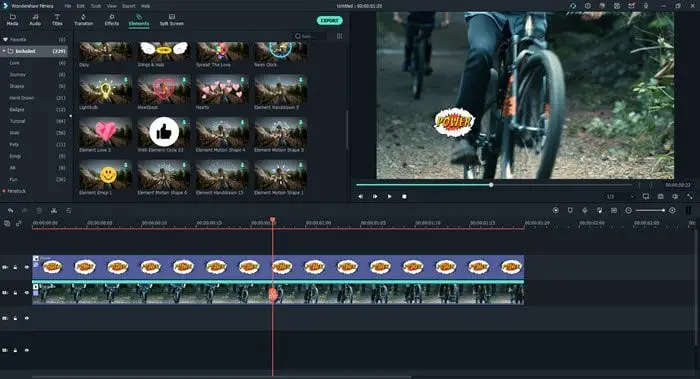 2] Keyframing:
Keyframing is an essential feature that allows you to move images from one place to another, set opacity, timing, and size. In fact, it is used by a lot of animations that we end up using in our videos. If you want an object to appear at a certain place and go visible only at a certain time, you can use keyframing to achieve that.  The software offers pre-sets, which makes it easy for you, and saves time.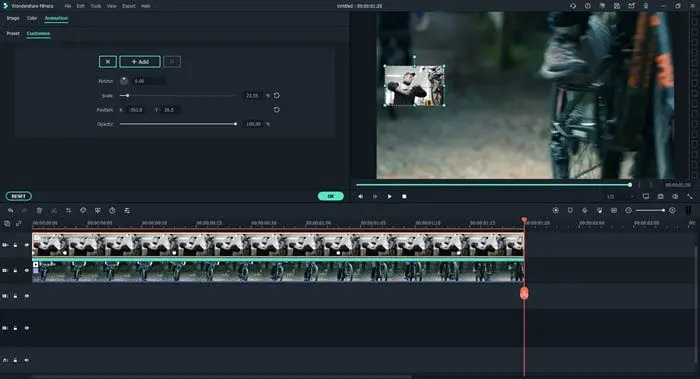 3] Color Matching:
Videos are often captured in different lighting conditions. It looks odd, especially if the scene is close or similar. That's where the color matching feature comes into the picture. You can choose a particular scene or apply the same settings to all of them.
4] Audio Ducking:
While it sounds funny, it can make a huge difference. Background noise or music can be distracting. Let's assume there is a video with a lot of music, and you have recorded a discussion. Using Audio Ducking, you can mix one audio track into another. For that part of the video, you can still have the background audio but at a lower volume, and let the discussion set the pace.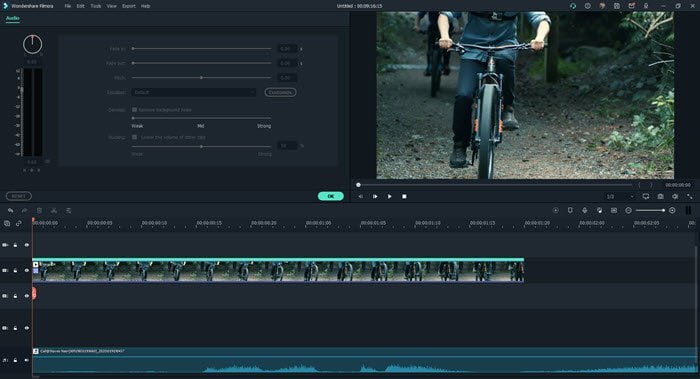 Apart from these new features, Filmora X also offers three more enhancements to make an effective video.
5] Video Effects:
These are essential to any video editor, and Flimora offers industry-best features in terms of quality. You can use transitions for smooth switching between videos, filters to enhance colors, titles to add information, background audio, and elements.
6] Green Screen:
If you use a green screen cloth to add a different background, then use this feature. It can identify the solid background and then replace it with an image and even a video of your choice.  It is particularly useful if you don't have a great background. Large TV industries and Movies use it.
7] Split Screen:
It is a special feature that allows you to add multiple videos to one screen. It offers several templates and designs to create a professional-looking split-screen view.
Apart from these, the editor also offers Keyboard Shortcuts Editor, Dark/Light mode,  flexibility to editing using plain text, advanced title editing, and if you are using macOS, then you also get Touch Bar integration to preview and scrub through your timeline using the touch bar.
Conclusion
Filmora X has all the video editing tools required by a beginner – as well as a professional. Its ease-of-use makes it one of the finest in its category.
While Filmora X is a paid video editor, it is a full-fledged video editor that offers professional-grade features. It is easy to learn. You can create high-quality videos with a bit of practice, right from basic editing for home videos to advanced editing for projects where you can use motion tracking, keyframing, green effects, and so on. The software is not heavy on the system, but if you have a great PC, you will render it in no time.