Video conferencing has become a very important part of our lives. Be it a meeting at the office, a presentation, a job interview, a college lecture, or a regular video call with your friends or family, video conferencing comes in handy. The only issue is that our laptops and computer systems don't have good-quality webcams. The quality of webcams has improved a lot, undoubtedly, but it is still not as good as our Smartphones. A good quality webcam is crucial to making your video look good to the viewers. You can, however, buy a high-quality external webcam, but we have a better idea for you.
Today, in this post, we will be telling you about a program FineCam that will improve your webcam performance by adding some filters, backgrounds, and more. Furthermore, this program can also transform your iPhone into a flexible webcam with your video-conferencing apps. In fact, it works well with your DSLR and other digital cameras, too so you can connect multiple cameras to your PC and make a great video.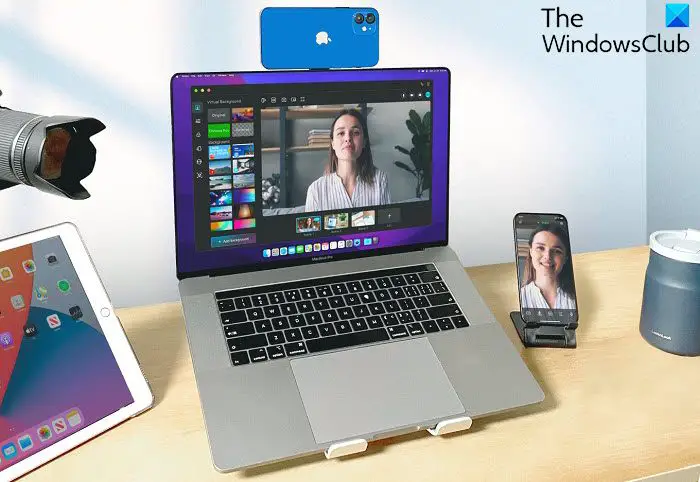 FineShare FineCam webcam software review
FineCam is webcam software that can improve and enhance the video quality in your video conferencing apps like Google Meet, Zoom, Microsoft Teams, Wirecast, etc. This software comes with more than 100 effects to make your video look better, you can capture your shots from multiple angles, change the video resolution, change the background, and switch between lenses.  Furthermore, you can also create a multi-camera setup to add a cinematic view to your video. It is a very simple program and can easily be used by beginners too. It works with almost every streaming and video-calling application and is available for iOS and Windows machines.
Features of FineCam
Now let us take a look at some of the features of Fine Cam.
Smart enhancement
You can turn your iPhone or iPad into a webcam and enhance your video output by adjusting the brightness, contrast, sharpness, exposure, etc. This software also includes the auto-focus feature to keep the moving subjects in focus.
Interesting backgrounds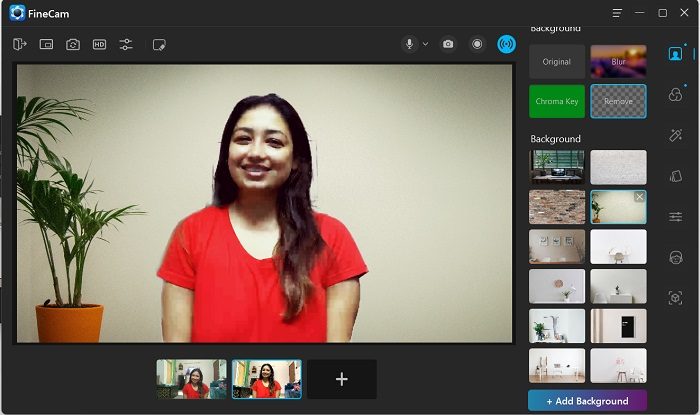 With FineCam, you get more than 100 different backgrounds for your video. You can also add your own background to the list. You can either remove your messy and unprofessional background or add a new one to make your video look better. This is a great tool when you are creating some kind of video presentation where you do not want a messy background.
Filters and effects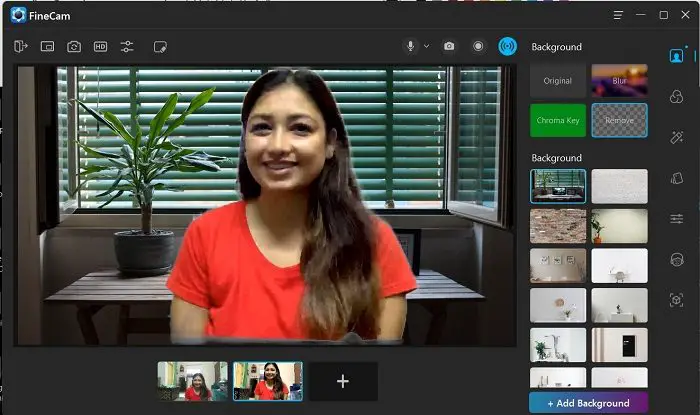 We are all used to the filters now and FineCam has some amazing filters and effects for you to improve your video quality. You can smoothen your skin tone, give a cartoon or cinematic effect, add a barrel blur and do much more here. Click on the Filters or the Effects icon in the right menu ribbon and make your video stand out.
HD and 4K Video quality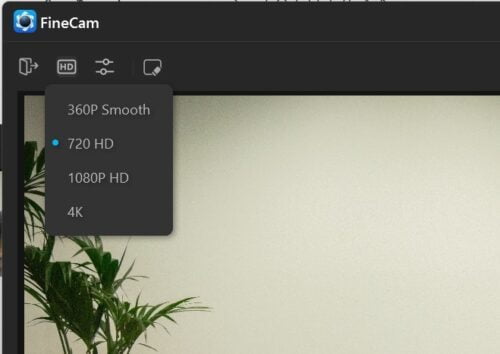 When you download and install FineCam on your Windows PC and iPhone, you can create a full HD or even a 4K video with your webcam. Simply click on the HD icon and select the resolution you want.
Professional branding
You can also add your own brand logo and name to your video with FineCam. There are a few templates to place your logo and brand name in your video. Click on the Brand icon in the right menu ribbon and add the required details.
How to use FineCam
As mentioned above, FineCam is a very simple software that requires no specific technical knowledge to use.
You just have to download and install the program on both your Windows computer and your iPhone.
Connect your iPhone to your PC using WiFi or a USB cable.
Launch the program FineCam on both your PC and your iPhone and start enjoying the best webcam video experience ever.
Cost and Pricing of FineCam
FineCam is available in both free and paid versions. The paid version comes with some extra features like adding or removing the watermarks, creating multiple video scenes, customizing temporary away screens, shooting front and rear cameras in one Window, etc. The starting price of the Pro version is $6.9 monthly, and you can use it on unlimited iOS devices.
FineCam is a great tool to improve connections as it enhances your video chats, remote video meetings, video recordings, etc. It is an easy-to-use program that can transform your iPhone, iPad, or other digital cameras into a webcam and improve the video quality significantly. Multiple filters and effects can certainly make your video stand out.
Download FineCam now and start using your iPhone as Webcam. It is available for iPhone, iPad, macOS and Windows.