In today's time, live streaming, podcasting, or content creation is a full-fledged career. Whether you are streaming on Twitch, YouTube, or Facebook to make your content engaging and entertaining, you might have thought of changing your voice. And thanks to a wide range of voice-changing tools available, changing voice is a pretty smooth process. However, when it comes to finding the right voice-changing software, there are too many options. But one popular option is the FineVoice. It lets you change your voice in real-time and packs many cool features.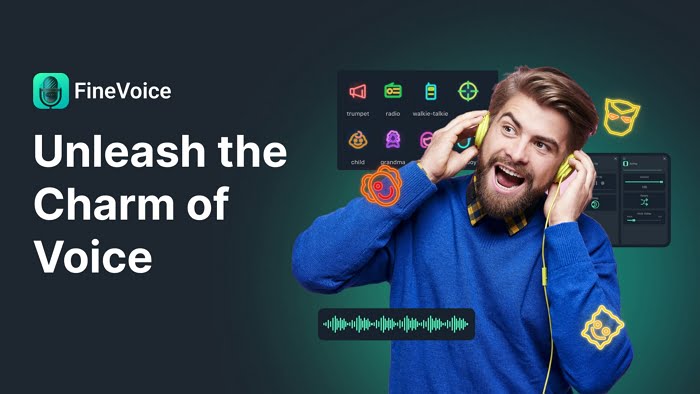 What is FineVoice voice changer software?
FineVoice is one of the top voice solutions for streamers, podcasters, content creators, and gamers. The tool serves as the one-stop solution for all your voice editing needs. Be it changing your voice in a real-time, voice recorder, speech to text, audio extracting, and so on.
With this tool, you can make your voice sound attractive and fun with just a few clicks, which can come in handy when live streaming or recording your voice. It also offers you unique voice effects and a soundboard that you can use during your Livestream to make your content more engaging. Plus, it lets you create your signature sound with 28+ audio effects. Such as gain, delay, reverb, chorus, and more.
FineVoice Review
Real-Time Voice Changer
With the FineVoice tool, you can change your voice in real-time. The tool changes your voice at a system level. This means no matter which app you use; your voice input will be through FineVoice only. So no matter if you are live streaming, using discord or zoom, everyone will get to listen to your changed voice.
The tool helps you to turn your voice into popular characters like Minions, Optimus Prime, Chipmunk, and more. Plus, you can add different voice effects. You will also get access to 200+ high-quality sound effects, which are well organized. So modifying your audio will be a smooth process for you.
Voice Recorder
If you are a podcaster working with audio only, you already know how important it is to record your voice and edit it well. And this is where this application can come in handy.
It allows you to record multiple audio sources at once. Be the sound coming from your computer, iPhone, Microphone, sound from streaming services, and more. You can also make changes in your audio using 48+ voice and audio effects. You will also get high-quality audio for a podcast, audiobooks, videos, and much more.
Text To Speech / Speech To Text
FineVoice lets you use any text to turn into a speech and vice versa. It offers a bunch of voices that will help you choose the right voice for your content. Also, there are about 40 languages and 220 human-like voices. And you are free to customize the chosen voice by controlling the speed, style, pitch, and volume.
For speech-to-text, you can quickly transcribe telephone interviews, meeting recordings, and podcasts in English, Spanish, German, and many other languages.
Audio Extractor
You can also extract audio from any video. For instance, if you want to use the sound of your favorite content creator, then you extract the sound from their video and use it for your content. You cannot only extract the sound from a video. But you can also make adjustments as per your requirements using the software.
Audio File Voice Changer
Another helpful feature of FineVoice is its audio file voice changer. This lets you change the voice of your audio files and make them sound like any famous characters. With the app, you can get sound effects like Loli, venom, Spongebob, and more. Also, you can share your modified audio files on social networks to grow your audience.
Wide Range Of Integrations
FineVoice also gets easily integrated with all your favorite apps and games. It can work with applications like Discord, Zoom, Google Meet, Skype, WhatsApp, Minecraft, TeamSpeak, Fortnite, and more.
How to download & use FineVoice?
The software is pretty straightforward to use. Even if you are a newbie, you won't face any problems dealing with the software. However, to help you out here is a quick guide:
1. Download & Install FineVoice
First, visit the FineVoice website and click the download button to download the software. Once downloaded, run the setup file and follow all the screen instructions. You will also be required to reboot your computer, and it will change your Speakers setting to FineVoice so if you don't hear anything, make sure to look at your sound settings.
2. Change Your Voice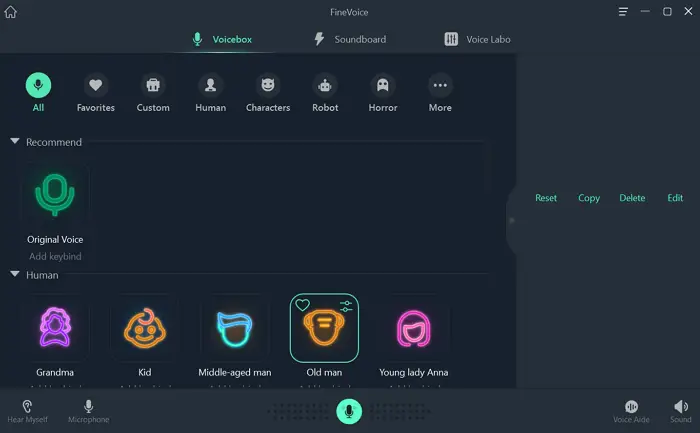 Once you launch the software, you will find the Real-Time Voice changer option. Click on the start now button to let you choose your audio input and output device, and click on continue.
Next, you will find the option to change your voice. You can choose from a wide range of voice effects like Kid, Old Man, Zombie, and many more.
3. Record Your Voice
If you want to record your voice, click on the Voice Recorder option. Next, add an audio source. FineVoice allows you to add up to three audio sources simultaneously, which will come in handy during recording podcasts.
Also, on the right side of your screen, you will find all the customization options. Using these settings, you can change the pitch of your voice, add different effects, and more.
4. Text To Speech
If you want to make a speech using text, click the Text To Speech option. Then type your text, or you can copy and paste it. Also, right below the text area, you will find options to change the language, male/female voice, and adjust the speed.
5. Speech To Text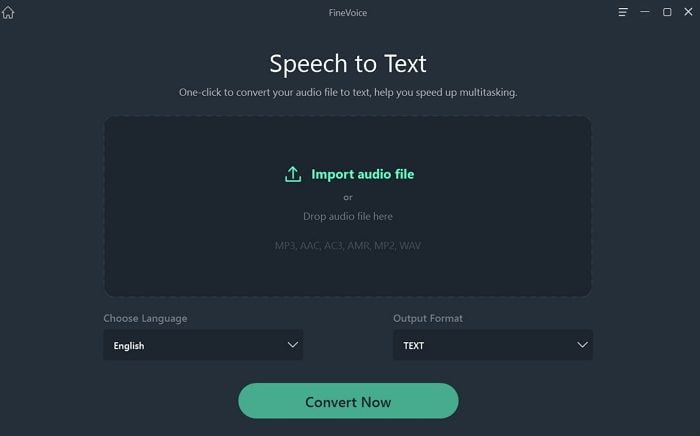 You can also convert your speech into text. For this, go to the Speech To Text option. Then import your audio file, select the language and choose your output format. And finally, click on the Convert Now button to get started.
6. Audio Extractor
To extract audio, you need to click on Extract Audio, import a video, and click on Convert. The tool will then convert your video into an audio file and let you edit the audio file as per your requirements.
7. Audio File Voice Changer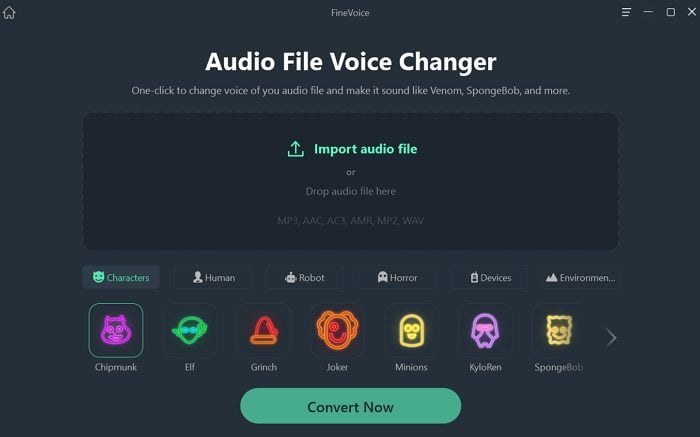 The last feature of the tool is the Audio File voice changer. You must click on Audio File Voice changer and import an audio file. Also, right below the option, you will have your option to switch to a voice effect. Finally, click on the Convert now button to change your audio.
How much does FineVoice cost?
Being a popular and feature-rich tool, FineVoice is not an entirely free-to-use application. Of course, there is a free plan that comes with limited features. Such as, you will only get five voice effects, 30 sound effects, 30 minutes recording time limit, and more.
But if you want to try out the full-fledged software, there are two plans. You can get a monthly license or a yearly license. It costs you about $9.99/month, or you can go for a one-year license at $39.99, which is more affordable.
Apart from the pricing differences, both plans offer you the same features. Like you will have access to all the voice, audio and sound effects, unlimited recording time, 100,000 TTS characters per month,  120 minutes of transcription per month, and so on.
FineVoice is the ultimate voice changer tool to change your voice on your Windows PC.It is a valuable tool that will make your live streams and content creation enjoyable. So go ahead and try the software and see how it works if you have anything else to ask, comment below.