Over the last decade, Apple Inc. has become the global leaders in the field of premium smartphones, laptops, tablets, and desktops, especially their iPhone series. Since day 1, the prime focus of Apple has been customer satisfaction and quality! Their biggest plus is that their research and development (RD) team looks into their customer feedback very seriously, works on it and comes up with mind-blowing results with their next hardware release.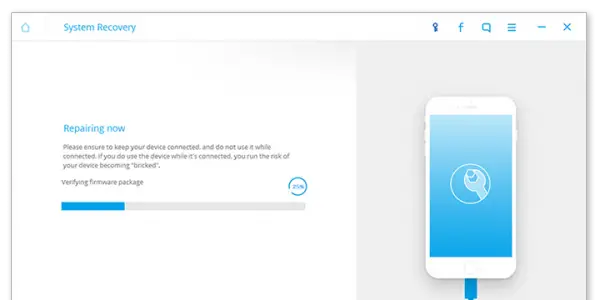 But where the Apple team wins at hardware developments, they somewhere lose on the software side. Take for example their latest iOS 11 updates. Since its beta launch earlier this year, the iOS 11 update has had multiple complaints regarding technical glitches, lags, crashes and slow speed. Complaints about the instability of the update have constantly been flowing in. One such common complaint is regarding the iPhone Black/White Screen issue.
iPhone Black/White Screen issues
Since the iOS 11 beta update was rolled out earlier this year, many people across the world upgraded their respective iOS systems. Now doing so, they contracted many technical problems in their devices, the most common one among them being the black/white screen issue.
Most people who upgraded their devices from iOS 10.3.2 or 10.3.3 to iOS 11 complained that their iPhones were stuck on the white screen during the recovery mode loop after iOS 11 update. The devices got stuck there and never really recovered. As a result, people are now looking for solutions to downgrade back to iOS 10.3 or restore their iPhones to normal.
Now if you ask me, the most reliable and easiest way to do is, by using the Dr. fone toolkit – iOS System Recovery. Let me tell you how.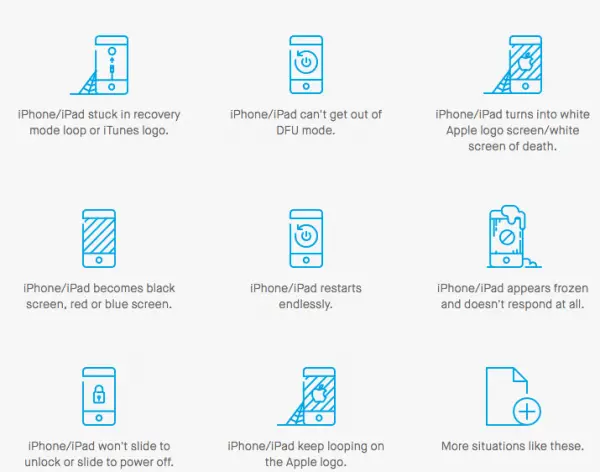 Dr. fone toolkit review – iOS System Recovery
The Dr. fone toolkit for iOS system recovery is a data recovery software that runs on Windows PC. It is developed by Wondershare and is the most comprehensive one on the market today. The software can efficiently recover data in the following ways.
The first method is to connect the iOS device by USB to a computer or laptop so that you can export any recoverable files. This is the most commonly used method, and you can recover files including
Contacts
Reminders
WhatsApp history
SMS Messages
Call logs and history
Safari bookmarks
Notes
The second method is in case direct export from your device is not possible. In this method, Dr. fone can scan through the various backup files embedded in an iTunes backup, whether on a laptop/computer or an external hard drive. Yes! Dr. fone toolkit software can also obtain backup files from iCloud if your data is synced to it.
Wondershare's Dr. fone data recovery software is fully compatible with all iOS devices including the latest launched devices iPhone X/8/8 running on iOS 11. Both of these backup methods can recover all of the following file types that are recoverable from a direct scan.
iMovie
iPhoto
Camera Roll
Photostream
Kindle
Keynote
Voice memos
Voicemail files.
However, please do keep in mind that recovery via these methods is subject to chance upon the iOS device having previously been synced to either iCloud or iTunes before the data loss occurred.
Fixing system issues
Apart from data recovery, Dr. fone iOS recovery software lets you fix various iOS system issues that you may have encountered after upgrading your device from iOS 10.3 to iOS 11 like recovery mode, white Apple logo, black screen, looping on start, etc. In detail, here is a list of issues you can fix using this software.
iOS device stuck in recovery mode loop or iTunes logo.
iOS device can't get out of DFU mode.
iOS device turns into white/black screen of death.
iOS device won't slide to unlock or slide to power off.
iOS device restarts endlessly.
iOS device freezes and doesn't respond at all.
iOS device keeps looping on the Apple logo.
iOS device becomes black, red or blue screen.
And much more!
Plans and pricing
Dr. fone iOS system recovery software offers three different plans priced according to the features in store.
fone toolkit – iOS system recovery (One year license): $59.95
fone – iOS system recovery (Lifetime license): $69.95
fone toolkit – iOS Suite (Lifetime license): $139.95
Apart from these three plans, there is also a free trial version with limited features available on their official website. You can try out the free version and then choose which features are important for you and go for a full version upgrade accordingly.
Visit their homepage drfone.wondershare.com and grab your plan now!
Our Verdict 
While you may search the Internet for data recovery software and services to suffice your purpose and find numerous reliable ones, you will always find "Dr. fone" on top of every search result.
Why? The reason behind it is simple and elaborated throughout this article. The biggest plus about this software is that apart from data recovery, it offers various features to fix many software issues as well.
Apart from that, I can count you down three more reasons why this is the best data recovery and system fixing software for you.
Easy to understand and use. Any person with a computer or laptop can use it.
The recovery process is very safe. No threat to the data on the device at all.
All operations are 100% safe and secure. NO ONE ELSE can access your account and data, but you.
Dr. fone toolkit by Wondershare iOS System Recovery software is probably the best, most reliable and promising software you can find!
Dr. Fone Toolkit -
$59.95
UI & Navigation -

90%

Recovery Speed -

90%

Output of Recovery -

88%

Connectivity to apps -

90%