When it comes to marketing, video is a powerful tool. Not only it keeps the attention, but it also helps to deliver messages compellingly. While you can always shoot videos, use a video editor, and add images, without the right set of effects, background music will not be sufficient. That's where you need a tool such as FlexClip video editor.
What is FlexClip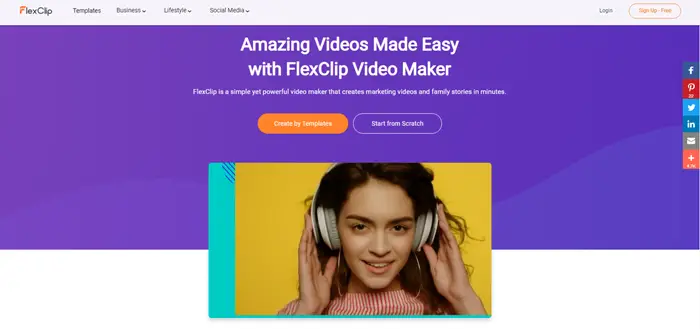 FlexClip is a video creation tool that allows you to create videos to choose to make paid videos for clients and family clips for festivals. You can produce videos using video templates that are designed to look more professional. The free version allows you to create videos with some limitations, which serve well for family projects. Still, you can always upgrade for longer videos, projects, extended video length, branding, and so on. So it's a good place to start when you're just starting.
The best part of using FlexClip is that you don't need to go through a trial or paid subscription. The free plan offers enough so you can later upgrade for more.
How to create a video using FlexClip
Once you signup and login, check out the templates collection. It has a wide variety, including seasonal occasions—right from Business to social media to Education, Wedding, and more. You can mouse over to get a preview of the video and hear the background music. Else you can always click on the Preview button for a better view.
Once you are sure, click on the Customize button to open the template in the built-in editor. The editor offers an interface that looks similar to a video editor.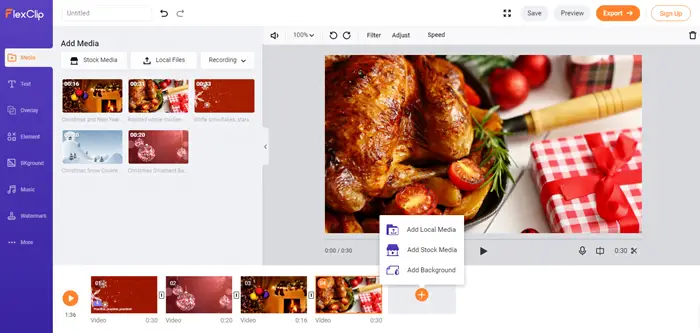 At the bottom, you have the storyboard where you can see parts of the video.
On the top-right, you have access to transform, filter, adjust and speed options.
On top-left, you have access to add stock media, local files, or video recording.
The left section offers menus to access options to add text, overlay, element, background, music, watermark, aspect ratio according to the devices.
Now that you have access to all the tools needed to create a video, it is all up to your creativity. If you have a video that you need to include in the final video, you can upload and drag it anywhere in between the storyboard. Make sure to use the transitions when you are switching between the scenes.
Once done, you can click on Preview to see how the final video would look like. You must test it based on the device where the video will be seen as the aspect ratio is important.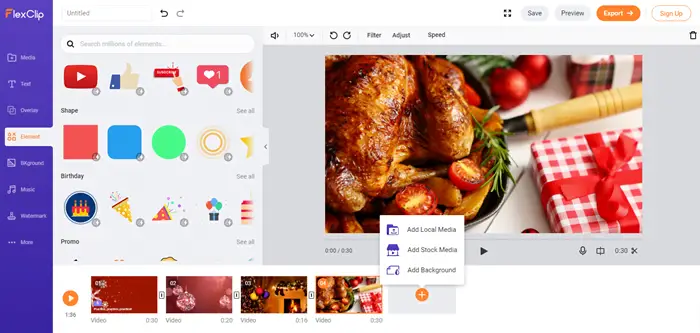 FlexClip Features
Online video editor allows you to drag and drop effects with ease.
Supports a wide variety of video format such as MOV, MP4, MP3, but videos can be exported in MP4 format.
Find royalty-free videos, music, photos from 1,000,000+ stock assets for your needs
The Storyboard offers precise control when it comes to editing and splitting the videos.
Videos and Images can be zoomed, rotated, speed changed, and added filters to make them look effective.
Possibility to add caption texts, logo, music, filter, transition effects, and much more.
You can also add your screen, video from the webcam, and record audio.
Create a high-quality video up to 1080P and in different aspect ratios.
Easily undo in case you need to revert the changes.
Duplicate projects if you want to create multiple versions of the same project.
Motion effect presets allows to include moving texts, shapes, and icons.
The experience of using the editor is superb. The tools are available right up front, and I did not end up locating the options. The images and videos are royalty-free, which allows them to be used in commercial projects as well. The best part is you can create videos for different devices, i.e., aspect ratio making do so.
Should you upgrade?
The free plan offers 480 PSD downloads, One stock video per project, a maximum of 12 projects, and a video length of up to one minute. Now, if you always keep looking for a video editor every time you make a family video or project for a client, and try to make a final video using free tools, then it's time to rethink.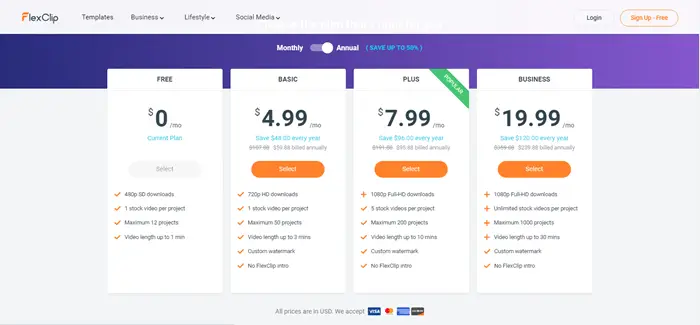 You can choose as low as $4.99 per month, which gives you 720P, and video for up to 3 minutes, which should be good enough for most of the scenarios. If you need to work for clients who need HD resolution, check the next two plans.
Conclusion
FlexClip is an excellent video tool that allows you to create professional-looking videos without learning complex video editing software. With just a few clicks, you can quickly go from shooting your video with your browser to adding music, effects, transitions, and text. The drag-and-drop interface makes it easy to customize your video exactly how you want it. In addition to the features mentioned above, FlexClip also has a ton of sound effects, music, and video clips that you can add to your videos, and you can even convert your existing videos into FlexClip project files.
You can use the following coupon code exclusive for TheWindowsClub users: thewindowsclub15.
FlexClip Review -
4.99$/m
UI & Navigation -

90%

Templates Availability -

90%

Stock Images Support -

85%

Editing Options -

95%