AV1,  developed by Alliance for Open Media, is among one of the video file formats which is open and offers royalty-free video coding format, specially designed to stream over the internet.  It has been tested by Facebook, where they achieved a high compression rate, and later by Netflix to saved streaming bandwidth on Android devices. In fact, it is one of the strong competition to the H.264 and H.265 or HEVC.
That said, playing AV1 media format in Windows is not supported directly. Neither the Windows Photos App nor the Windows Media Player can play AV1 files because of the missing codec. That's why you need a third-party video player like 5KPlayer. It is among the best free AV1 Video Player for Windows 10 that lets you download, stream & play music. It supports both DLNA and AIrPlay.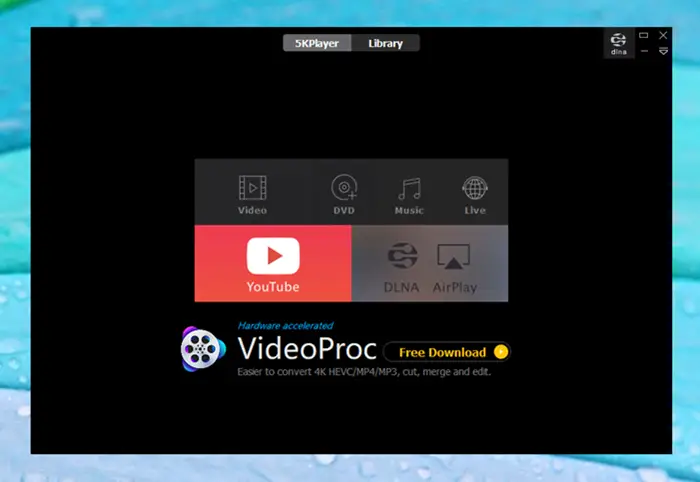 Free AV1 Video Player for Windows 10
5KPlayer is a versatile video player that can do almost everything one could expect from a media player or maybe more than that. It offers DLNA and AirPlay support, media streaming, and online video downloading capability and support for a wide variety of video formats, including AV1. The player is free of charge, and if you are looking to play AV1 codec, it does that, and I am sure you will end up making it your default media player.
Features related to AV1 Video Playback
Being a media format for the internet, AV1 supports a lot of features such as subtitles, hardware acceleration, 360-degree videos, and so on. If you download an AV1 file, and you'd like to play then, 5KPlayer offers the following features for AV1 videos
GPU acceleration: It supports NVIDIA, Intel, DXVA, and AMD hardware acceleration. It is crucial because the video either streamed or played on Windows 10 PC will need to be decoded to be played. The more hardware it supports, the better adaptation.
Subtitles Support:  Not many know this, but there are different types of subtitles. Some made for web video, some for youtube, and so on. AV1 supports all the formats such as *.srt, *.ssa, *.ass, *.json, *.aqt, *.sub, etc. You can also manually load the subtitle file.
Media Player Features: It goes without saying that 5KPlayer is also an excellent video player as well. You can rotate, resume playback, adjust playback speed, change track, aspect ratio, and manually choose hardware decoding. The player offers to check and then choose encoder and decoder.
To play an AV1 file with 5KPlayer, you can either drag and drop the AV1 file into the player, or right-click on a file, and open with 5Kplayer, and make sure to set 5Kplayer as a default media player to open it directly.
5KPlayer Features
One of the best things about the 5K Player is its user interface. It's simple yet intuitive. You will love the way it goes back to the default view everything you get back from playing a video or streaming it.
1] Wide Variety of support for video
The video player can easily play 4K videos, DVD, IPTV, and even 360-degree videos. If you just want to listen to music, it can be your favorite audio player as well.
2] Edit Videos to trim, correct colors, subtitles, rotation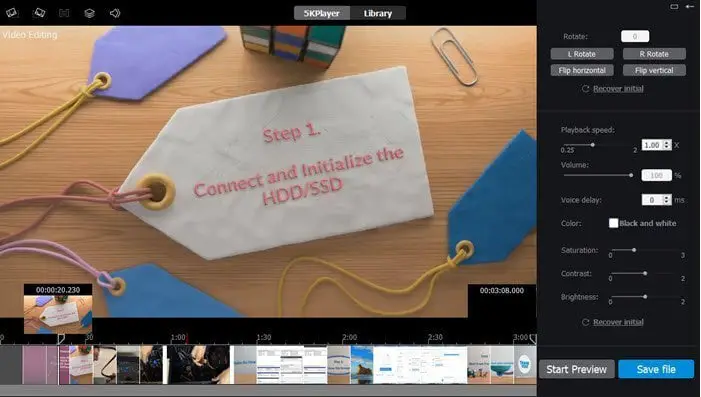 Not many video players offer editing features. 5KPlayer, on the other hand, offers extensive editing tools, which include options to cut video, change playback speed, rotate, change color, volume, and voice delays. You can choose to remove part of the video and save it as another file. You can preview the file before saving it.
3] Convert Videos to popular formats
You can preconfigure the settings to save the default file to MP4, WebM, FLV, and 3GP. You can also choose the resolution and set the output folder. Every time you trim a video and hit on the save button, it will choose that setting to save it in the pre-chosen folder.
4] Download Videos from the internet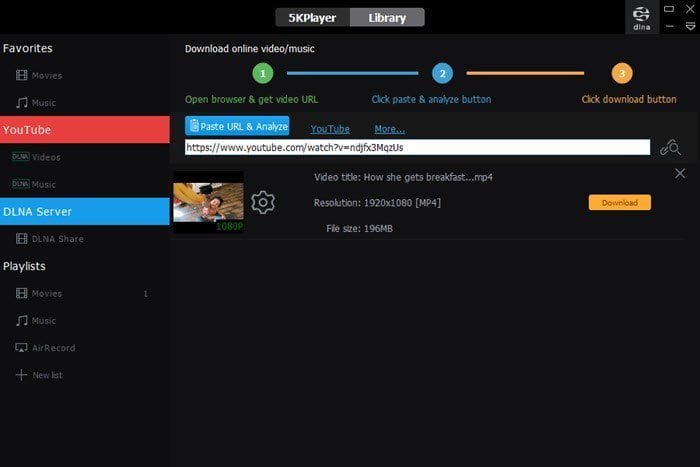 You can download YouTube videos using the downloader section available in the Library. Here you can paste the URL and then click on the download button. The software will analyze the video and then download it. You can also download music from Spotify as well.
5] Stream Videos to DLNA devices
One of the best parts of the player is streaming.  It can DLNA stream music and video from PC or Mac to Smart TV, PSV, Xbox, and more. You can even  AirPlay stream video/music to PC/Mac, mirror iPhone iPad iPod screen to Windows our Mac, and record iPhone and iPad screen while mirroring. Make sure to pre-configure the output folder where the recordings can be saved. You have the option to turn it off if not in use.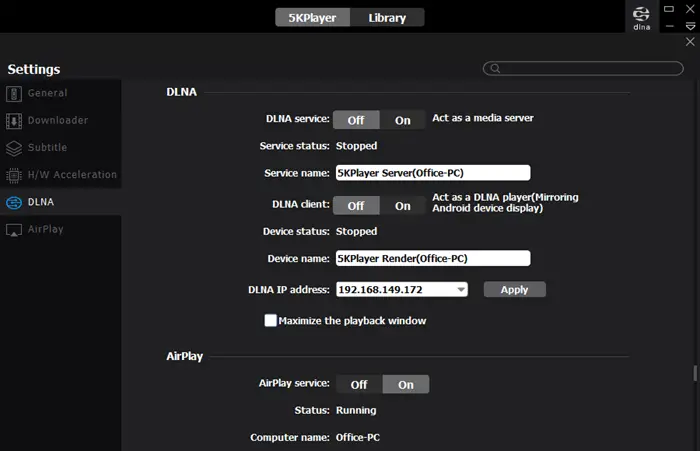 Overall 5KPlayer is an excellent video player that can suffice most of the needs., and offers more than that. You can download videos, stream content to smart TVs, Xbox, DLNA devices, and then you can play almost any kind fo DVD. The AV1 format support is important for those who are looking for a media player on Windows, particularly for that format.