While the world has moved towards streaming videos, many people still use DVDs. They are either movies or a personal collection. However, there is a big problem that lies with DVDs. They get scratches and stop working after used for a long time. That's why you need a DVD ripper which can high video quality MP4 files. In this post, we will review one such software — WinX DVD Ripper. It is a Free DVD Ripper which can convert DVD to MP4 with High Video Quality for free.
Free Rip DVD to MP4 with High Video Quality
WinX DVD Ripper is a professional yet free software that makes ripping DVD easy. Its ability to work both on hardware and software level makes it a versatile software. It offers features like backup, archiving, editing, and sharing. These, along with 350+ profiles, makes it easy for consumers to do almost anything. Here are three primary features of the WinX DVD Ripper.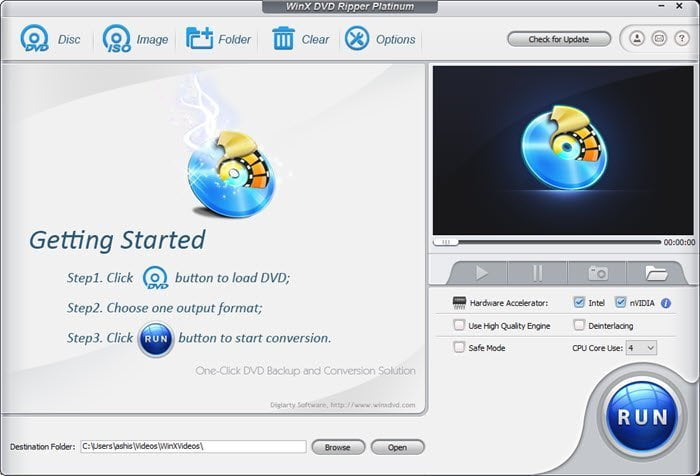 Lossless Conversion in High Quality
When converting any video from one format to another, if there is a compromise in quality, it spoils the experience. WinX DVD Ripper excels in that by following a 1:1 quality ratio. It offers high-quality engine, deinterlacing, and adjustable HQ encoding to rip DVD with imperceptible quality loss.  The conversion also makes sure that the original structure of the DVD is kept as the original structure. It means if you create an ISO and burn it later to another DVD, you get an exact copy.
High Compress
Usually, DVDs take a lot of space when storing media files. It is usually not possible to keep an exact size on computers as you will run out of space. The DVD ripper converts DVD/ISO image to MP4/H.264 format. They are known to take a lot less space compared to the format on the DVD. That is 80% smaller in size, still maintaining quality. As an example, it can compress 8GB of a full movie into a 700 Mb~1000 MB video file.
High-Speed Conversion
It is the most crucial part of converting any video format. WinX DVD Ripper offers Level-3 Hardware Acceleration, which makes it 47X faster. It utilizes multiple cores to attain this and supports Nvidia® CUDA/NVENC and Intel® QSV. So when processing DVD, you should use Hardware acceleration by enabling it manually.
WinX DVD Ripper Software Features
Supports almost any DVD including regional, damaged, 99-title, homemade, standard, TV Series, etc
It can support the conversion of DVD to MP4, H.264, HEVC, MPEG, WMV, AVC, MOV, AVI, etc.
Template settings for iPhone, iPad, Android, Xbox, PlayStation, and more devices
Clone DVD to ISO
Backup DVD main title content for playing on PC, PS3, PS4, Xbox, Media Center, etc
DVD Editor allows you to cut, merge, crop video, add subtitles, adjust parameters.
Steps to a Rip a DVD for Free to MP4 Format
One of the best things about the software is that it is easy to use. Even if you haven't ever used convertor before, it will not take much time to configure everything. On top of that, you have access to a lot of profiles, which makes it easy to convert videos with default settings. All it takes is three steps to convert a DVD using profiles. Lets deep dive into the steps to clearly understand all points.
Step 1: Load ISO and DVD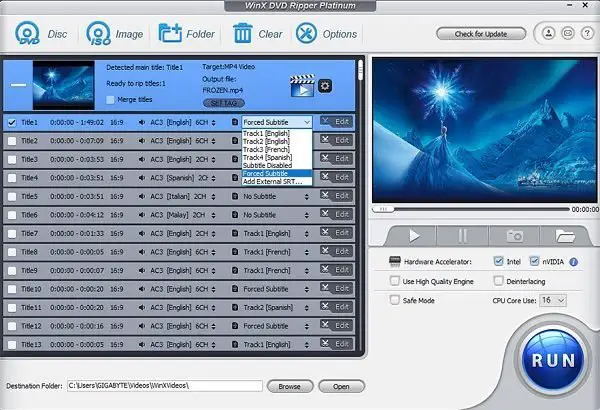 Once you have installed the software, launch it with admin permission to make sure you don't run into an issue. If you are converting from a DVD, insert it into the DVD player, if it's an ISO, you will have to load it into the software. DVDs are automatically detected, while ISOs have to be loaded using the ISO Image. You can also choose the options Force UDF, and Force ISO based on the format.  Lastly, make sure to select a destination folder before going ahead with any conversion.
Step 2: Select the files and the output format using Profile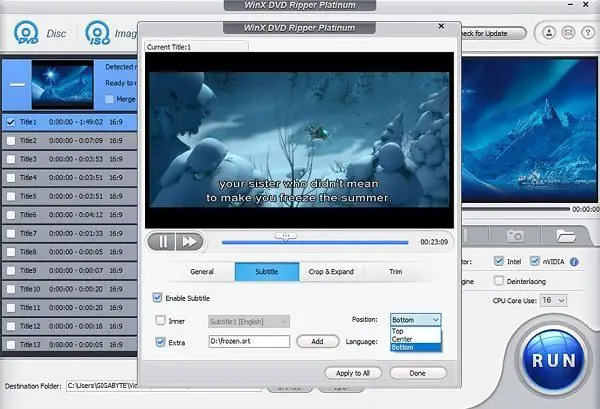 Next, you should have a list of video files or all the titles on the DVD or ISO.  Each title can be previewed, and also edited if you want to remove anything, add subtitles, and so on.
Next comes the Output Profile, and there are tons of it. You can choose based on device, format,  and so on. Each of these can be further configured in terms of quality. Here are two points to remember—Lossless DVD Copy and High-Quality movie playback.
Lossless DVD copy: Choose "DVD Backup" and then choose to clone DVD to ISO image or full backup title to MPEG2. It will make sure to create an exact copy.
High-quality movie playback: If you are storing the files on the computer, then choose MP4 H.264 as the output format. It's a versatile format that can be played on any device.
Step 3: Convert to the selected profile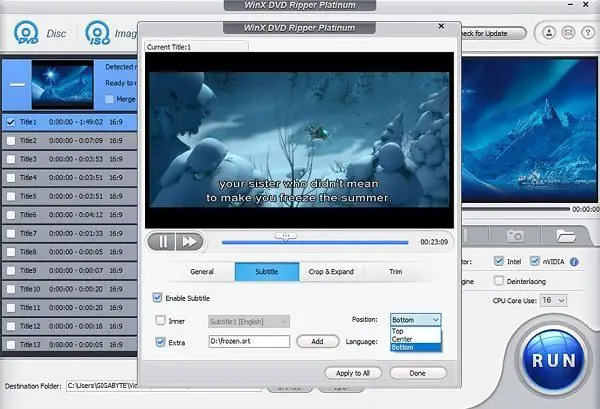 Lastly, click on the Run button, and based on the settings, it will Rip DVD to MP4 with High Video Quality. Make sure to choose the high-quality engine, deinterlacing, and option to choose several cores. The amount of time for conversion will depend on size, hardware acceleration settings, and your computer configuration.
According to the developers, it usually can take backup or rip a full DVD to MP4 (HEVC/H.264) in 5 minutes. It can also shrink DVDs up to 80% with a 1:1 quality ratio.
Download WinX DVD Ripper
WinX DVD Ripper is a fantastic software to create an exact copy of your DVD or create ISO files. It makes sure that the quality is maintained, and the conversion is quick.
Now that you know everything about the software grab the  WinX DVD Ripper Advanced Version with a special offer from here.