The video game industry is an ever apparent and visible field, but one is yet so elusive as to where to start or how one enters into the industry in the first place. Like a mirage in the desert of employment, it fades into the aether for most people.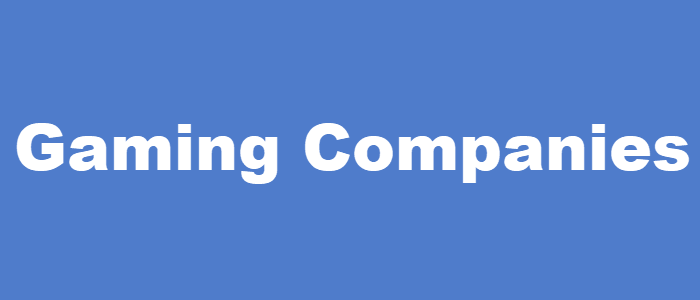 Should you find the mythical door into a company, it pays to check who you're getting into the metaphorical bed with. The following is a quick round-up of some of the bigger names in video games with data pulled from the job site – Glassdoor.
Best Gaming Companies to work for
While this is meant to be as helpful as possible, all reviews should be taken with a grain of salt, and any one person's experience can vary greatly from the next depending on a myriad of reasons and circumstances.
Activision Blizzard
Rating: 3.6 out of 5 Stars
58% Recommend to Friends – 53% CEO Approval
Pros: Great Talent Acquisition, Exciting Projects
Cons: Long Hours reported
In my personal opinion, it's a bit worrying (but not wholly surprising) that one of if not the biggest publishers in video games have a fairly middle-of-the-road rating. I do sympathize with them to a certain extent as having many employees under your banner it's nigh on impossible task to make sure everyone has a good experience, but at the same time, they certainly have the resources to ensure these things don't happen.
Former employees cite having the pleasure of working with very friendly and talented colleagues at the company, for the big game titles like World of Warcraft that is constantly being updated, with the newest The Burning Crusade release where players are craving TBC Gold, other major games that are Starcraft, Hearthstone, Overwatch and more.
Rockstar Games
Rating: 4.3 out of 5 Stars
86% Recommend to Friends – 99% CEO Approval
Pros: Good Work Environment, Great People
Cons: Long Hours with Very High Standard reported
Well, hot damn, everybody loves Sam Houser it seems.
There's a reason Rockstar puts out the games it does at the frequency that it does with the individual quality that it does. The people working on those games must be working themselves to the bone for many, many grueling hours to get R*'s games to the level they aspire to, and it seems to show in their reviews.
While there's definitely an element of "fame" as it were that comes with being able to put the company on your CV, the company (for the most part it seems anyway) to compensate its workers quite well, and the culture sounds (I stress sounds) like it's in a better place than other Triple-A studios.
Nintendo of America
Rating: 4.2 out of 5 Stars
72% Recommend to Friends – 100% CEO Approval
Pros: Work/Life Balance "Unmatched", Good Benefits for FT employees
Cons: Progression is dependant on being a "Brand Ambassador"
A full-house of thumbs up for Big N CEO Shuntaro Furukawa with a 100% approval rating. While it may be a far cry from the Nintendo of Europe or the HQ in Japan, Nintendo of America gets rave reviews from both past and current employees as being a fun and engaging place to work, with many people writing nothing or saying there are "no cons" to the company.
While somewhere like Rockstar has the element of a heavyweight title when it comes to putting the name onto your work history, Nintendo is more of a fanciful childhood dream job. Many gamers grew up playing titles from Nintendo that shaped who they are, and getting to work for them is almost a reward in itself.
Positives for Nintendo of America include a fun environment and company events, good healthcare, and getting to work with people who share a passion for video games.
Epic Games
Rating: 4.2 out of 5 Stars
80% Recommend to Friends – 90% CEO Approval
Pros: Great People and Benefits, Free Food
Cons: Mismatched W/L Balance reported
From the early days of Unreal Tournament and Jazz Jackrabbit to the Mount Olympus-Esque heights of every Gen Z's favourite Battle Royale title Fortnite, Epic Games seems like it's as good a place to be on the inside as it would seem to be from the outside looking in.
The pluses of working at Epic Games are that the studio is "best of both worlds" according to one review, with experienced heads at the helm and new generation talent having the tools in hand to lead the studio from one success to another. CEO Tim Sweeney is called a "visionary" in the same review and the company is cited as being "player-focused" with a good strategy.
Electronic Arts
Rating: 4.1 out of 5 Stars
84% Recommend to Friends – 91% CEO Approval
Pros: Good Work/Life Balance, Friendly Working Environment
Cons: Long Hours reported, Lower Salaries compared with other companies
A quick scan of the reviews has the same complaints and praises popping up, with most notably the point about salaries not being up to scratch in certain areas/roles rearing its head in many people's remarks.
The positives state that staff receives good benefits, the offices and workspaces are good, and contractors usually receive continuous work for a good amount of time (even spanning multiple years).
GameStop
Rating: 2.9 out of 5 Stars
33% Recommend to Friends – 27% CEO Approval
Pros: A Gaming Environment, Friendly Working Environment
Cons: Poor Hour Contracts reported
Now I'm in the UK, so I don't bear the full brunt of how GameStop operates but from what I've read and heard, the English equivalent doesn't seem to be quite as bad as the tales that have reached my ears.
The majority of reviews come from the people out on the front lines, namely the Sales Assistants, and it seems to be those positions that have the biggest and most frequent gripes. That said, it's not all sunshine and rainbows for other members of management.
The good things about working there seem to be the people you get to work with, and the fact that you're in the thick of the gaming retail world, which for many of us is a fun place to be.
IGN
Rating: 3.5 out of 5 Stars
68% Recommend to Friends – 40% CEO Approval
Pros: Free Game Codes, Get Games Before Public Release
Cons: Long Hours reported
I've heard this line spouted from a lot of companies around the industry, and frankly, it really grinds my gears. If I wasn't self-censoring, I'd have very much used an expletive there to describe my feelings. IGN is considered a grandfather of video game news, similar to OSRS in the video game industry with its OSRS Gold.
The main pro of IGN Entertainment is that it's a fun place to work and you're at the heart of video game news and media for a large majority of the internet. Working hours are also flexible for most and there are new age-y perks like free food.