Windows OS is the basis for the operation of the computer. The only problem: it's too expensive for most people. Of course, there may be some free computer operating systems, and those versions cannot guarantee stability, compatibility, etc. For the user, Windows OS is still your first choice. Keysfan, there is a way for you to get genuine Windows OS and MS Office at the lowest price!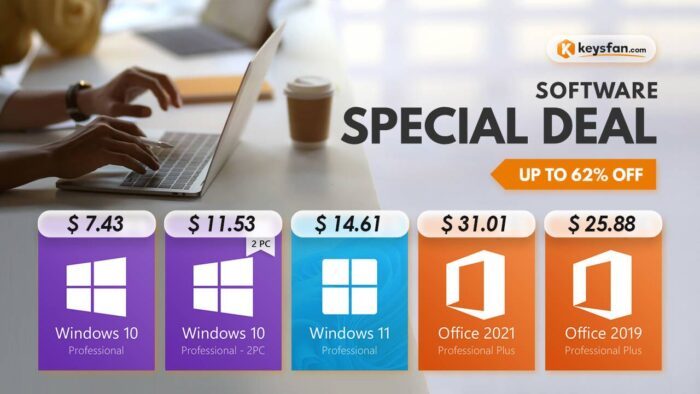 Buy Genuine Windows 10 Pro key
At Keysfan, you can buy Windows 10 Pro OEM key for only $7.4, If you want to buy two Windows 10 activation codes or more, it is more cost-effective, you can buy Windows 10 from $5.7 Per PC!The latest Windows 11 Pro for only $14.6!
Get Office keys
Another software from Microsoft is also necessary for work and life. Whether you need to use Excel to analyze your data, or use Word to record your documents, or PPT reports, which are inseparable from work and study. Now affected by COVID-19, Teams meetings allow us to collaborate better even when working remotely. The official price of Microsoft Office 2021 is $439.99, and it is difficult to bear this high price. The good news is that Keysfan also offers you a great price, Microsoft Office 2021 for only $31 and Microsoft Office 2019 for only $25! Buy more save more, you can also buy MS Office 2021 from $14.4!
How is such a low price possible?
Keysfan is a reseller of major IT security software, allowing you to purchase Windows OS and Office at a discounted price, as well as commonly used computer tool software, such as Ashampoo PDF, IObit Driver Booster 9 PRO, and more. Keysfan guarantees that licenses are 100% authentic and reliable, because they buy these licenses from companies that no longer use them and transfer them to individuals, and they know the "history" of every license it sells, so end users can use them without any problems and then placed on the market at a low price. The licenses sold on the Keysfan website are perpetual: once you use the activation key, you can use it for the entire software life cycle!
You simply buy the product you want on Keysfan and you will receive an email with all the necessary information to guide you to activate the product. You will find your order information, as well as the digital key required to activate the product. After the software download is complete, you will need to enter this numbering sequence to activate your software. All you have to do is start using your new software!
Below are short instructions for purchasing a Windows 10 Pro license key
Select the product you want and click the "Add to Cart" button, then click "Cart".

Confirm the products in the shopping cart, if there is no problem, you can click "Proceed To Checkout"

You need to fill in your email address, because we will send you the product license activation code by email, and then select the payment method: Credit Card (VISA/MASTER) or PAYPAL. After confirming that the product and email address are correct, click "Place Order" ".

After that, please wait for the e-mail notification from Keysfan to get your product license activation code – completely trouble-free!
They provide 24/7 technical support (contact email: s[email protected]), and most importantly, after you purchase a product at Keysfan, they provide lifetime after-sales service. Keysfan has always provided not only high-quality products but also high-quality services. You can check more real user reviews on Trustpilot, and Keysfan's rating on Trustpilot is 4.8!
Keysfan - Genuine Windows Product Keys -
Depend on Product
Trust of Genuine Licenses -

99%

Functionality & UI -

95%

Payment & refund -

95%

Products Inventory -

95%

Customer Support -

95%