Handbrake is an open-source video transcoder that supports a wide variety of video formats. It can compress almost any video or rip from sources like DVD and BlueRay. The software comes with a user interface that makes it easy to use by anyone and includes Video and Audio encoders, Audio Pass-thru. Here is the list of features of  HandBreake which makes it a versatile video converter:
Title/chapter and range selection, which is part of DVDs and BluRay Discs.
You can choose to extract exactly part of the video and not everything.
Supports Subtitles, chapter marks, batch scan, and more.
Video Filters include deinterlacing, denoise, etc.
Live Preview while conversion is in process.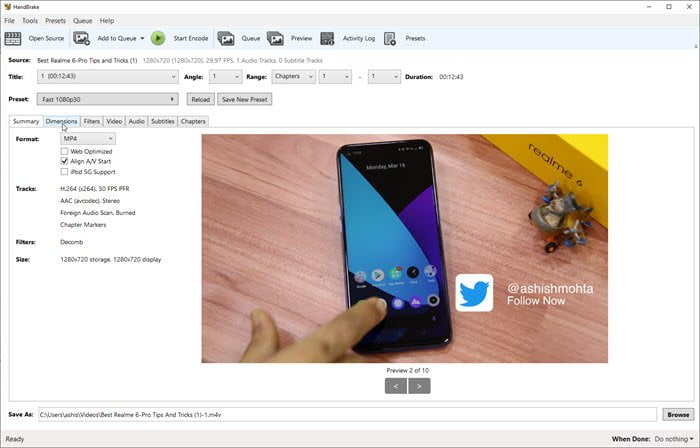 That said, Handbrake for DVD ripping is not perfect, and there are reports all over the forum that it doesn't work that great. The problems include scenarios where it fails to rip encrypted DVD, especially 99-title DVD, unable to find the valid source, incomplete rip, distorted video once the ripping is complete, and so on.
WinX DVD Ripper is HandBrake alternative to Rip DVDs
WinX DVD Ripper
is a professional Windows 10 DVD ripper. If you keep getting annoyed with the HandBrake software, this third party DVD ripper is an excellent choice. It can be used to digitize the entire DVD collection thanks to its DVD to MP4 (H.264/HEVC) profile.
The software makes sure that any video format can be ripped, even if it is decades old. A common problem with the other software, i.e., 99-title, ISO, Video_TS, DVD folder, and damaged DVDs. The software can also take care of the makers' restrictions, usually found on the latest movies, Workout DVDs, and Japanese AV DVDs. You can convert these into formats such as MP4, which is widely used and supported on almost any platform.
Apart from the software aspect, the software also utilizes hardware to accelerate the conversion process. It can use GPU and CPU from Nvidia, Intel & AMD to lower the rime. However, you will have to turn it on before starting the conversion manually.
How to RIP DVD using WinX DVD Ripper
Before you start, make sure the DVD or the DVD's Image is ready to be converted. Also, we suggest using MP4 format as the output format so you can play it anywhere. Along with this, you also get high-quality movie playback when you choose MP4 H.264 as the output format.
1] Launch WinX DVD Ripper
Once installed, launch the DVD Ripper. If you have a DVD player, you can choose the Disc option or select Image if it's an ISO. The software will load it and prepare it for conversion. Right under the preview window, make sure to select Hardware accelerator (depends on your hardware), high-quality engine, deinterlacing, safe mode, and the number of the CPU core you want to use for conversion.
2] Select supported formats
Post this, the software will open the Output Profile window where you can select between various supported formats. Select MP4. You can choose the conversion speed
3] Set the destination folder
In the last step, click on the browse button to set the destination folder. The ripped file will be saved into that folder. Make sure you have enough space. Click on the RUN button to start the DVD conversion. Since the software uses hardware acceleration, the amount of time should be at the minimum.
That said if you are planning to make a copy of the DVD, do it directly from the source instead of using the converted MP4 video. This Windows 10 DVD ripper converter offers a lossless DVD copy, which can clone DVD to ISO image or backup main/full title to MPEG2. It ensures excellent quality.
DVD Ripping is not an easy job. There are too many complications right from region-locked, OEM locking, quality, and the amount of time. While Handbrake works, but WinX DVD Ripper offers a smoother experience, makes sure to deliver the quality, and uses hardware acceleration to lower conversion time. If you are looking for such software, we recommend giving it a try and evaluate.